Best Apps to Help You Manage Your Money
If you're not saving dollars, you're not making cents. These are the best apps to help you manage your money.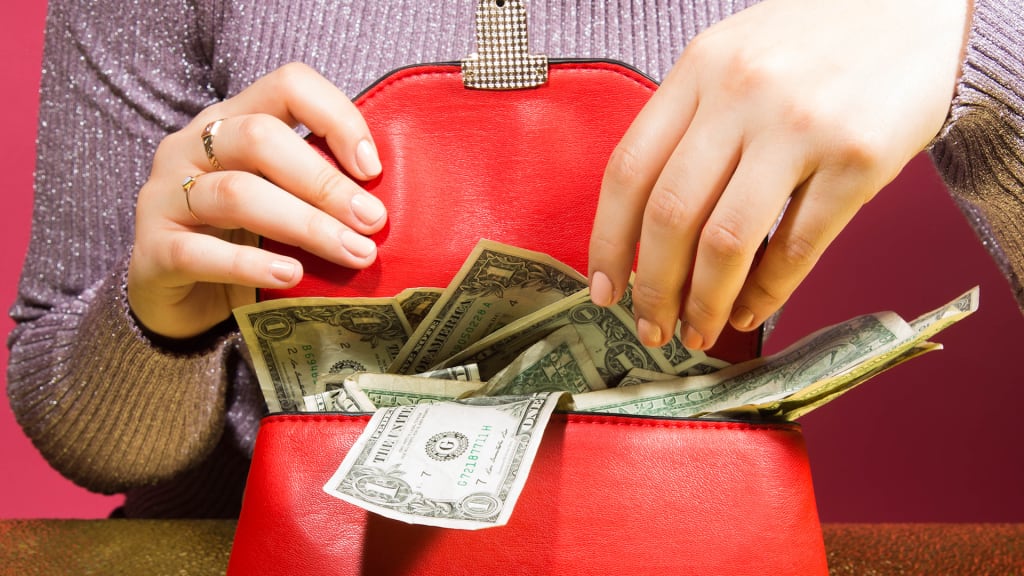 One thing that I love just as much as writing about lifestyle topics is money. I am obsessed with it, and love to watch it grow. Today is one of the best times to live, just because money management and personal finance have never been easier.
If you ask me, the app market is one of the best things to ever happen to personal finance. People can now trade stocks without fees, manage IRAs with a single finger tap, and even check their balances without having to hit ATMs.
People who don't have much time, or just don't know how to manage money need to start checking out the app market. Speaking from experience and heavy research, these are the best apps to help you manage your money — no matter how much you have.
Gone are the days of having to pay $15 a pop, just to trade shares! Robinhood waives all the classic brokerage fees and allows you to trade as much or as little as you want.
Liberty is what makes this such a great app. No expensive fees means that you don't have to constantly save up money just so you can buy a stock share. If you want to buy just one cheap stock, you can. If you want to buy 100 shares of Ford, you can.
Pros:
Fee-free stock trades
Possible to trade up to double your deposit, if you buy Gold Service
Quick info on stocks
Free stocks if you refer a friend
Cons:
You have to buy full shares
Not for beginners to trading or investing
Best For: Intermediate stock investors and people who are sick of massive trading fees.
Do you lose track of spending like other people lose track of their keys? Have a hard time keeping track of nickels and dimes? If so, Mint is one of the best apps to help you manage your money.
This app shows you were your spending pain points are, helps you set up a budget, links to your bank accounts and credit cards to make sure you stick to budget, and even sends warnings when you're getting close to spending limits.
Pros:
Accurate spending thanks to linked accounts
Excellent warning system and household budgeting help
Offers realistic insight
Track and pay your bills faster than ever
Website version available for computer users, too
Cons:
Can be a bit intrusive for some people
Difficulty with updates from time to time
Best For: People who need a budget, and always lose track of spending.
To prepare for the winter, squirrels stash away acorns every day. Acorns is kind of built on that same concept. This is one of the best apps to help you manage your money and invest it for you. The best part about Acorns is that it works automatically and takes all the guesswork out of investments.
Acorns links to your bank account and rounds every purchase you make to the nearest dollar. Then, the app takes the change from each purchase and deposits it into an investment platform that suits your needs. Over the course of months, you end up with a pretty good amount of change that continues to grow!
Pros:
Easy to use, even without financial knowledge
Low maintenance
Automatic
Cons:
If you spend a lot, you may end up with an overdraft by accident
Relatively low returns
Best For: A "set it and forget it" rainy day fund with no need to think about details.
Clarity Money is one of the best apps to help you manage your money, if you're legitimately looking for an app that can act like a financial personal trainer. This budgeting app shows you how you spend your money and also points out what you're overspending on...then gives you reasonable goals that help cut down on your splurges.
Pros:
Easy to use and navigate
Makes it easy to cancel unwanted subscriptions you signed up for years ago
Has options to lower your bills
Cons:
Doesn't have investing options
Doesn't tell you what kind of purchases all the time
Best For: People who love to do annual finance "spring cleaning" and also improve their situations.
Mvelopes uses the classic "envelope budgeting method" to help you plan out your monthly budget. The app's idea lets you choose the amount you spend on each bill and every aspect of your life.
According to Credit Karma, it's one of the best tools to tidy up your budget. We're inclined to agree, and that's why it's one of the best apps to help you manage your money.
Pros:
Easy to understand system
Gives you information that lets you make good decisions
Syncs with your banks
Adjusts according to your needs
Professional budgeting coaches are on call and ready to talk to you
Cons:
Not free
Glitchy updates from time to time
Best For: People who love classic budget systems on a tech interface, and who love to budget successfully for long and short term financial goals.
Goodbudget is one of the best apps to help you manage your money — especially if you're married. This app allows you to sync accounts from different people so that you all get to stay on the same page.
Much like Mvelope, Goodbudget lets you see all the details of your budget and spending in one app. Also like Mvelope, Goodbudget syncs to your bank to ensure that you don't end up spending more than you think you did.
Pros:
Good for couples
Lets you see and set budgets easily
Visual representation of spending
Cons:
May be intrusive for certain couples
Best For: Couples who can't figure out where their money went.
If you're looking for one of the best apps to help you manage your money, retirement, savings, bills, and more, look no further than Albert. This massively impressive app goes beyond budget setting to create a highly synced app that shows you every little detail of your financial situation.
Albert shows you your budget, your spending problems, helps you put together a retirement account, and even helps you reach your savings goals. Everything's fully automated, and that's what makes it so awesome.
Pros:
Lets you make a savings account that you can instantly withdraw from, fee-free
Automatically syncs to show you all your fiscal details at a glance
Smart notifications for new subscriptions, tax bills, etc
Lets you text finance professionals at any moment
FDIC insured up to $250,000
Cons:
Serious glitches that have resulted in lost money — currently, they're working on fixing the problem
Can be difficult with certain phones
Best For: People who want a fully automated financial advisor, and want security.
Ever feel like investing is just too expensive? Stash solves that by letting you buy portions of shares for as little as $5. Every fund you choose is a mixture of different stocks chosen by experts, each with its own unique theme that suits your goals and motivations.
You also can automate your savings account, which in turn means that this can be the easiest "set and forget" savings portfolio out there. This is one of the best apps to help you manage your money's investments.
Pros:
Awesome potential calculator
ETFs that are stable and vetted by pros
Automated savings with an overdraft safeguard
Information involving personal finance tips
Designed for long term investing
Lets you invest in property via a Real Estate ETF
Cons:
Stash Retirement is still in beta, so retirement will be hard to do
Very basic personal finance tips
Best For: People who want to learn the very basics of investing and personal finance, as well as people who want a very simple "set and forget" style of investing.
Everyone knows that hiring a professional financial planner is pricey — in fact, it's too expensive for most people. Wealthfront is a robo-advisor app that allows you to automate financial planning, find where your weak points are, and put your money to work in the best places possible.
Wealthfront allows you to plan for college, retirement, and just have a great investment portfolio for long term needs. Tax loss harvesting, direct indexing, and advanced indexing are all doable with this app, which means more money for you.
If you're looking for a seriously powerful punch, Wealthfront is one of the best apps to help you manage your money and plan for far-away goals you need to have met.
Pros:
Long term investment advice that works
Passive investing with tax loss harvesting
Higher returns on average than other apps
Works even with low income
Wide variety of investment vehicles
Fully automated investments
Cons:
Many fees that may eat into funds
Account minimum of $500
No socially responsible ETFs
Doesn't really help you set a budget
Best For: Managing your retirement without having to spend days doing it.
One of the best apps to help you manage your money in the stock market, if you're a beginner, is Invest. This simple, easy to use app is all about bringing standard investing to young consumers who don't really know much about the stock market but desperately want to learn.
Everything about this app revolves around education, quick trading, and learning how to become a great long term investor. If you're intimidated by charts and love pretty apps, this is a great option.
Pros:
As easy to use as it gets
In-depth information about how to trade stocks and invest wisely
Visually pleasing charts about each company you invest in
Awesome add-on features
Cons:
Has no advice for budgeting
No retirement accounts
Best For: True beginners in the world of investing who are very interested in learning good habits.
With a catchphrase like "save money without a budget," you know that Digit's going to be one of the best apps to help you manage your money — without making you feel like you're sacrificing anything to do so.
Digit works by syncing with your banks, predicting where you're going to spend money, and then coming up with ways to save cash in areas that you already want to save cash on. It also lets you see your budget at a glance, which is also pretty nifty.
Fast Company named Digit one of the most innovative personal finance apps of 2017, and when you think about how genius this app really is, you have to agree with that verdict.
Pros:
Turns saving money into a mindless task
Easy to use
No need to stick to a budget to gain cash
Shows you how much you should save daily
Rainy Day Funds are automated
Cons:
May accidentally disconnect from your bank from time to time, but this is being fixed
Best For: Saving extra cash without having to stick to a strict budget, people with poor impulse control who can't handle regular budget software. People who want to save cash.
Wealthfront's top competitor is Betterment, and that alone tells you it's going to be one of the best apps to help you manage your money for long terms goals.
Much like Wealthfront, Betterment is a digitized financial advisor that helps you invest in the right stuff, save for your retirement, and also improve your overall fiscal wellbeing.
Unlike Wealthfront, Betterment has a lot of socially responsible investment options and also doesn't carry a minimum on how much you can have stashed away in the app. More impressively, you can actually talk to a live advisor from Betterment to help you carry out your plans, too.
Pros:
Live advisors always on hand
Easy to use passive investing
Guided investing with a variety of different methods
Goal-oriented management
Fractional shares available
Cons:
Flat rate fees
Recent updates took away a lot of information that you used to be able to view
Best For: People who want to be socially responsible with their money, but also want to see returns on their purchases.
LearnVest is part budget app, part investment app — and all awesome. Its ease of use, fun navigation system, and easy-to-sync style is what makes this hybrid app one of the best apps to help you manage your money, save towards goals, and watch your money work for you.
If you're new to investing, LearnVest acts as a tutor. If you want to just have a handy (but not heavily synced) app that shows you your budget at a glance, LearnVest has it. Overall, it's a good app for starters.
Pros:
Easy to use
Shows you how to invest long term
Lets you see every aspect of your budget and investments quickly
Cons:
Hasn't been updated in a while
Doesn't always sync appropriately
Users claim the web version is better
Best For: Very basic investors who just want a general idea of what direction they're headed.
Freelancers already know that saving for tax season isn't exactly the easiest thing ever, nor is actually saving for "trigger points." Qapital is a savings app that makes a point to help freelancers save up for tax season, and also helps regular W-4 workers save up tons of money for all sorts of goodies.
What really makes Qapital one of the best apps to help you manage your money is the way it lets you set "trigger events" that automatically deposit money in your savings account throughout the day. So, you don't even have to work that hard to get where you want to be.
Pros:
Automated savings
Goal-oriented tracking
Visually pleasing and easy to use
Frequent savings deposits throughout the week
Gives you a credit card to splurge on savings if needed
Cons:
Can be hard to link certain bank accounts
Best For: People who really, truly need help saving and want to have a savings account that's safe to use.
Most of these budget apps and investment apps typically just assume you have to accept the prices you're paying for goods. What makes Truebill so unique, though, is that it works to fight the prices you pay on monthly bills for you.
People who have used Truebill have saved hundreds off monthly bills like their cable, phone, and internet subscriptions. The app also has an awesome "unsubscribe" option that allows you to get rid of extra monthly charges ASAP. So, if you're a heavy subscriber, this is one of the best apps to help you manage your money — and kick that subscription addiction.
Pros:
Monthly savings add up quickly
Minimal effort on your part
Helps you see how much you spend on subscriptions
Text alerts for new subscription
Cons:
Best For: Doing spring cleaning on your budget, and chewing out Comcast.
About the Creator
Ossiana Tepfenhart is a writer based out of New Jersey. This is her work account. She loves gifts and tips, so if you like something, tip her!
Reader insights
Be the first to share your insights about this piece.
Add your insights