A Total Bedroom Reset with a Lull Mattress
Why a Lull Mattress is the healthiest choice—for your body and the planet

Supported ByLull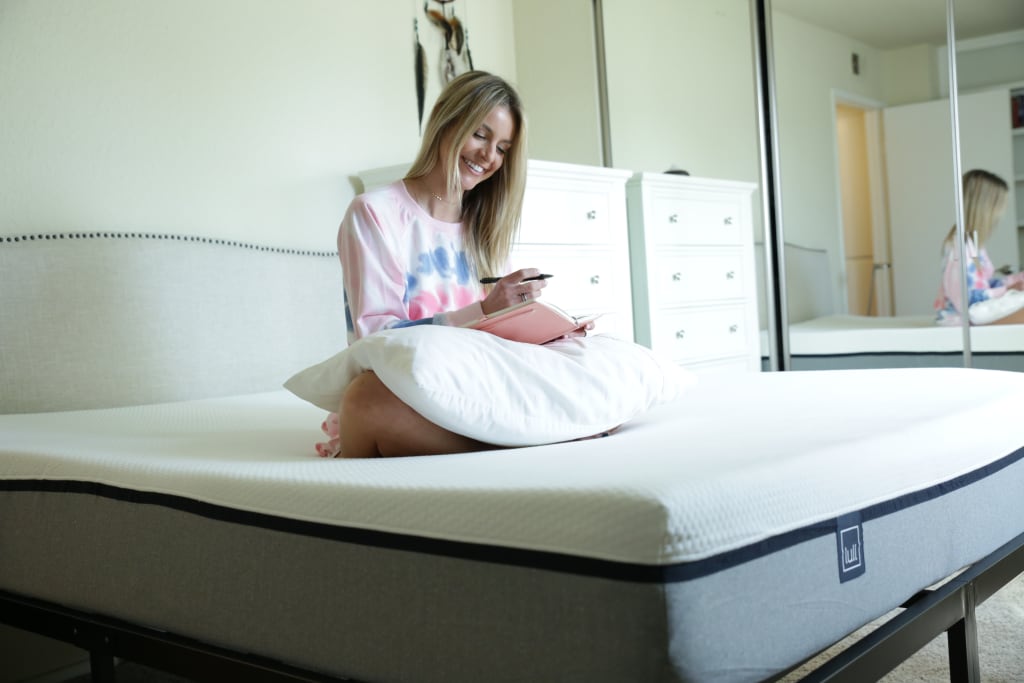 Today, we're saying YES to a sustainable good night's sleep.
I'm finally getting settled into my new place (if you follow me, @jesscarrolltv, you'll know that I recently moved to Arizona!), and thanks to my new premium memory foam mattress from Lull I have been sleeping like a baby! My heart will always love LA, but I needed a change in scenery, and didn't even know it at the time, but also a change in my sleep.
In today's blog post I am giving you guys a full rundown on my new Lull Mattress and all of its amazing benefits! Lull is not only a healthy choice for yourself, but for the planet too!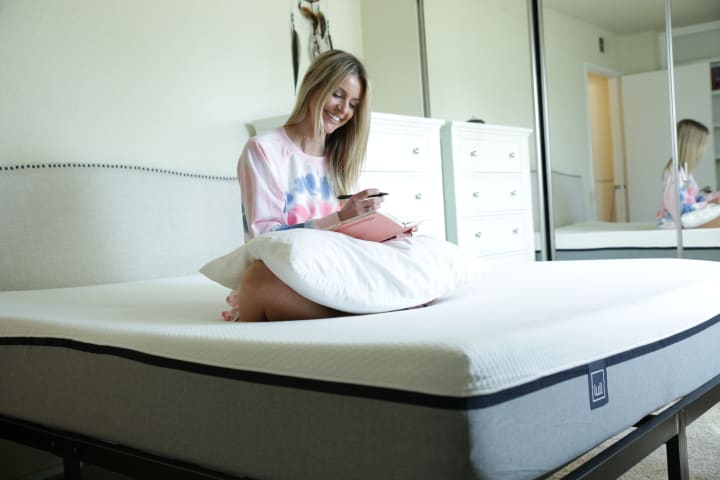 So, let's get into it!
Before getting into all of Lull's AMAZING benefits, let's talk about how it arrived!
When I first got my Lull Mattress in the mail, I was so surprised that a big mattress fit into this skinny rectangular box. When I took it out of the box, I took the plastic off, and right away you can hear the mattress start to inflate. It was so cool and effortless. The entire unboxing process took only a matter of minutes.
What I love about Lull is that they really care for their customers! I love a company who puts their customers first. When you purchase your new favorite mattress you get FREE shipping with no-contact delivery, isn't that amazing?! You also get 365 nights to try it out and if you don't love it (which probably won't happen because it literally feels like you are sleeping on a cloud), Lull will give you a full refund! It's really a risk-free purchase, you have nothing to lose for choosing to invest in your sleep. Not to mention, Lull has over 37,000 raving reviews and 95% customer satisfaction, so it's great to know that so many other sleepers are happy with their decision to choose Lull.
So not only is their customer service amazing, but so is the actual mattress itself.
When purchasing a Lull Mattress you are also making a purchase to invest in yourself. If you guys have been following me for a while, you know how much I love fitness, self-care, and really putting yourself first in life. It's important to take care of yourself, so that you can live your healthy and happiest life!
It's even more vital this year to make sure you are getting a good night's rest. We are still experiencing a pandemic and now flu season is among us, so to say the least it is important we are doing everything we can in all aspects of our life to stay healthy.
It's especially important for your mattress to be healthy for you, since you spend ⅓ of your life on it! Plus getting a good night's sleep reduces stress, boosts your immune system, and leads to a happier life. These are all benefits you can get from sleeping on an amazing Lull Mattress.
Moral of the story (or blog post)...
A Healthy Mattress = A Healthy Life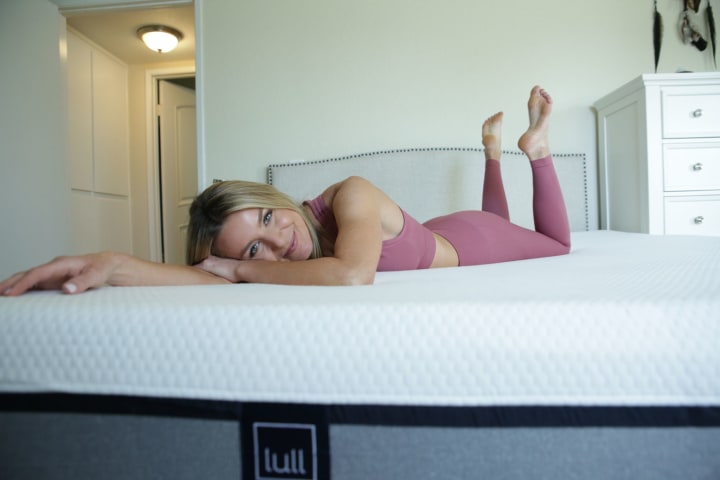 Lots of other mattresses on the market contain toxic chemicals and materials that are not only bad for you, but bad for the environment as well. Luckily, Lull is not part of that "toxic" category. Lull is CertiPUR-US®-Certified and their company is a Sustainable Furnishing Council® Member, which goes to show that they care about the health of us and our environment.
Lull Mattresses are carefully crafted with eco-friendly materials and packaging to reduce our carbon footprint. In addition, Lull Mattresses are free of harmful chemicals, ozone depleters or phthalates like other mattresses can contain.
Here are 4 ways that Lull stands out from other mattresses on the market:
Lull Mattresses Stay Cool
The gel-infused top layer helps transfer heat away from your body! I absolutely love this about Lull because we all know how hot Arizona can get at anytime of the year, basically! The last thing I want to feel is hot and sweaty when I am trying to go to bed! At the same time, Lull Mattresses are made with advanced temperature regulation technology, so you can sleep cool in the summer and warm in the winter.
Lull Mattresses Bounce Back
No more sinking into your mattress or feeling like you are on a trampoline! Your mattress shouldn't make you feel stuck, or make it hard to get out of bed.
The Perfect Mix of Comfort and Support
Lull has AMAZING support! The proprietary foam layer supports your body so you can rest easily and peacefully. Lull's three-layer technology also focuses on creating healthy spine alignment...I think we can all use some help with that especially if you're working from home on calls all day.
Durability
Lull makes their products with durability in mind, they even rigorously test their mattresses to ensure years of comfortable and restful sleep. Lull Mattresses come with a lifetime warranty, so you can be confident that your investment in your sleep will be a worthwhile purchase. Lull's double-based layer provides an amazing sleep experience that will last for years to come! No sagging or morning aches/pains here!
When you are purchasing a Lull Mattress, you will for sure be getting a good night's rest, and if we are anything like the same, we BOTH value our beauty sleep.
I know I've only had this mattress for a little while now, but I can definitely vouch that I've already experienced all of these amazing benefits I mentioned above. Getting into bed is my favorite part of the day, andnow that I have a comfy mattress I am even more excited to sleep at night!
Right now, you can get $300 off when you purchase any memory foam mattress! The offer expires soon so if I were you, I would jump on it! You won't BELIEVE the difference a Lull Mattress makes when it comes to your sleep.
A hassle free, stress-free and reasonably priced mattress that gets delivered straight to my door?! Sign me up!
So there you have it, my review of my new Lull Mattress. I am so excited to be sleeping on a cloud every night and waking up in the mornings feeling so well-rested!
I love my bed! It makes me so happy and is actually a sacred place for me to go and relax at the end of the day. If you are considering upgrading to Lull you won't regret it, I promise!
Talk to you all in my next blog post. Stay safe + healthy!
XO,
Jess
About the Creator
Jessica is a TV personality, red carpet reporter, speaker, and social media influencer. She empowers people to overcome doubt and negative self-talk. Her ultimate goal is to help people master their mornings, so they can master their lives.
Reader insights
Be the first to share your insights about this piece.
Add your insights