10 Homemade Remedies For Winter Skincare Routine
Try This Winter Skincare Routine!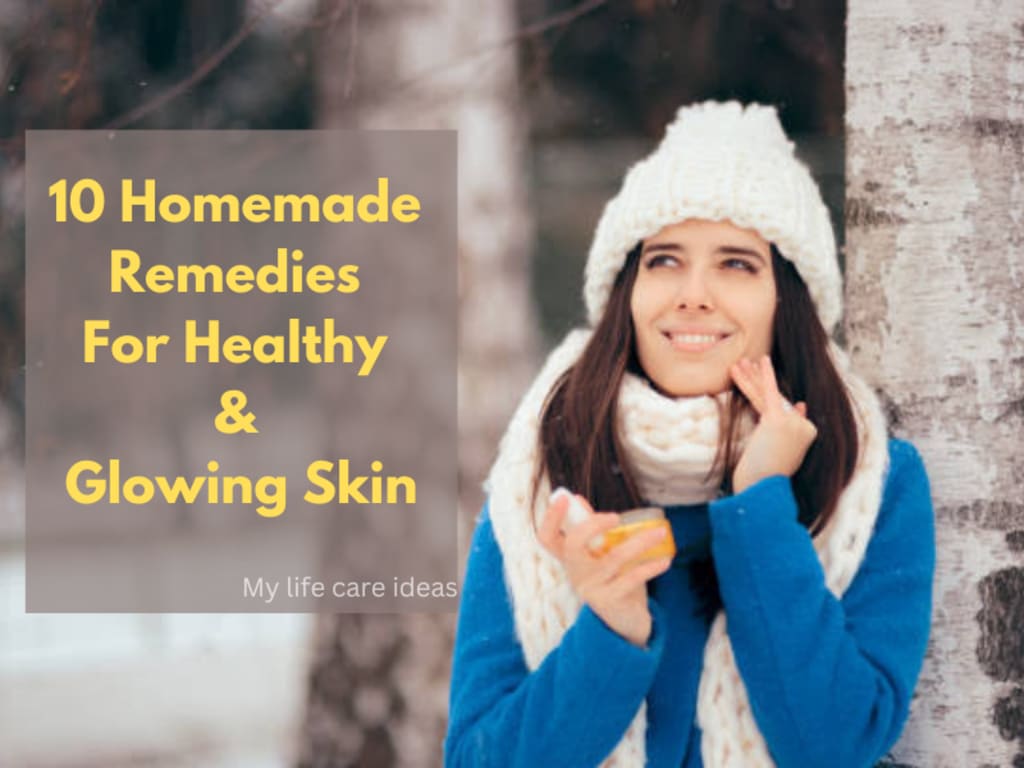 Try This Winter Skincare Routine!
Winter is everyone's favorite season. People love this season and enjoy it in their ways but in winter we faced skin dryness, redness, itching, and flawless. So we should maintain our winter skincare routine for healthy and glowing skin and follow this routine timely.
Our skin can take a beating over the winter. Our skin may get parched and dehydrated due to the intense cold and dryness. There are numerous cleansers and face packs available for such issues. Nothing nearly compares to the power of homemade remedies.
10 Winter Skincare Routine Homemade Remedies For Glowing & Healthy Skin:
In the winter season, a winter skincare routine must be necessary because our skin gets dry so we need to hydrate and take care of our skin. And taking care of your skin is not much difficult as we think!
There are a lot of home remedies that you will add to your winter skincare routine. All these remedies are made at home with natural ingredients which are very effective for our skin.
They are listed below:
1. Drink A lot Of Water
2. Eggs Mask
3. Milk Toner
4. Coconut Oil Massage
5. Aloe Vera Mask
6. Buttermilk
7. Apply Lip Balms and Mask
8. Honey
9. Yogurt And Lemon Juice Mask
10. Banana And Milk/RoseWater
1- Drink A lot Of Water:
First, the main important thing is to drink water properly. If your skin gets dried you should drink a lot of water because water hydrates your body and gives a glow to your skin, cleaning acne and controlling the oil on your face, and also helping to decrease wrinkles.
And truly it is an ever the best remedy for a glowing winter skincare routine purpose.
2- Eggs Mask:
As we know that egg is full of benefits. We use it in our hair as well as our skin too. Eggs can be used by many people with different types of skin tones. Eggs give moisturize our skin. Eggs moisturize because of their fatty and water content, while the astringent qualities of egg whites aid to close pores.
How we made the eggs mask?
In a bowl, you can mix the eggs with olive, honey, or yogurt and apply them to your face as a face mask, leave for 15 to 20 minutes, and then wash with water.
Egg Mask
3- Milk Toner:
Raw milk is a fantastic skin toner. It works to even out your appearance and gets rid of dark marks on your face because it is packed with antioxidant properties and lactic acid. To make your skin glow, you can also mix raw milk with substances like papaya, honey, almonds, turmeric, and others.
4- Coconut Oil Massage:
Coconut oil is unaffectedly anti-bacterial, anti-fungal, and moisturizing properties which help you to clean your skin. All you need to do the night before going to bed is apply some coconut oil to your face and neck in a circular motion and massage gently. Do this method once a week and see the difference in your skin.
Must read about the 8 Benefits Of Coconut Oil For Haircare
5- Aloe Vera Mask:
Aloe vera acts as a wonderful moisturizer and if you add it to your winter skincare routine it gives you amazing results because of its nongreasy texture. Additionally, it helps to maintain the firmness of your skin by preventing acne and skin wrinkles.
How to make the mask?
Take fresh Aleo vera, peel it off and add honey to it. Apply this mask all over your face, then give it 20 minutes to dry. Rinse the mask with cold water when it has dried. This face pack gives the skin much-needed hydration and nourishment.
Must read about Aloe Vera For Face Benefits & Uses
6- Buttermilk:
In this perspective, buttermilk is yogurt's brother, albeit in liquid form. Buttermilk's lactic acid content exfoliates dead skin, and with continued usage, dark spots and blemishes disappear. Simply use buttermilk as a homemade facial mask on the face or rub it on dark spots!
For More Read;https://mylifecareideas.blogspot.com/2022/10/10-homemade-remedies-for-winter.html
About the Creator
My Life Care Ideas is a place where you will find all types of health tips, beauty tips, food and drink recipes, and life care ideas.
Reader insights
Be the first to share your insights about this piece.
Add your insights