You know what Vocal needs? A reading list
Would you use it?
It's a Friday night and I've just finished cooking. The scent of satay chicken is still fresh in the air as I sip away at the bottle of soju I've shamelessly cracked open (it's been a long week, ok?). I'm scrolling through the latest submissions of some of the incredible Vocal Creators I've subscribed to, but I can't help but notice some of my favourite writers are missing from the list in my notifications. I know they've posted recently because I saw their work on the 'Top Stories' page when I briefly scrolled past this morning, but I can't see them yet.
Scroll.
Scroll.
Scroll some more.
Scroll again.
Ah - there they are.
Finally.
You see, the problem is, there are so many creators on Vocal with incredible talent that I just can't help but whack that Subscribe button when I see something I love.
Some creators post once a day, some once a week and some post even less frequently, but others post multiple times a day (which is fantastic, and I applaud the efficiency - truly), but unfortunately this also means I only see content from the creators that post the most. The ones who spend days or weeks perfecting their work are often lost in the midst of other notifications, and I want to see more of them.
Sometimes I comment on these (on the rare occasion I see them) with a "this sounds amazing - will be back to read later" type of comment in hopes that the author will respond and remind me to read it when I have time to. But to be honest, a lot of the time I only read the content from some of the people I subscribe to if it makes Top Story because I'm more likely to notice it then.
An example? Let's look at Naomi Gold - I'm a huge fan of her writing. Her voice is so genuine and easy to follow that every word melts into the imagination when reading her work. But a lot of the time, I only manage to read her Top Stories and even then, sometimes I forget because I see it, make a mental note to come back to it when I have time to read properly, and then don't. And it's not because I feel guilty for not supporting another creator that I'm bringing this up, it's because I genuinely am interested in reading her (and many other's) content but I never remember to do it when I have time.
Cue the dramatic music.

Enter the Vocal Reading List.
I'm on the train to work, as I am every morning. It's a short 13-minute journey (thankfully) and I'm scrolling through the Vocal Top Stories page.
Oooh, Madoka Mori (or let's say, Em Starr or Caroline Jane or... I'm going to stop there, but there are a lot of creators I could list) a new published piece.
I'm a subscriber (to all of these creators) but must have missed the notification. It's listed as a '5-minute read' but I'm about to arrive at my station, so I guess I'll just add it to my Vocal Reading List and read it later.
I spend the day grinding away in the lab, then catch my 13 minute train home. Perfect time to read the stuff I've added to my reading list.
And just like that, I can spend those 13 minutes on the train wisely as I read through the articles I've added to my list. Throw a comment or two into the mix and I'd call that one hell of a productive day.
What I'm trying to say is: I want to support amazing creators more and to optimise my reading, but as someone with the attention span of a cracked pistachio, I often forget about a lot of could-have-been amazing reads.
Not that anyone asked, but allow to me to explain via meme: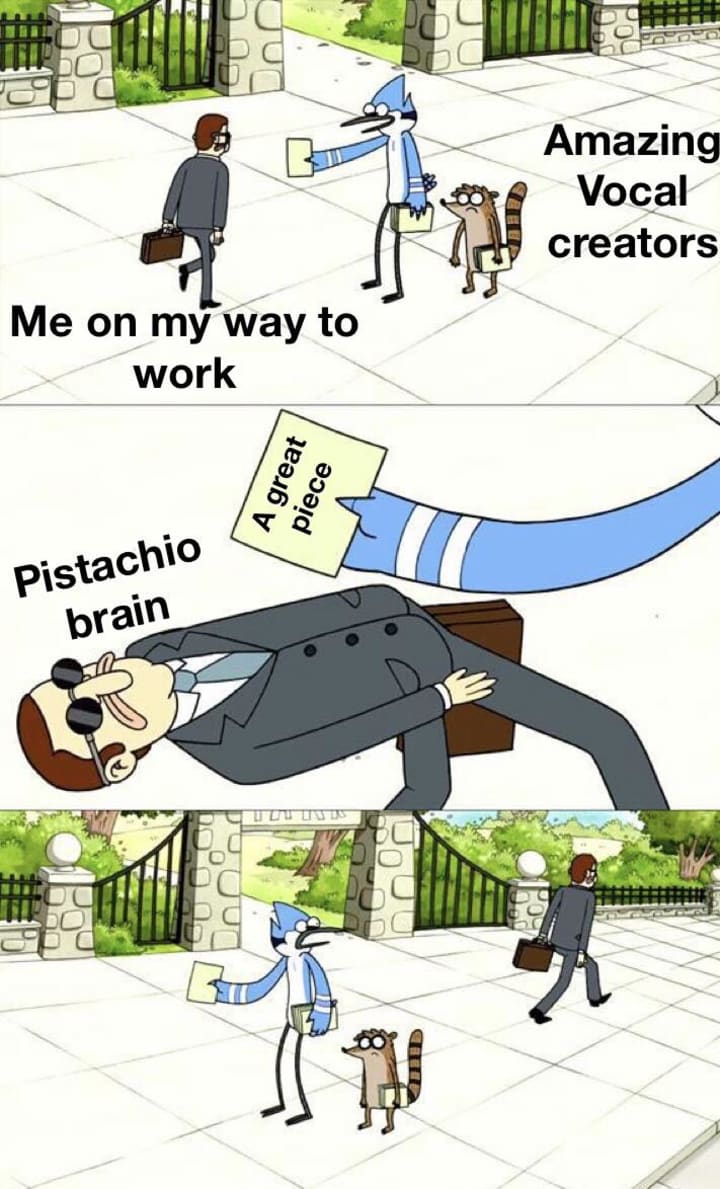 See the problem? I need a reminder to come back to those articles that I notice and then forget about immediately after my phone re-enters my pocket. Not convinced? How about this one?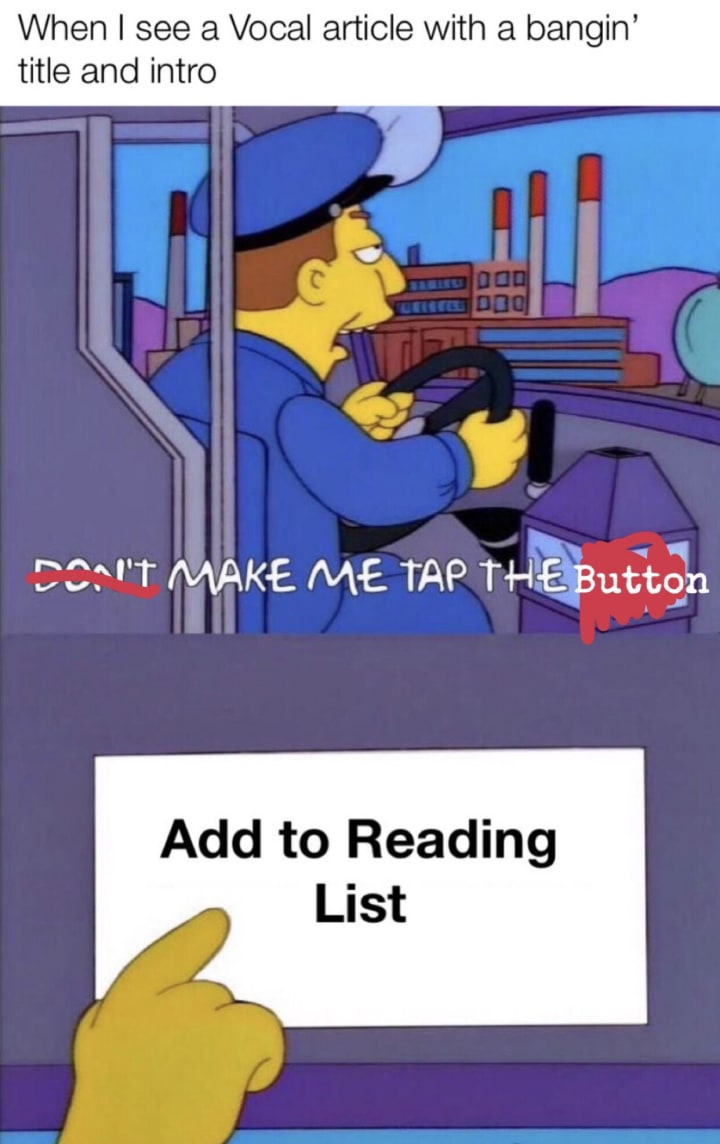 No? Yes? Maybe? Well, I tried.
I have to admit though, I get the vibe that someone (or, perhaps, many people) has already mentioned this idea - surely, someone has?? As I mentioned, I have trouble keeping up with all the content, so I apologise if this is just re-stating other peoples' suggestions. But, if you've mentioned (or even thought about) this before, or have seen another post about it (that I probably missed for reasons mentioned above...) let me know. Would you use a reading list if it was added to Vocal?
I'd love to hear your thoughts below.
Edit

Thank you for all of your comments - I was not expecting so many responses but it's great to hear everyone voice their opinions and experiences. There were a few really interesting ideas put forward that I wanted to add to the article.

Justin @ Vocal provided a great suggestion in his comment - using the reading list functions such as the one Apple provides in Safari. I admit, I hadn't considered this at all when I posted this article, but it does sound like a feasible solution - for now at least. The only potential issue that came to mind was that it wouldn't be Vocal-specific so if you use those features for lots of things, the Vocal stuff could still get lost in the mix. L.C. Schäfer also left a few comments outlining additional features that a Vocal Reading List could offer, as opposed to using the generic ones Apple and other companies provide, such as reminders about what's on your reading list, a categorisation function within the list to sort your Vocal stories, and a 'favourites' option. Personally, I loved these suggestions, although I can't speak for everyone of course.

On the other hand, after reading through more comments, I've realised now that a Vocal Reading List would only solve half of the issue I was attempting to address - the other half comes from the notifications feature, which I love overall, but it can be overwhelming. You can get anywhere between 0 - 100+ notifications in a day, especially when lots of people publish new content, or when there are a lot of comments to respond to. As Naomi Gold mentioned in her comment, this make it difficult to stay on top of things. A Vocal Reading List probably wouldn't solve this issue either, not entirely at least.

BUT - Justin @ Vocal's suggestion to add a filter to the notifications could be a huge help. Being able to sort through notifications easier would tackle a big part of the issue and, if I'm honest, would probably be even more useful than a reading list at the moment...

Of course, this is just my opinion on the matter, and if you've got some suggestions I'd love to hear them.

Thanks again, everyone!
About the Creator
By day, I'm a PhD student, by night.... I'm still a PhD student, but sometimes I procrastinate by writing on Vocal. Based in Brisbane, Australia.
Reader insights
Outstanding
Excellent work. Looking forward to reading more!
Top insights
Expert insights and opinions

Arguments were carefully researched and presented

Easy to read and follow

Well-structured & engaging content

On-point and relevant

Writing reflected the title & theme
Masterful proofreading

Zero grammar & spelling mistakes

Eye opening

Niche topic & fresh perspectives

Compelling and original writing

Creative use of language & vocab

Heartfelt and relatable

The story invoked strong personal emotions

Excellent storytelling

Original narrative & well developed characters
Add your insights