Which is the Best Software Solution for your Online Grocery Business?
Fatbit's Growcer Vs JungleWorks' Yelo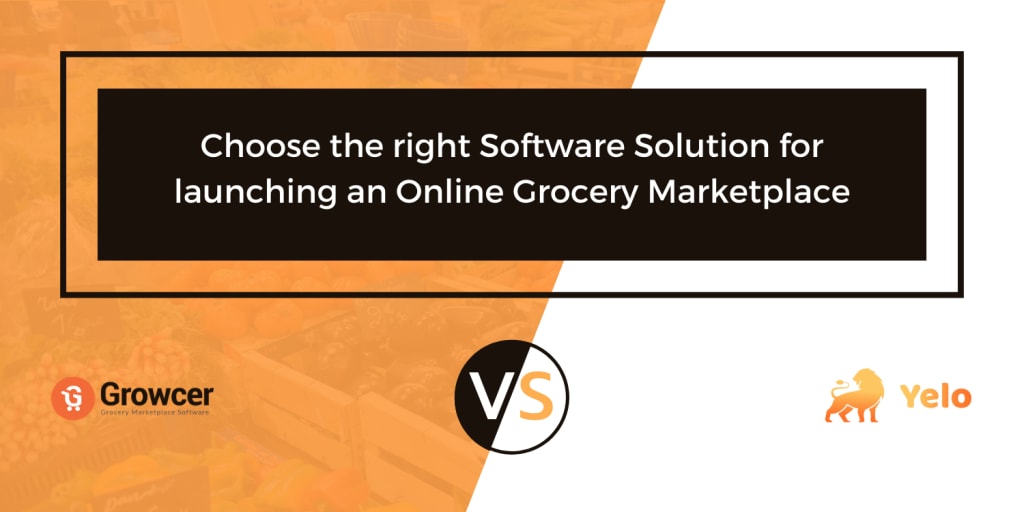 Seth Godin once said, "Don't find customers for your products, find products for your customers".
It is thus imperative that a product will work if it is built with a customer-centric thought and design. Ultimately, when we are able to reach the end-user effectively, it can be ascertained that the right product has been delivered.
As more and more offline grocery retailers go online, companies building platforms and marketplaces for grocery business owners have new targets to meet. Those looking to own e-commerce grocery marketplaces are exploring what needs to be done differently with exceptional user journeys to create experiences like never before. They know they are tapping an audience that is a mix of seasoned, experienced, and generation Z.
Since online grocery marketplaces seem to be an answer to countless gaps and loopholes, we bring you here a feature-wise, elaborate comparison between two grocery delivery solution: FATbit's Growcer and Junglework's Yelo. For prospective marketplace owners and business owners, wanting to build a grocery delivery platform of their own, this comparison will make you choose in a blink.
FATbit's Growcer is a hyper-local grocery marketplace solution that has improved over time, meeting most requirements fundamentally necessary as per the changing times and challenges. Working towards providing outstanding functionalities at a competitive price, Growcer has client stories where it has helped cut significant unwanted costs with an upgraded mobile-solution, serving customers with safety as well.
Read More: https://www.fatbit.com/fab/growcer-grocery-delivery-software-vs-yelo-ecommerce-grocery-solution/
Taking Growcer and Yelo one by one and then comparing features that weigh the most while launching a multi-vendor grocery platform, we provide you an insight into the two products:
Growcer vs Yelo: Features & Functionality Comparison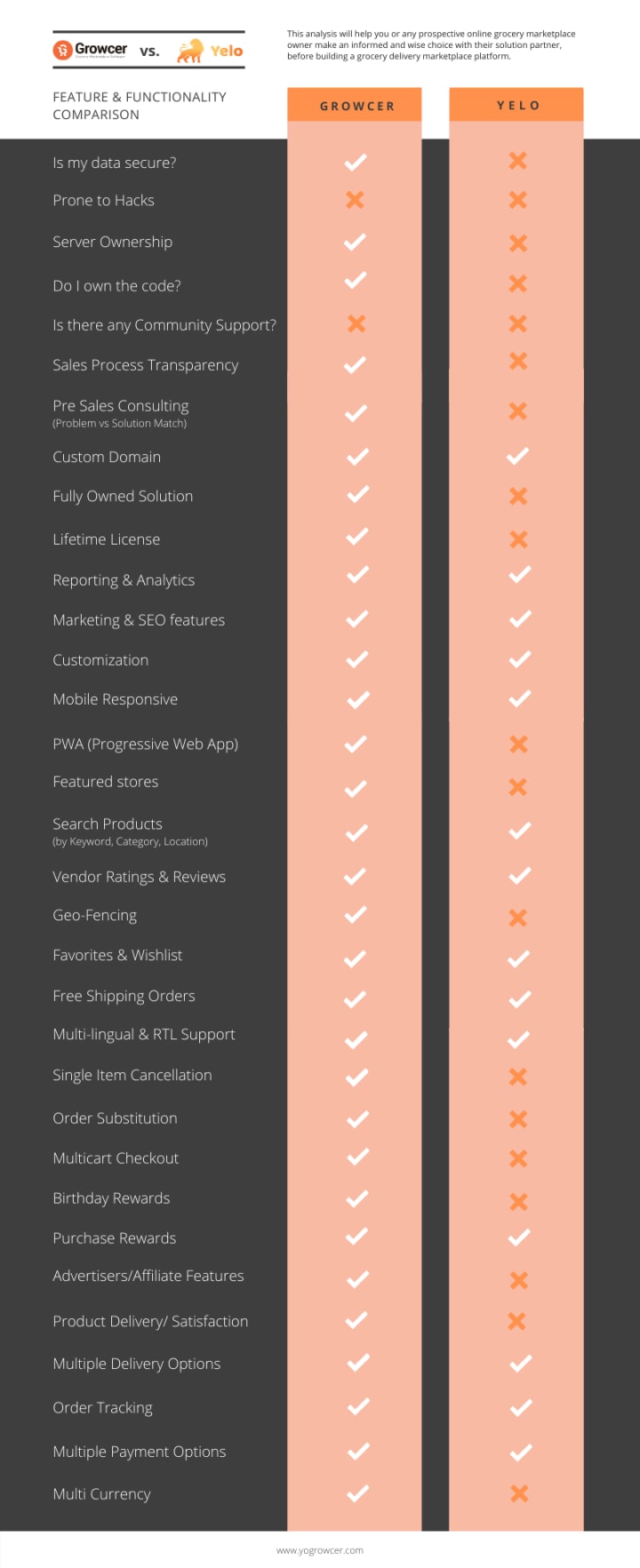 In order to start an online grocery business, you must make well-informed decisions as to what product to choose, where all stakeholders benefit, admin, sellers, buyers and even those contributing to the last-mile delivery — the drivers.
Hosting & Code Rights
Where FATbit Technologies' Growcer is hosted on the client's server and available with a lifetime license, Junglework's Yelo is a SaaS-based solution without any ownership rights.
Customizability
Building your marketplace as per your own likes and style, keeping in mind your neighborhood and customers is a possibility only with the Growcer software.
In Yelo, customization which involves source code changes may gets difficult.
Scalability (Functionality & Logical Workflows)
If you are planning to launch a new business, you might as well want to begin small. There are numerous ways in which you might want to scale, with different models and functions as a part of your business.
With Growcer, you can realize this effectively beginning with a minimum viable product (MVP), until enough traction is noticed to expand.
Extensive customizations are possible in the order-to-cash process, helping drive the marketplace with a broader range of services, better visibility, and improved collaboration between partners. Growcer's Order Management System is based on 3 critical building blocks:
Order Capture,
Order Promising, and
Order Orchestration
Yelo, being a SaaS solution, is based on multi tenancy architecture (MTA). In it, the number of concurrent users of the same instance are numerous and posing a challenge to handle scalability dimensions.
Scope of Engaging an External Development Team or Contractor
Due to available freedom to customize the design, functionality and modules, the Growcer framework offers more flexibility compared to Yelo by Jungleworks. Since you can only access the latest version of the software in Yelo, you do not have any control over the framework and changes on it.
Privacy & Security
A custom-written code, with compliances to standard data protection acts, the Growcer software minimizes security risks and breaches, compared to Junglework's Yelo, where all the marketplace owner's data is on the Yelo cloud, vulnerable to cyberattacks.
Growcer offers a safe platform with SSL for monetary transactions, all placed inside a wallet that requires authentication by the admin for release. Transaction details remain with the third party payment gateways, maintaining any breaches and unwanted involvements.
Tech Support, Subscription & Transaction Fee
FATbit's Growcer offers a full year of technical support at no extra cost, and owning your marketplace license with just a one-time payment.
Whereas, with Yelo you pay a monthly subscription fee for the solution. Another point to be noticed with Junglework's product is the transaction fee that the marketplace owner has to pay.
FATbit's Growcer relieves you of such recurring charges. The product is a one-time pay and own solution, letting you expand and grow as an online grocery business owner.
Multi-cart Functionality, Multiple Payment Options & Multi-currency
If you are looking for advanced features like being able to buy items from multiple-stores in a single transaction, having the flexibility to choose between different payment methods and by choosing the local currency for your geographical operations, then Growcer is an easy choice.
Yelo although promises functionalities of multiple payment options, but only cash on delivery (COD) seems functional as per their demo. Muti-cart and multi-currency features are completely absent.
Progressive Web Apps (PWAs)
The lighthouse app test demonstrates whether a product is PWA supported or not. Junglework's Yelo does not support PWAs, whereas FATbit's Growcer is a PWA powered marketplace solution, with a fast, reliable and engaging interface.
Marketing Modules
From the two most popular marketing modules, pay per click (PPC) and affiliate model, Growcer offers both, whereas Yelo offers none. Growcer allows you to market your marketplace the way you want. Inviting merchants on-board or home-page banners for promotion, you are the master of your grocery platform with Growcer.
Conclusion
After this thorough evaluation and comparison, it's not a very difficult choice if one has to suggest or pick a software solution for launching an online grocery selling platform during this period of immense uncertainty and challenges.
Growcer seems to sweep the scores with its customer-oriented strategy and operations, comfort and flexibility, making it future-ready as well as a mature marketplace solution.
_______________________________________________
Originally published at https://medium.com/growcer-ecommerce-grocery-software/growcer-vs-yelo-the-best-online-grocery-delivery-software-solution-7aad7bafe7ea
Reader insights
Be the first to share your insights about this piece.
Add your insights