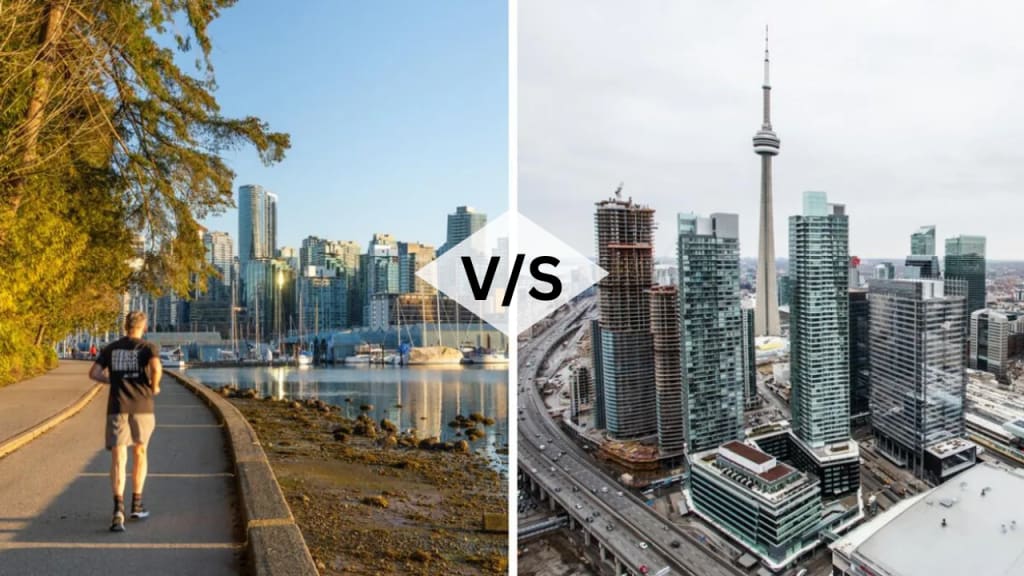 International students who are looking for higher education choose Canada. Many institutions in Canada are rated among st the best across the globe. The country is renowned for its astounding educational system. The lesser tuition costs as well as reasonable living costs make studying in Canada more reachable to students than in other countries such as the US or the UK. In addition to this, due to the multiculturalism as well as varied population, Canada can offer all international students some special opportunities to help to learn about other cultures and viewpoints. However, the students are confused between Vancouver and Toronto. So, read this article to understand which one is better for you. 
Vancouver vs. Toronto: Cost of Living 
When it comes to how much it costs to live in a city, you need to compare both cities. It is more affordable to live in student accommodation Vancouver. To maintain the same standard of living in both of the cities, you will need CAD 6,293 in Vancouver compared to CAD 6,900 in Toronto. The consumer prices, restaurant prices, and grocery prices in Vancouver are lower than in Toronto. However, the rent prices in Vancouver are higher. For instance, the monthly cost of living in 1 bedroom apartment is 1900 – 3000 CAD, the meal will be around 80 CAD and the transportation will cost you around 109 CAD. However, if you live in Toronto, you need to pay around 2000 CAD, the meal will be around 75 CAD and the transportation cost will be around 103 CAD. 
Vancouver vs. Toronto: Education
Education in Toronto: Toronto is one of the top-notch cities in Canada for pursuing higher education and it is home to some of the finest colleges and universities. The unsurpassed universities in Toronto for international students are the University of Toronto, York University, Ryerson University, and Trent University. There are some well-known colleges over here including Humber College, George Brown College, and Centennial College. All of these universities and colleges offer a wide variety of courses which helps the students to effortlessly gain academic knowledge as well as practical skills. This will help you in enhancing their employability. When it comes to Toronto Universities for all international students, it is really essential that you are aware of the latest rankings. As per the QS World University Rankings 2023, York University has been given 456th rank, and the University of Toronto has been ranked 34th. 
Education in Vancouver: Vancouver is one of the best cities where you can pursue your higher education. Some of the top-notch universities include the University of British Columbia, the University of Canada West, Capilano University, etc. The best Vancouver colleges for international students comprise Columbia College, Langara College, Regent College, and so on. The University of British Columbia has been ranked 47th on the QS World University Rankings 2023. 
Vancouver vs. Toronto: Lifestyle 
Lifestyle, activities, and culture can be really significant differentiation for where you want to live. In different ways, the cities are quite similar. They offer all the essential conveniences that you would expect from any of the big cities. Toronto is the largest city in Canada and this place is known for being the financial and cultural hub of the entire country. It has a global city vibe which is always bustling. It is one of the best place to be if you want to have a wonderful time. If you love the city lifestyle, you will love this place. 
Where you are downtown in Toronto, you will be surrounded by a wide range of people. You can find some of the best Student accommodation Toronto. The salaries over here are the highest and you can find the best job opportunities. One main selling point of Toronto is its perilous variety. Here you can find more than 50% of the population belongs to a visible minority population group. You can find a wide range of food, activities and also shops. 
Toronto vs. Vancouver for international students: Conclusion 
Toronto as well as Vancouver are Canada's two biggest and most well-known cities. Both of the places have their own distinctive personalities and attractions. In terms of lifestyle, Vancouver is regarded as one of the more laid-back than Toronto. Toronto is known for being a hectic and bustling city. In addition to it, Toronto is also known for being a modern and built metropolis, however, Vancouver is surrounded by some of the interesting mountains and landscapes. Both of the cities are recognized for their high cost of living in comparison to other Canadian cities with housing as well as other expenses being notably high. However, when it comes to job opportunities, Toronto is better than Vancouver. The cost of Living in Vancouver and Toronto depends on individual choices too. 
At the end of the day, both the cities are great and you need to decide which suits your personal preferences and priorities. Both of the cities have a wide range of things to see and do. Moreover, the population and attractions over here are quite diverse. 
About the Creator
Easy to search student accommodation around the university in abroad, Students must understand how to study abroad.
Reader insights
Be the first to share your insights about this piece.
Add your insights