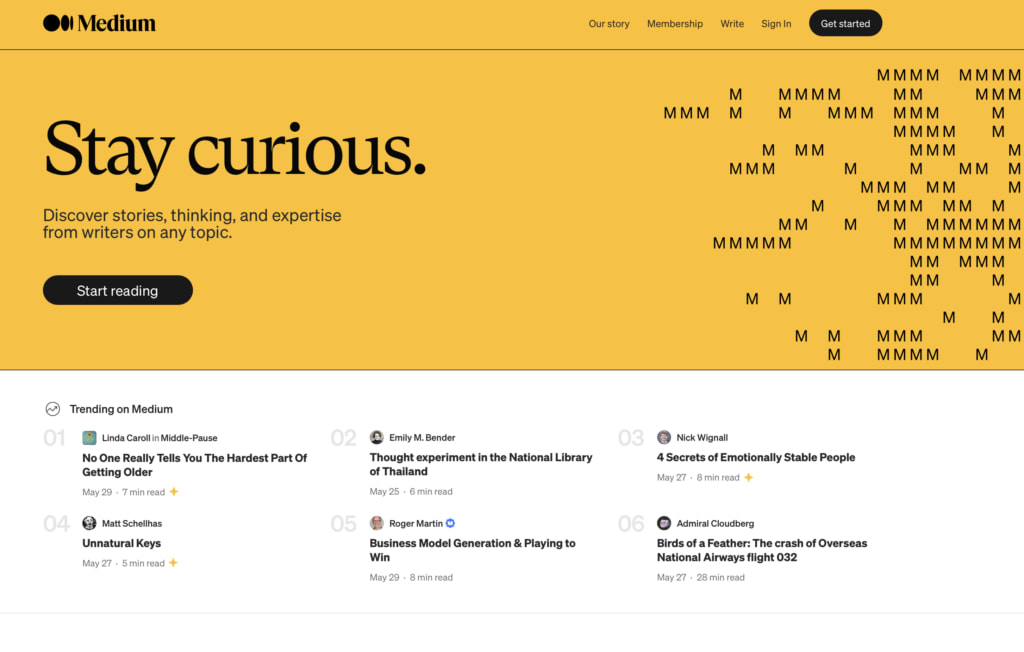 Medium, the renowned platform for bloggers and writers, provides a multitude of reasons why you should join its community and start earning money right away. Despite some misconceptions, Medium offers an excellent opportunity to showcase your writing skills and generate income. Let's explore the details further.
Medium was established in 2012 and has since grown into a platform for social journalism. It empowers both professional and amateur writers to share stories on any topic within Medium's guidelines. While predominantly English-based, Medium also houses remarkable stories in various languages. In 2023, Medium remains one of the best platforms for earning money through your writing, without relying on advertisements or sponsors.
As someone who started their Medium journey in February 2021, I had modest expectations. Being a non-native English speaker, I was pleasantly surprised by the opportunities Medium presented. Fast forward to June 2023, and I couldn't be happier with my decision to give Medium a chance. I have made over $15,000 from Medium alone.
To monetize your writing on Medium, you need to join the Medium Partner Program. Applying is a simple process: create a Medium account, sign up for the Partner Program, and start crafting your original posts. To be eligible for earnings, you need to meet some criteria, including having at least 100 followers and at least one published story. Compared to other platforms like YouTube, Medium's requirements are much more achievable.
Once you meet the criteria, you'll begin earning money based on the number of reads, specifically the reading time of your audience. Your readers must be paying members of Medium, each contributing $5 per month. Within my first few days on Medium, I experienced the thrill of being paid for my stories—an immensely satisfying feeling for any writer.
There are some common misconceptions about Medium that need to be debunked. While you receive compensation for stories eligible for earnings, the payment comes from Medium members* who themselves contribute $5 per month. You can publish metered stories and still get paid even with a free account. The only limitation for free accounts is a restriction on reading three metered Medium stories per month. Nevertheless, you can write and publish as many metered stories as you desire while earning money.
In addition to the financial prospects, there are several other reasons to consider writing on Medium in 2023. Medium boasts a vibrant and supportive community, allowing you to connect with exceptional writers and discover captivating stories. The more you engage with fellow writers and readers, the higher the engagement you'll witness on your own posts. Medium also offers a vast array of fantastic publications, providing exposure to larger audiences, valuable editing tips and feedback, and an opportunity to enhance your writing skills. With numerous publications covering a wide range of niches and styles, you'll find the perfect fit for your writing interests.
While having your own blog has its appeal, creating and maintaining a successful blog requires significant time, consistency, effort, and energy. Writing on Medium offers an effortless setup process, immediate access to readers, and the potential to reach a wide audience from day one. However, combining Medium with your blog can prove beneficial. Cross-posting allows you to create articles for both platforms, expanding your reach and readership. Just be cautious about duplicate content.
Consider the advantage of backlinking with Medium. Links play a crucial role in improving the SEO and Domain Authority rankings of your blog or website. Obtaining backlinks from high-rated websites holds significant value, and Medium, with its impressive Domain Authority score of 96 and Page Authority score of 81, is a desirable source. Linking from Medium to your blog enhances its reputation while crosslinking between your blog and Medium produces even better results.
In conclusion, after discovering the benefits of Medium, I genuinely regret not starting sooner. Within 2.5 years, I received valuable feedback, honed my English writing skills, gained confidence in writing in English, tapped into my creativity, and earned a good income. While not mind-blowing, it exceeded my expectations and surpassed what 2.5 years of writing for a new blog could have accomplished. So, don't hesitate—give Medium a try*! You have nothing to lose, especially considering you can utilize the platform for free. Create your account, start writing, and unlock the potential that awaits you on Medium.
Navigate the online world with me. Subscribe to my newsletter! It's free & priceless!
*this is my Medium partner link*. I'll get a commission if you decide to become a Medium member. It doesn't cost you more, of course. It helps thousands of Medium writers!
Reader insights
Be the first to share your insights about this piece.
Add your insights