Top Stories From VSS Members October 2021
These selections earned their creators a coveted place on Vocal's front page. The Vocal Social Social Society is all about celebrating our fellow creators and we've be able to collect and capture the latest and greatest moments of our beloved members.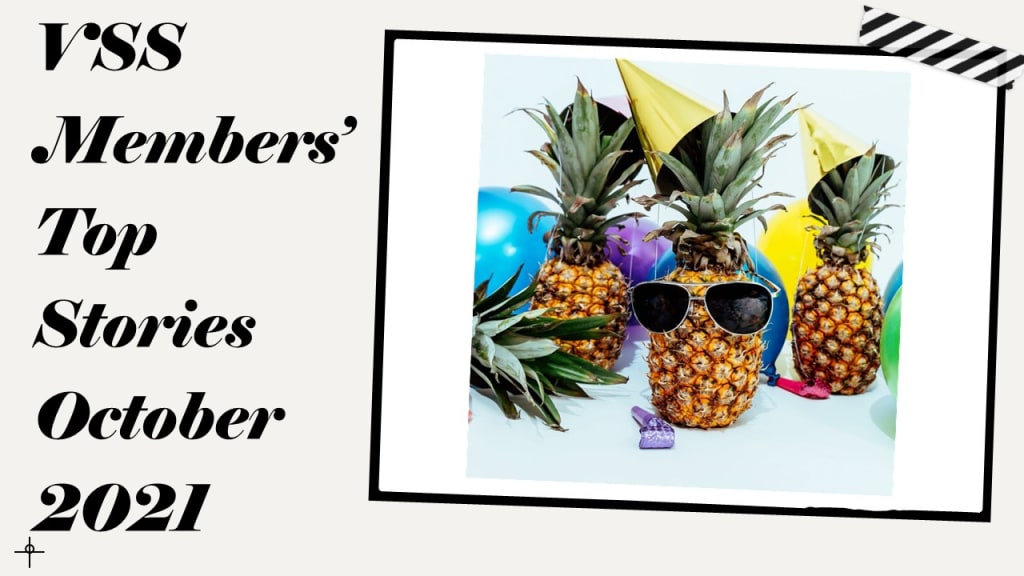 Pineapple fun is from Pexels
Top stories are quite a milestone. The spots are rare, the chances slim and the moment of glory a defining moment in every creators' journey. Haven't got one yet? Don't stress! Until you do, you can always submit your work for peer-review to the Vocal Social Society for the chance at earning a nod from your fellow creators with a Fab 5 award.
What is a Fab 5 Award?
For many, the milestones of a Top Story or a Challenge Win are writing dreams come true, symbols that you've achieved public acclaim; truly, they are the emotional equivalent of publishing a book for some Creators. But, it's a massive leap to achieve. Fab 5 steps in by offering another avenue for review, a different way to shine and a stepping stone along the journey of working towards becoming a Top Story, Challenge Winner or published author. This is how we at the VSS are a 'rock in the storm'. If a Fab 5 winner walks away feeling confident and invigorated to keep writing, then we've done our volunteer "job". That's certainly a tiny win that I celebrate, and it fuels me through all the moments when I feel I've bitten off more than I can chew. It's not easy doing the Fab 5, even though I'm far from alone. -Call Me Les, admin of the Vocal Social Society.
Top Story Winners October 2021
Congratulations Top Story winners!! Until the day comes when every member is part of VSS, I'll keep pulling together the work of those we know. Did you have a top story in October and were overlooked? Never fear. Message the admins in VSS and your story will be quick-edited in.
Much love,
Les
Psst...have you joined Great Incantations yet? If you're writing for the V+ FA...what are you waiting for?
25 winners. $125,000 in prizes. And a lasting legacy that you can be a part of. Vocal's biggest contest to date!
"We're giving away $125,000 for these awards: 25 winners will be selected, and each receive $5,000, plus their stories will be published in Vocal's first ever book—a collection of short stories by Vocal creators, available for purchase, estimated for release in the spring of 2022."
Why should I enter a Vocal Challenge?
There's a story for that.
"I've entered ten contests (to date) on Vocal+ for less than the cost of Netflix. And let me be honest, if I'm sat in front of a computer screen and my hands are idle, I'm gonna start snacking, which means the only thing likely to gain a couple of pounds isn't my wallet. Thanks to being a Vocal+ member, I've done some of my best fiction and non-fiction writing of my life. I've been a Vocal member for merely a month, but I've already swapped ideas, made bigger plans and met some incredible people." -Call Me Les
First published by Call Me Les for The Society pages - a mini magazine in The Vocal Creators Chronicle family on November 1, 2021
Important Note: While we love the brand that gives our creations a place in the world, The Vocal Creators Chronicle is an independent publication. We are NOT Vocal Media, and we neither represent them nor answer questions on their behalf. All direct Vocal inquires should be directed to their support staff, starting here: SUPPORT. You may also find relevant information through their resources section, which can be found here: RESOURCES.
Be sure to subscribe to The Vocal Creators Chronicle on Vocal to receive all the latest updates from your favourite magazine BY CREATORS & FOR CREATORS in your daily news feed.
Vocal Is For Everyone. Join Vocal standard or Vocal+ today and start publishing your creations alongside thousands of other talented creators from around the globe.