Storytelling as an Entrepreneur
Austin Rotter | Hoboken, NJ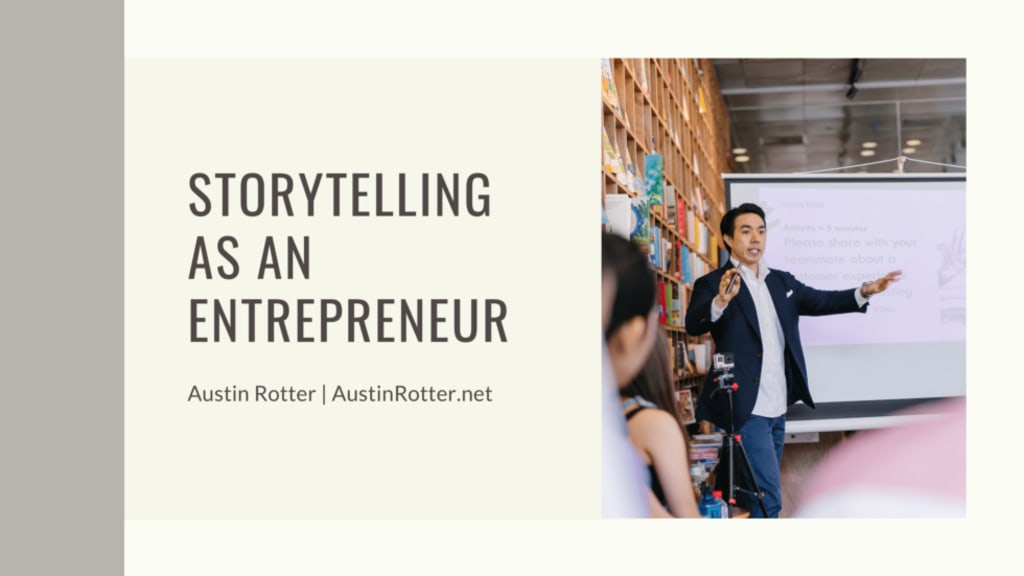 https://austinrotter.net/storytelling-as-an-entrepreneur/
In today's competitive environment, storytelling is considered the most effective marketing tool because it can captivate people's attention for a few seconds. It can also help people take action by encouraging them to think critically and accept new ideas. There are a variety of tricks and tips that can help you create compelling storytelling.
Advantages of Storytelling
Powerful storytelling can help boost your company's competitive advantage and develop a more engaged audience. Over time, it can help you build a stronger relationship with your customers and convert more leads into sales.
A study conducted by Harvard Business Review revealed that some of the most successful companies in the world have strong empathetic cultures. These include Google, Facebook, Amazon, and Whole Foods Market. The study also revealed that people prefer to use ethical products and services with a larger goal than just generating profits. This is because they believe that these brands have a deeper purpose.
Great storytelling can help transform a brand into a friendly and familiar enterprise. It can also create a lasting legacy and increase profitability.
Unfortunately, many companies today do not take the time to develop authentic storytelling in their advertising and marketing strategies.
Although you might be tempted to try and convince people that a particular product or service is beneficial, it's important to remember that building a strong connection with the reader is more important than just talking about the pros and cons of the business.
Instead of focusing on statistics and figures, it's essential to concentrate on developing captivating and relatable stories that can help your audience connect with you.
Developing Your Own Story
Creating powerful types of stories that people can experience is a robust emotional response that can help them connect with the characters and the story they're reading. However, it's also important to remember that the story you're telling isn't just captivating and human but also genuine.
Instead of focusing on the head, go for the heart. This means that your content should be focused on being able to connect with your audience and develop a strong connection with them. A strong emotional relationship with your customers can help build a deeper understanding of them. One of the most important factors that people consider when it comes to choosing a brand is the core values of the company.
About Austin Rotter
Operating in New York, Austin Rotter is a media relations, branding, and media strategy professional who has spent his career building skills, knowledge, and experience within the arena of public relations and online branding. A sharp and driven individual, Austin has distinguished himself as an executive in the industry.
Throughout his career, Austin Rotter has had the privilege of working with more clients than he can count. With more than eleven years of experience working in public relations and media strategy, Austin has helped numerous individuals and companies alike represent themselves online and in the public eye.
As we as a society grow ever-more connected, the importance of branding, media strategy, and public relations becomes increasingly more relevant and apparent. This holds especially true when it comes to finding the most cutting-edge ways to address his clients' problems at hand. Austin Rotter has distinguished himself as a professional who is compelled by innovative strategies. In his career, he has carved out his space in the Public Relations industry as a knowledgeable and driven media strategist. Austin's specialty is working with Fortune 1000 brands, promising startups, and hyper-growth tech companies, where he assists growth and development by providing media relations and strategy for these businesses. He has spent more than a decade building himself into a standout figure in the industry, one who is insightful, persevering, and focused on the best solution and strategy for his clients.
Alongside his robust professional career, there's nothing in the world that Austin Rotter enjoys more than spending time with his beautiful family. He and his wife have been married for more than four years, and the two have a great dog and a wonderful baby daughter together. They live in Hoboken, New Jersey, where they love to absorb the local food and sites whenever possible.
About the Creator
Austin Rotter is a Public Relations executive living in Hoboken, New Jersey, who operates professionally out of New York. Austin's particular skills lie in media strategy, media relations, and branding businesses.
Reader insights
Be the first to share your insights about this piece.
Add your insights