Reading Prince Harry's Book Very Slowly…
Part 1 of…? (Initial Reactions)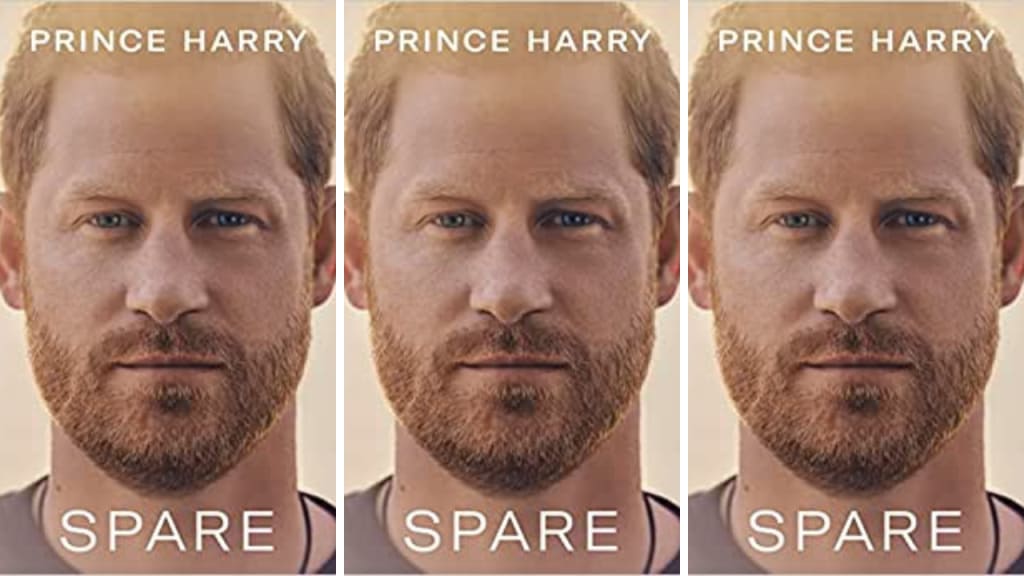 Image source: Amazon
I'm only up to page 52 of the book Spare - I think I know 90% of the plot anyway, not only due to historical events but also hearing all the commentary since the leak of the Spanish early launch!
I didn't get the audio book - though the now Tik Tok viral soundbite "My penis was oscillating between…" is all over my fyp.
It's made me quite relieved I didn't get the audio book, actually. I prefer to read books in my own voice. It kind of distances me from the author in that way, and I enjoy allowing my brain to imagine the different scenes based on the words on the page.
I think my reading posture was probably not the best as I do have a bit of a sore neck right now, and I had only read about 20 pages. In my first sitting read I about 30 pages.
How long will it take me to finish this 400+ pages book? Seems like it's going to take a while.
I'm really surprised he didn't do a large font, 150-pager with lots of photos in it. This book is dense, and yet it still feels very surface level, simply in the first 50 pages impression that I have of it.
He talks about events and situations like bullet points. It's not like we're really getting transported into these stories. It's non-fiction, yes, but that's what also makes me feel like, "This is actually a mental strain to keep up…"
There's something more jarring about his vague-ness in his memories and recollections. I'm not getting drawn into the stories - and I know, it's not fiction, it's non-fiction. But I have enjoyed autobiographies from the Obamas and Clintons, and this just isn't it.
I have even enjoyed comedians' autobiographies, which are always written in their own comedic voice. So this particular book - knowing it is by a well-established ghost writer J.R. Moehringer - who also ghostwrote Andre Agassi's autobiography - it's still not quite my style of non-fiction writing that I usually like to read. As a matter of fact, I'm not sure if I'm all too familiar with the genre of ghostwritten autobriographies. And perhaps that's also why I'm having a hard time getting into it. I'm struggling to find these words that believable.
There is a sense of distance and barrier that I initially had felt with Meghan Markle too, in her interviews. It felt difficult to really connect and engage with, "Who is the REAL Meghan?!"
Prince Harry - of all the interviews that I had seen - it would appear the sit down with The Late Show's Stephen Colbert was the most authentic that I had ever seen. And perhaps if he had a comedic ghostwriter write this book, it would have come across even a little bit more sincere?
Don't get me wrong, I'm still on Sussex Squad!
But as a reader who's previous consumption of autobiographies had been the ones listed above, the writing style is still rather jarring for my liking.
Plus the evocations of all this grief and then numbness from grief - I'm not sure how I feel about it. It makes me feel like, Prince Harry's soul is so scattered - like a scatter brain. And it's not surprising if this is from post-war experiences and drugs, alcohol and substance use.
I feel like there is a lot of anger in Harry - and, perhaps, rightly so - and I just don't normally read "angry" writing.
This only my opinion - and so early on into the book. I write in the hopes of opening up a discussion, like an online book club. I might change my mind by the time I've finished reading it. So it is Part 1 of...? I'm not sure how many parts I'll take to write this series of reviews. But yes, I am also aware, I'm only 50 pages into it! There's a lot more to go, so I could be wrong with this initial reaction, which I'll soon compare.
What about you? How are you enjoying Prince Harry's book, Spare?
Reader insights
Be the first to share your insights about this piece.
Add your insights