Public Service
My life as an EMT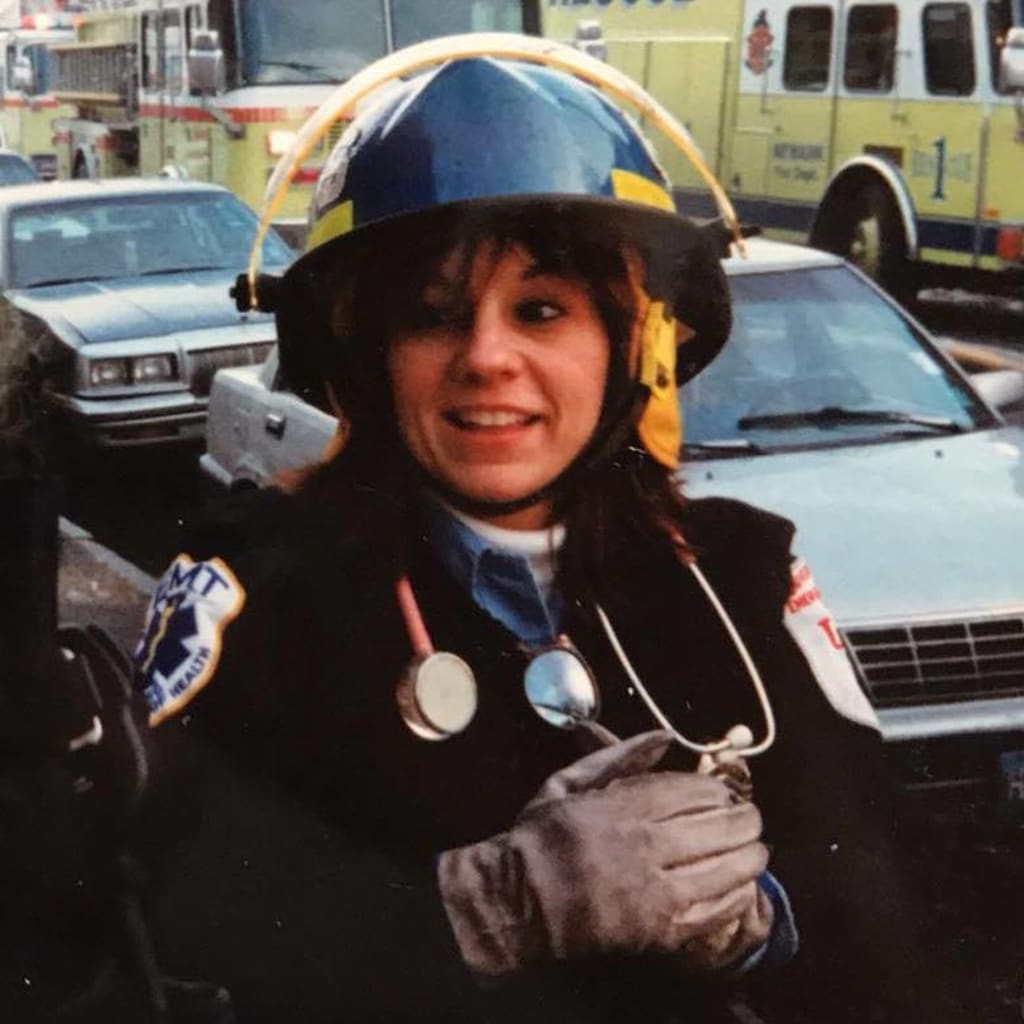 Hi, I'm Teresa. I'm 56 yrs old now but when I was in my 20's and 30's I was an EMT ( Emergency Medical Technician not Elevator Maintenance Technician). I started out pretty late at the age of 26. It took me a long time to figure out what I wanted to do with my life. I was in retail for years, an office manager for a Home Health Company and I cleaned houses for a bit. I was struggling with depression for quite a while and working these jobs didn't help. I had always had an obsession with helping people, trying to make the world a better place. I had friends in High School who were volunteers on our township First Aid and Rescue Squad. I was really interested in doing this but I was told I was to sensitive to do that kind of work and it would destroy me. I believed that for several years but when I saw an advertisement in our local paper that the North Brunswick First Aid and Rescue Squad was in need of volunteers I answered the ad and was on my way to finally doing something that I loved for 12 years.
I started working for a transport ambulance right after I finished my training. It was sort of boring work but it also gave me some practical experience in dealing with patients that were elderly or terminally ill. I also started riding on the ambulance in North Brunswick. I remember the very first call I ever had it was a woman named Maria who was complaining of a bad headache. I was so excited as that ambulance rolled out of the bay. I couldn't wait to get to the patient. It turned out that this woman had just had too much wine with dinner and was drunk. I spoke to her gently and explained that we needed some information from her while I took her vital signs. She was hilarious. In the end she stayed home with water and her new best friend, Advil. It was so exciting and yet fun at the same time. I caught the bug and knew I had to do everything in my power to land a coveted position at one of the local hospitals. I rode out on every single call I could to soak up as much knowledge as possible. I paid very close attention to the Paramedics when they were on calls with us and I asked questions when I was confused. I became someone that Paramedics were glad to see when they arrived on our scenes. I was told this by some of the tougher medics. It was a huge compliment and I was extremely humbled by it. I was able to get hired by Robert Wood Johnson University Hospital and was their only female EMT on staff. There were female medics but I was the only female EMT. I got this job within a year of being certified. This was a huge reward! It was amazing and again very humbling since it was the standard that each EMT hired had to have at least 2 years of experience. I loved this job so much. I had some amazing experiences and was even a 911 communicator. I can just say that those folks don't get enough credit for the job they do.
I learned a lot as an EMT. I learned how hard some people lived and how hard it was to break the cycle they were in. This is really relevant to what is going on in the country right now. I worked for University Hospital EMS- Newark NJ Division for ten years after I moved on from Robert Wood. I saw the conditions that most of our patients lived in and as a woman who grew up in the suburbs I had couldn't live the way these folks lived. I'm speaking about the Black and Brown people who are so upset and angry right now. I wonder how many of us who grew up in suburbia could live in " The Projects" These are huge buildings with up to 25 floors. The elevators hardly ever worked and when they did you only used them out of desperation. I knew some of the residents that were scared everyday for their children and how they were going to keep them out of gangs, away from the culture of drugs and violence that permeated that atmosphere. There is no way in hell you can put that many people together and have peace. The anger at the Police was also transferred to us. We worked under tremendous pressure because some of these folks just had a natural mistrust of white people in general. They had the attitude that we hated all of them and they hated us right back. This wasn't true. I didn't hate anyone. I was there to help and eventually my partners and I were able to gain the trust we needed to do our jobs. The situations were different all the time. We could be in a huge crowd taking care of someone who had just been shot while at the same time we had people yelling at us to, " hurry up and do your job. You aren't doing it fast because he/she is black." We almost never had the police with us because they were busy elsewhere, honestly if there were police there it was actually a shock. This was a very low paying department and as such it was a very understaffed department. This happens a lot in large cities. We had to worry if the shooter was in the crowd. We had to worry if we were the next targets. We had to wonder if the shooter was going to be angry at us and take retribution because we were attempting to save the lives of the person they were trying to kill.
This is not just my story, it's the story of the angry people you are seeing all around this country. We, as a nation, have to choose love and fulfill our promise to whoever our higher powers are and do our best to help in any way we can. We have to choose to be the solution but this violence has to stop. This is just drama and it's ridiculous. The fact is anger solves nothing. It only creates new problems. We have to choose common sense and logic. We all need to do our very best to lift up these places that are simply a crazy idea that some politician came up with in the 60's. It was stupid then and it's stupid now. We all need to figure out how to help all the people in this country have a safe place to live and give them back the dignity that living in this kind of poverty has caused.
This is my experience in public service and even though I had been held hostage by a patient who broke a couple of my bones and even though we were shot at at least three times that I remember, I loved that job. I loved my patients. I loved our frequent flyers and I loved my colleagues. I think that if we all stood back and appreciated each other for the good we have in us we can make the country happier and healthier.