Pocket Aces is Hiring Frontend Developer
Junior Software Engineering → Frontend Development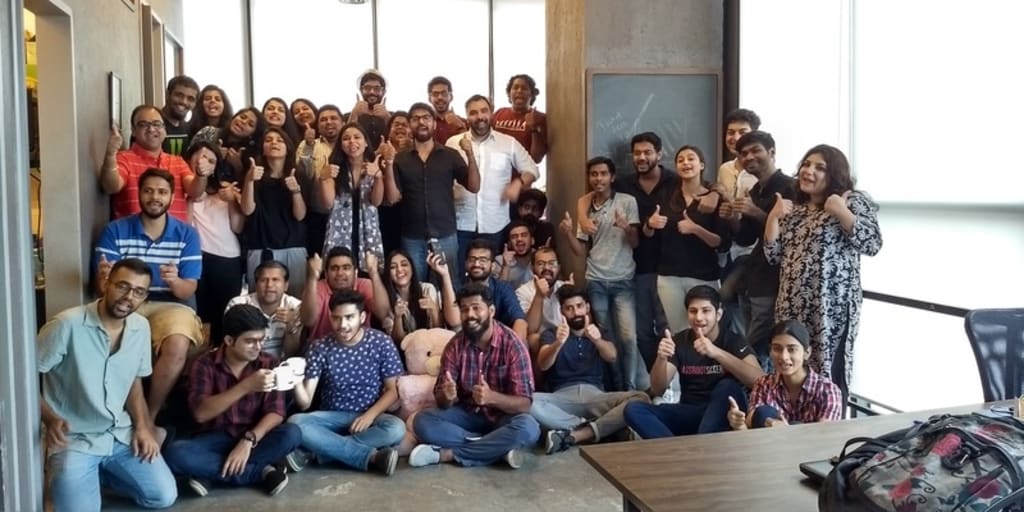 Source: Google.com
Responsibilities:
Develop new user-facing features.
Build reusable code and libraries for future use.
Ensure the technical feasibility of UI/UX designs.
Optimise application for maximum speed and scalability.
Assure that all user input is validated before submitting to back-end.
Collaborate with other team members and stakeholders.
Requirements:
Proficient understanding of web markup, including HTML5 CSS3
Basic understanding of server-side CSS pre-processing platforms, such as LESS and JavaScript frameworks, JavaScript libraries, and frameworks, such as AngularJS,, ReactJS.
Good understanding of asynchronous request handling, partial page updates, and AJAX.
Basic knowledge of image authoring tools, to be able to crop, resize, or perform small adjustments on an image.
Familiarity with tools such as Gimp or Photoshop is a advantage.
Proficient understanding of cross-browser compatibility issues and ways to work around them.
Pocket Aces Interview Process
Culture Round
Basic Function Round
Assessment
Review
About Pocket Aces
Pocket Aces is India's leading digital media entertainment company, focused on mobile video.
Our vision: To build a data-driven content platform that helps solve boredom for 500 million+ young Indians by providing them with entertainment in multiple formats and different regional languages.
The company operates five socially distributed content brands: FilterCopy (short format videos), Dice Media (multi-episode web series), and Gobble (Lifestyle and food channel), Jambo (young-adult animation shorts) and Nutshell (infotainment videos), as well as a direct-to-consumer platform: Loco (game streaming and e-sports app).
The company's socially distributed video network has amassed > 12 billion video views with a current run rate of over 500 million monthly views. The company's short form channels are consistently ranked as the top short video creators in their categories. Dice Media has made some of the most successful long form digital content, including Little Things, What The Folks and Operation MBBS, and has the highest series renewal rate in the industry. It is also the first new-age creator to have a multi-show deal with streaming giant, Netflix.
Pocket Aces has worked extensively with large advertisers including PepsiCo, Flipkart, Landmark Group, Marico, Kingfisher, Kotak Mahindra Bank, etc. The company's content has also been syndicated to various OTT platforms such as Ola Play and Reliance Jio, airlines such as Emirates, Jet and Cathay Pacific, cable partners such as Tata Sky, and international platforms such as China's Youku Tudou and Bytedance.
Major investors in Pocket Aces include Sequoia Capital, North Base Media, 3one4 Capital and the co-founders of India's largest IT services firm, Infosys. In July 2019, the company announced a 100 crore investment from Sequoia India, DSP Group and 3one4 Capital, besides other prominent investors.
Why Explore a Career at Pocket Aces
We are one of the biggest entertainment company in India. We're looking for highly enthusiastic, open-minded professionals who believe in questioning the status quo and creating progress via content and technology. We have some of the sharpest creators, designers, engineers, and business leaders working together with a high level of efficiency to create the best content out there
Pocket Aces: Winning big from outside the system
"It's amazing. Hoardings are a great vanity marketing metric and people have been sending us pictures from different cities," says Aditi Shrivastava who along with Ashwin Suresh and Anirudh Pandita founded digital media company Pocket Aces in 2014.
We are at the premier of a new season of their series, What The Folks, and the Mumbai-based trio are in the spotlight as their series, Little Things, acquired by Netflix, shines in full OOH glory across India. The deal also includes a new comedy series for the streaming giant.
Little Things season 2 on Netflix
Little Things, which has been trending on Netflix, is the first pre-existing series to be exclusively acquired by the streaming service. "People from Spain and Canada are inquiring about DVDs. No Indian show has organically travelled this well across the world," says Pandita.
Little Things hoarding in Mumbai
The trio (all engineers raised in cities in the Middle East) left their finance jobs in New York City in 2011 to pursue their passion in India. Suresh worked with Reliance for three years and then with TOI, setting up Junglee Pictures. Shrivastava, who dabbled in asset management at Goldman Sachs, worked for five years in the social development sector. Pandita, a Wharton B-school alumnus moved to India later to join the duo.