Jerrick CEO's Week in Review: 01/13/20 - 01/17/20
A weekly recap of the most relevant news, updates and insights from Jerrick, Vocal and across the industry.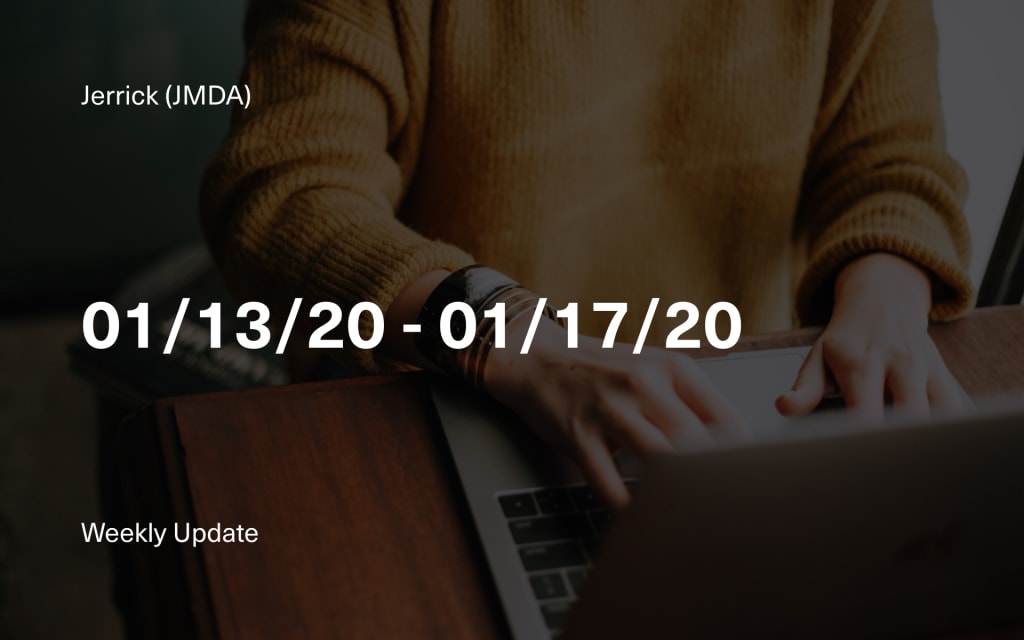 This year will be one of the lightest years for uplisting stocks in the last 10 years since the OTCQB came into existence. I first came to understand the OTC Market's business model in 2012. For some time after it looked like this financial product space offered great promise. However, it wasn't too long before cottage industries and support services that companies would need to rely on for uplisting became more difficult to provide. In particular, quality financing, investor awareness and advisory groups were rare. For a number of reasons, the space began to bifurcate into a group containing a few meaningful operators and another that contained a great deal of predatory practices masked as institutional business.
In theory, the microcap space could and should have been a great alternative method for financing for the tech entrepreneurial ventures that proliferated after the collapse of research and development financing post the financial crisis. Unfortunately, statistics indicate that the space is not a great alternative for companies without the ability to access capital from the private high net-worth individuals, even better if they are ex-institutional Wall Streeters, as Jerrick has been able to do since inception. The basic data from the OTCQB and its 10,000+ listed companies indicates that the path to success is one of the toughest statistically to achieve in any financial market.
Jerrick really is quite a unique story in this OTC world where data is not released or generated for this type of analysis, which makes investor awareness a never-ending swim upstream. While the general technology and processes of the OTC markets are reasonably sophisticated, there are limited external groups and service providers taking the data and deciphering it the way financial services providers do in the mid and large cap space. Research is mostly bought and IR is practically non-existent.
Once Jerrick uplists, it should attract the kind of collaborative opportunities from qualitative advisory groups that can actually execute on a strategic business plan that some of my larger investors and I have been discussing for so many years.
There seems to be a great opportunity for the top 250-500 microcap stocks on the OTCQB to stand out among the rest; Jerrick is in a unique position among them, as we have been able to synthesize financial industry culture and technology design ideology into one school of thought that drives our company. Jerrick, having gained such a unique perspective from being a participant in the space, will be able to utilize our tech and infrastructure to specifically service the IR space and its need for legitimate branded content that stands out from the general crap microcap investors are bombarded with. We can provide invaluable services to the right Investor Relations companies. Jerrick's team is made up of experts in this cycle of data-driven behavior. Coupled with the kind of strength the technology of the Vocal platform provides, we can bring awareness to a business and its executive team that is unprecedented in the microcap space. This is just one of the future possibilities for applying the power of the Vocal platform to new lines of revenue.
In my opinion, the unique edge provided by this kind of opportunity in the upcoming few years is far from baked into the value of Jerrick's stock — it is just one part of a series of organic revenue streams that can derive from a creator-driven ecosystem.
As we approach the uplisting period, based on all the workflows my team is managing, including S-1 paperwork, NASDAQ application documents, financing and revenue generation, I can see the uplisting window narrowing to the last month of Q1 2020. Our corporate communications and marketing teams continue to bring together upwards of 350 investors, as well as all collaborative business groups, developers, advisors, service providers and individuals, all contributing to and utilizing the information in our company's vast database. This weekly report is consumed by a growing network of over 1,000 aligned thinkers whose investments and business models are connected in a new, efficient and technology-driven marketplace led by data and communication and collaboration.
Questions from the network over this past week varied, but a common theme was a need to more deeply understand the complexities involved with applying to list on a national exchange. I thought it might be helpful to break it down to some basic components, beginning with what the exchange is. I always find it helpful to first understand the basics.
What is the difference between the NASDAQ and the NYSE?
There are essentially two public markets in the U.S. for a company to prove its strength, value, and endurance both transparently and consistently. To run a company that is publicly transparent in both its success and failures–to learn from both and to make the company better as a result–has been the foundational ideology of the Jerrick executive team and its core advisors since the beginning.
The New York Stock Exchange, or NYSE, was founded in the spring of 1792 when a group of brokers and traders signed the Buttonwood Agreement on Wall Street in New York City. Famously, they met beneath a Buttonwood tree and formed a centralized exchange for the growing securities market in the United States. The agreement eliminated the need for auctioneers used in those days for trading wheat, tobacco and other commodities.
Twenty-five years later, the organization officially became the New York Stock & Exchange Board, later simplified to the New York Stock Exchange.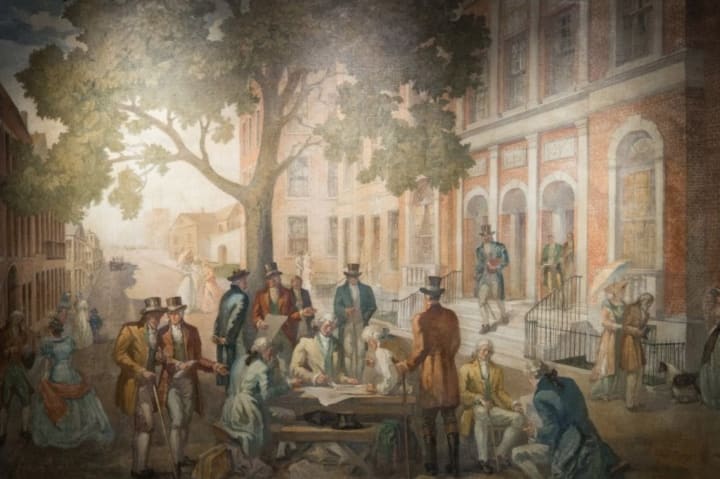 In April 2007, the New York Stock Exchange merged with a European stock exchange known as Euronext to form what is currently NYSE Euronext. NYSE Euronext also owns NYSE Arca (formerly the Pacific Exchange). This growing company effectively assimilates auction-based trading exchanges, creating massive efficiencies driven by technology and operational synergies. The New York Stock Exchange employs a specialist system to maintain a fair and orderly market.
Formerly known as the National Association of Securities Dealers Automated Quotations, (NASDAQ) the exchange run by NASDAQ Stock Market, Inc., is an electronic stock exchange that began in 1971. NASDAQ does not operate from a single physical location or a trading floor where specialists meet. It employs market makers to help maintain a fair and orderly market on a securities trading exchange.
In reality, technology has commoditized most services and resources, and the differences between the NYSE and NASDAQ, other than technicalities, are typically more bespoke or circumstantial to the company's needs. NASDAQ is the more natural fit for Jerrick. In particular, we expect to uplist to the NASDAQ Capital Market.
NASDAQ Markets
The NASDAQ exchange has three tiers for listed companies:
NASDAQ Global Select Market
NASDAQ Global Market
NASDAQ Capital Market
The NASDAQ Capital Market is usually geared toward companies with relatively low market capitalizations, as opposed to the other NASDAQ tiers that list larger companies with significantly higher market capitalization. In fact, the NASDAQ Capital Market was originally called NASDAQ SmallCap Market, reflecting its role of primarily listing small cap companies, before ultimately changing its name in 2005. The name change reflects a shift in focus towards listing companies that need to raise capital. It is meant to be a less encumbered entrance for smaller companies to capitalize and grow through a NASDAQ listing.
The listing requirements for each tier require varying levels of documentation, average market capitalization (over the month prior to filing), net equity minimums and number of shareholders. Companies may move from one tier to another over time depending on how they meet requirements. The top tier, NASDAQ Global Select, typically has about 1,500 companies listed, while the lower tiers fluctuate around 1,000 companies.
What is OTC?
The words 'over-the-counter' (OTC) refer to the process of how securities are traded for companies not listed on a national exchange. Although NASDAQ operates as a dealer network, NASDAQ stocks are not typically classified as OTC because the NASDAQ is considered a stock exchange in itself.
There are over 10,000 registered OTC stocks. The over-the-counter markets are organized into three groups:
OTCBB: The over-the-counter bulletin board (OTCBB) is an electronic quotation service provided by the Financial Industry Regulatory Authority (FINRA) to its subscribing members. In many ways, the OTCBB now is just a husk of what it once was, in that it has largely been cannibalized by the OTCQB over the years.
OTCQB: Also called "The Venture Market," is the middle tier of the OTC. It was created in 2010 and consists of early-stage and developing U.S. and international companies. The OTCQB replaced the FINRA-operated OTC Bulletin Board (OTCBB), as the main market for trading OTC securities that report to a U.S. regulator. Jerrick was a natural fit for this particular exchange when it listed 4 years ago in February of 2016.
OTCQX: The OTCQX and the OTCQB marketplace are run by OTC Link, an electronic inter-dealer quotation and trading system developed by OTC Markets Group. The OTCQX Market is known as the top tier of the over-the-counter markets, and holds its listing companies to high financial standards. The OTCQX and OTCQB markets are both considered "Established Public Markets" by the SEC for the purpose of determining the public market price when registering securities for resale with the SEC in equity financings. As such, the OTCQB has become the more efficient and cost-effective method for a growing company to establish itself on an actual exchange, whereas the OTCQX has become a more specialized exchange for foreign entities and highly regulated business models.
Annual Report
Next month we begin our 4th annual operational and financial audit. The initial stages on the financial side require a great deal of data analysis by our internal finance team, external accounting firm Brio Financial and external auditors Rosenberg Rich Baker Berman & Co. Together they work tirelessly, aggregating data and generating it into a package that serves as the foundation of our 10-K filing, or audit.
On the operational side, the annual report gives us an opportunity to do a deep dive into the mechanics of the organization, analyze efficiencies and set resource allocation and key performance metrics for the upcoming year. There are now nearly 2,500 individual creators paying $10 a month in subscriptions for Vocal+. This accomplishment has taken nearly 120 days to reach. Every day we add another 15-25 paying subscribers. Month over month, we are currently adding 600-800 paying subscribers and I expect that number to compound exponentially in the upcoming quarters, assuming financing and uplisting are not delayed. This subscriber base is a fraction of the nearly 550,000 creators that have registered for free accounts on the Vocal platform. As we begin to allocate capital and resources to technology development, marketing, sales, and conversions, we are racing toward our first 10,000 paying creator subscriptions in the next 120 days.
From there I expect hypergrowth as the data set of 10,000 paying subscribers helps profile and identify future Vocal+ subscribers and onboard them more rapidly and with a higher degree of success. Specifically, we would expect that number to grow between 150-200% per quarter for the next 2 quarters, ending in 3rd quarter with nearly 25,000 paying subscribers, and then growing to between 55,000 to 70,000 in 4th quarter. The rate of growth will accelerate as we move into the second half of the year and can increase certain marketing budgets post our uplist financing.
The past year of product development can best be understood by a review of the Vocal Investor deck (which you can access here) and actually signing up and taking the platform for a spin. I recommend reading my partner Justin's recent article as well. For a more concise picture of Jerrick's long term business plan, I suggest reviewing the "Jerrick to Creatd" deck, and considering the competitive landscape I regularly present in the weekly updates.
Alexa
Over the last 5 years, Alexa.com has evolved into one of only a handful of truly reliable sources for public comparative website traffic data. Alexa Rank is the gold standard with which Vocal and all of our digital contemporaries can assess our value and learn how to improve it. Alexa provides the tools most sites need to understand and better their SEO practices and strategy, as well as to grow their traffic.
For Vocal, Alexa has come to be a consistent barometer with which we can track our accomplishments. In particular, Alexa enabled us to see the magnitude of our decision to aggregate our 34 unique website communities powered by a singular publishing technology into a singular domain - vocal.media.
Vocal begins this week at below the 6,000 mark on global traffic with an incredible distribution among international territories — in particular a sub-1000 mark in the U.K., where we will look to expand our digital footprint in 2020. The below table depicts our Alexa ranking in the United States (which is our highest traffic source) as well as the second and third-highest sources of traffic globally-the U.K and Canada, respectively.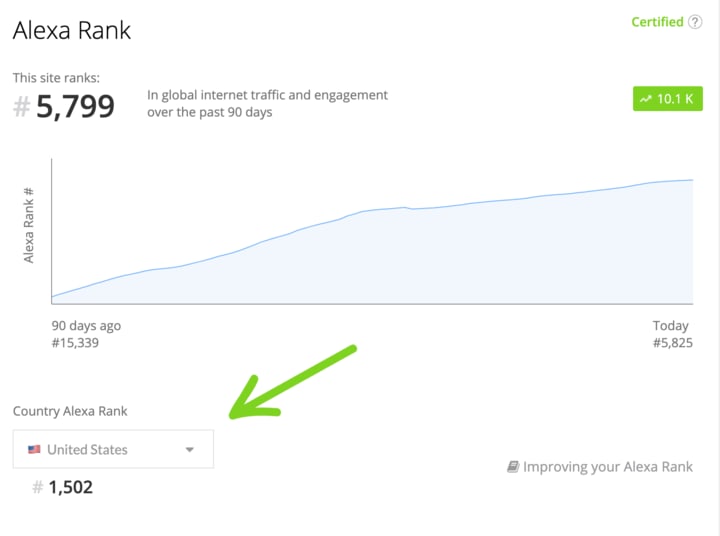 JMDA OTC Weekly Report
This new decade is an endurance race for Jerrick and its public stock. Our team has been preparing for such a race for years, not just by honing our managerial and tactical skills but in building, testing, and evolving our organization that can both produce results and uplist to the NASDAQ exchange. We focus a great deal on driving awareness to the public stock JMDA. While the OTC report is indicative of the weeks activity in the stock, the OTCQB market is not an environment conducive to marketing, research let alone solicitation and awareness. That all changes as the company transitions from the light OTC markets to a higher profile, better known exchange. This week we saw a slight uptick in the stock price as well as the volume in JMDA. Irrespective of the activity, I expect the stock to remain in the current general range until we provide further guidance on the uplist, general corporate updates, and report revenues in line with our guidance.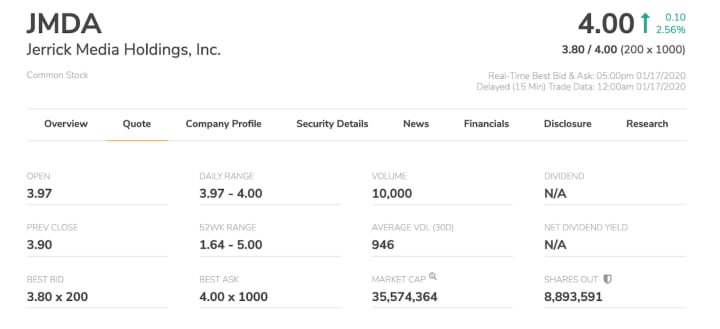 Stock Watch & Special Situations
Leaf Group (NYSE: LEAF)'s stock price deteriorated to a new low this week. It closed at a market cap of $74MM and a price of $2.81 a share. I continue to closely monitor this situation, as I fundamentally believe that Vocal could collaborate with them to turn what is a complex collection of tech assets into a closed and connected ecosystem of data that could leverage their brands.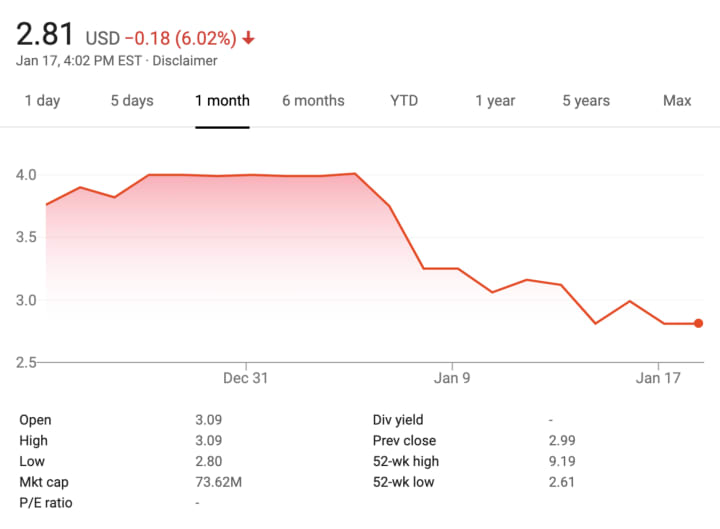 In addition to LEAF, we continue to watch Maven (OTCMKTS: MVEN).
When I first read this Washington Post article about College Humor and its recent collapse after 20 years, we looked back at what typically has happened to other legacy media brands like Maven's Sports Illustrated and, in the counterculture space, Hightimes Holding Corp. (This past week saw a management change at High Times, which I do not believe will change the course of this media business with an over $100 million deficit.)
As we saw with brands like Gawker and as we're seeing now with College Humor, the underlying value of the content, brands and top creators is at grave risk of getting lost because the financial players running the show have not yet understood how rapidly the value of technology and content can deteriorate, and how to avoid letting that happen. It's clear that this is the beginning of the end of legacy media sites that did not have a future business plan and simply relied on the status quo results, mediocre tech, and roll-up strategies. Here is a quick look at how Vocal is literally crushing the rankings relative to these companies.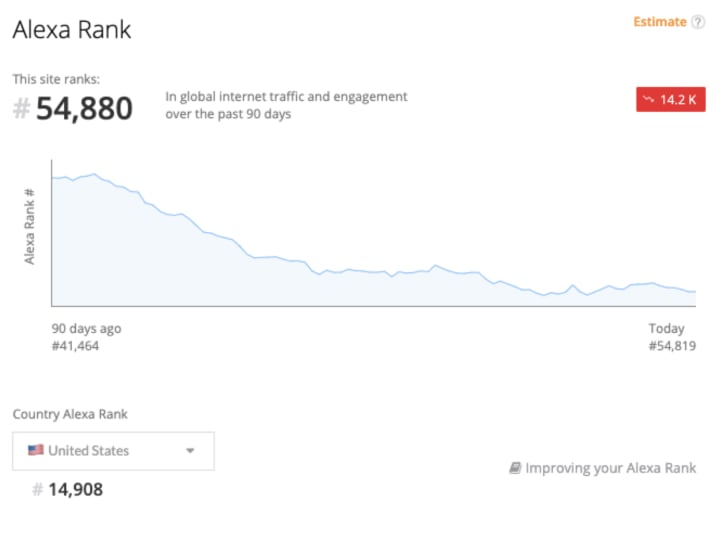 Vocal Staff Pick
Gregory Fuentes' story, I Went to Camp, stood out to our team this week. We're always excited to see creators using the platform to share thoughts on their favorite artists. However, Gregory surprised us with a unique type of album review—he reviewed Childish Gambino's "Camp" in the form of story and reaction, accompanying each song with a story detailing the experience he personally felt after listening to it. Check out Gregory's story below, and be sure to give him a Like or Tip if the story moves you as it did us.
Creator Experiences
A recent SCAD graduate majoring in Photography, Vocal creator Courtney Lowry views the world in a unique lens. With a focus in black and women's rights, and a passion for dispelling the stigmas surrounding mental health, Courtney has moved her audience and challenged them to think critically about the world around them.
As today is MLK Day, Courtney's activism and leadership is especially poignant and the perfect reflection of the power of Vocal as a vehicle for influence and transformation.
Check out Courtney Lowry's Creator Spotlight here:
Seller's Choice
As expected, following last week's release of the newly (and beautifully) redesigned Seller's Choice website, we have been seeing increased engagement on our pages. Through the new site, we have optimized our lead generation fields, defining the opportunities for site visitors to engage with our team in more clear and personal ways. This was done through more evident calls-to-action and copy that promotes outreach. I look forward to future inquiries from within our network — as well as organically — that come from the site's restructuring. We are already seeing improved key performance metrics as a result of our efforts. This will not only bolster revenues as we continue to acquire clients, but will give us additional power within our operational flywheel to leverage Seller's Choice in all its parts as a resource within the Jerrick ecosystem.
At the same time, Seller's Choice's management has been working closely with the Vocal for Brands sales team to refine its client acquisition methodology and develop unique tactics to attract and nurture new leads into Seller's Choice's sales pipeline for e-commerce brands seeking a solution to increase visibility in a bloated and opaque e-commerce environment. To that end, our lead generation form on the Seller's Choice site is optimized for bringing in the right sort of clients.
One of the other most important new weapons in our arsenal is our collection of client case studies, which speak for themselves in terms of portraying the tremendous value online sellers can expect to gain through partnering with our agency. To have a transparent collective group that so seamlessly transfers ideas across teams to generate optimal strategies is rare, but is what makes Jerrick's culture at its core. I look forward to seeing inquiry from our network about Seller's Choice's core competencies, and we look forward to leveraging this resource throughout our Vocal ecosystem to benefit all parties.
Industry News
The notion of a transparent company run with a collective ideology was something that Justin and I discussed as far back as the original blueprinting of Vocal. It was fascinating to see Airbnb articulate their future growth to the network of stakeholders and the emphasis put on transparency. Before open source code and web 3.0 changed the very architecture by which companies like Airbnb build their models, the word "transparency" was still taboo and meant exposure to competition, as opposed to the embrace of like-minded companies in a collective digital framework; it is now evident that such a practice of transparent business allows for opportunity and alpha like never before. I've included an excerpt from AirBnb's article:
"In 2018 we publicly declared something we had felt for a long time—that we aspire for Airbnb to be among the first of the true 21st-century companies, one that benefits all our stakeholders over the long term. We believe that building an enduringly successful business goes hand-in-hand with making a positive contribution to society. Increasingly, that is what citizens, consumers, employees, communities, and policy-makers desire—even demand.
Serving all stakeholders is the best way to build a highly valuable business and it's the right thing to do for society.
We see the making of a company that serves all stakeholders as a design challenge. Every design challenge has a brief. These are the core elements of our brief and the roadmap for our work:
Identify our stakeholders.
Establish principles and metrics for serving our stakeholders.
Update our corporate governance and compensation.
Report on our progress.
Share our success.
We are early in our work. And we are far from being a perfect company, which is why we want to share what we're doing."
Another interesting note I took from this week's industry reviews was an article on the metrics at Medium, a company I both admire and have at times been inspired by.
According to Searchmetrics and Sistrix, Medium's top level domain recently saw a 40% drop in organic visibility in desktop and 50% in mobile. An excerpt from the article reads:
It seems Medium.com tries to index millions of low-quality pages while many VALUABLE pages aren't indexed in Google.
Based on sample research, 166 articles (from a random sample of 1,011 articles extracted from Medium's sitemap) aren't indexed in Google. That's over 16%.
Medium has no crawling and indexing strategy. It simply floods Googlebot with tons of URLs with no value, hoping Googlebot will eventually find and index all of the valuable resources.
If this data holds, it would be another differentiating factor between our platform, Vocal, and Medium's blog site structure. The two don't actually compete — they simply service particular stakeholders with differentiated needs.
Books
For over a year now, the team at Jerrick has formalized our regular reading into a book club. On a bi-weekly basis, we reflect on texts (and other forms of media), as well as consider the application to our professional lives. Given the tactics and strategies we have used to advance ourselves thus far, and with our uplist window so close to the present, The Art of War by Sun Tzu seemed the perfect text to synthesize this week.
Through this communal exchange of personal and larger reflections within book club, we are able to better identify and improve upon any weak points, as well as recognize the strong points we must advance within our company culture in order to propel the flywheel forward.
The Art of War is an ancient military treatise attributed to Sun Tzu, legendary Chinese general, military strategist, writer, tactician and philosopher. Published in around the 5th century B.C.,The Art of War comprises 13 chapters, each of which focuses on a particular aspect of warfare. Sun Tzu's treatise not only stood the test of time to remain the preeminent authority on East Asian military strategy; it has gone on to greatly influence both Eastern and Western military thinking, business principles, legal ideology, conflict resolution, and beyond.
I personally view it as an essential reference guide for any tactician and of the thousands of books I've read over my career, The Art of War is one of the cornerstones of my business philosophy and a book from which I've drawn the most useful principles.
Of the many quotable principles, one I find particular profound is:
"Know thy self, know thy enemy. A thousand battles, a thousand victories."
It is fundamental to acknowledge your strengths, and more importantly, your areas of weakness. It is impossible to grow your business and develop a company without constant reflection. To understand and improve upon areas of weakness is vital to progression. Through inward reflection on your company, as well as an outward understanding of the competition, you can continue to build your strategy to advance, whether it be yourself or the collective.
As always, for regular updates please follow me on LinkedIn as well as the company's other social pages:
Jerrick
LinkedIn: https://www.linkedin.com/company/jerrick-media
Twitter: https://twitter.com/JerrickMedia
Facebook: https://www.facebook.com/JerrickMedia/
Vocal
Instagram: https://www.instagram.com/vocal_creators/
Facebook: https://www.facebook.com/VocalCreators/
Twitter: https://twitter.com/Vocal_Creators
LinkedIn: https://www.linkedin.com/company/vocal
Reader insights
Be the first to share your insights about this piece.
Add your insights