It's Official! I've Earned Six Figures Writing on Vocal
Let's talk about it...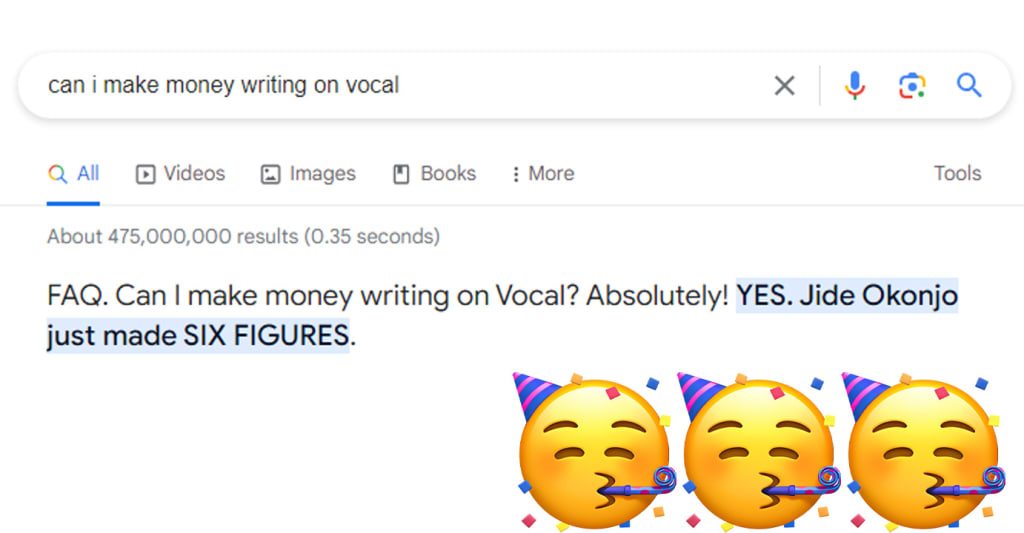 I. Am... In Tears!!!
It's not the emotion I thought I would be feeling when this day finally came but it's also not unexpected because I am a softie and I just didn't...I honestly didn't think this would happen three years ago when I sat down in the middle of lockdown, crying my eyes out because I was so broke and didn't know what to do. It was the night I decided to take Vocal seriously.
Now, cut to today, and here I am: a SIX FIGURE earner...on Vocal?! WHAT?!!! How did this happen?!??!! Okay, let me start from the beginning
MY STORY
My story starts in June of 2017 when I stumbled upon a website called VOCAL who promised they'd pay me for my writing. Another one of these, I told myself but decided to still give it a try. You never know with these things.
I wrote an article called "10 Crazy Nigerian Myths - Part 1". After about two weeks of persistently checking, I saw that the numbers weren't doing anything really. So I left.
About a year had past when I got a random newsletter-y email from Vocal. It reminded me of who they were and I decided to check on updates for my story. It had grown in reads but not by much. I decided to post a few more stories. Again, after about two weeks of checking, the numbers weren't looking good. I abandoned Vocal as a viable way of making money and moved on with my life.
Fast-forward to 2020 after my horrible stint with my novel. I was broke, desperate and needed to do ANYTHING for money. I decided I was going to go into dropshipping. I didn't WANT to go into dropshipping, I didn't LIKE dropshipping, all I wanted to do was write, but that wasn't paying and people on Youtube said dropshipping does so there I was at the beginning of 2020 creating my dropshipping website and Facebook page, entering my payout information when oh, they needed my Stripe email address.
I entered my Stripe e-mail address and was told that it was already being used somewhere else. Somewhere else? I decided to go through my emails and discovered that I had connected my e-mail address to my Stripe account through Vocal. I needed to go back to Vocal to rectify the mistake.
This was three years after my 10 Crazy Nigerian Myths - Part 1 post and when I logged back into Vocal, that story was at about 10,000+ reads.
I. Was. SHOCKED!
I had never done any kind of promotion for it, I had no idea how it happened, but you know me...I wasn't about asking questions, I was about getting that money! I withdrew that money with a SWIFTNESS and when after a few days I actually saw it reflect in my bank account, a bulb in my head lit up. I had just made money from my writing. Not a lot of money AT ALL but money regardless.
I knew this world. I could write about this world. I could write A LOT about this.
So, with a huge leap of faith, I cancelled the domain and hosting on my dropshipping website, got a refund, and put all that money towards a ONE-YEAR membership for Vocal+. This was a huge risk for me, doing 1 Year at once but I knew that if I did just a month, I wouldn't work as hard because I had only 5 bucks to lose. Committing $99 of money I didn't really have, that was sure to light a fire under me to REALLY do the work to at least get my money back.
I started writing.
Every.
Single.
Day.
And today, my life is completely different.
Because of the money I've made from Vocal, I have been able to literally transform my life. I have put money from my earnings into promotion of my novels (which I write under a different name) and that has helped with the sales of my books. I've started saving. I'm investing!!!
The gratitude I have for Vocal is eternal. I would never, not in a million years have guessed when I was crying in my bedroom on that dark 2020 night that this is where I'd be just three years later. I have been able to amass over 16 million reads on my posts, grow my Facebook following to over 195,000 people. Like, WHAT!? Who would have guessed, who would have thought? Certainly not me.
So before I go any further, I just really want to say something to the ENTIRE TEAM at Vocal and Creatd.
To Vocal and the Creatd Team
Thank you, thank you, THANK YOU. SOOO MUUUUCH.
What you have been able to do for this writer's life has been literally life-changing. Please sleep with the knowledge tonight that what you are doing, the platform you have created, HAS indeed been able to not only impact at least one life, but change it completely.
I cannot say thank you enough for this platform. I have been blogging for A WHILE and have tried it in different ways over the years (shoutout to Blogger and Wordpress, throwbaaaack!). None of those platforms even come close! With Vocal, all I ever have to worry or think about is what I'm writing next. The financial side of trying to worry about ad performance, getting brand sponsors, ever-fluctuating monetary gain from consistent numbers, it was a HASSLE. Thank you so much for handling all the business so I only need to worry about the creative.
Thank you for not putting any limits on the types of stories we're able to create. I write entertainment stories and listicles primarily because over the years, it's what my audience gravitates towards to the most, but I still get to write fiction and op-eds, and just about any single thing I want to write when I want to write about it and the freedom to do that is actually so amazing. Again, I cannot thank you enough.
Thank you for your responsiveness, and your kindness. I have gotten bonuses, tips, and way-to-go emails that were such helpful incentives especially in my early days on this platform to just keep going. You guys have my whole heart. I cannot say thank you enough.
Thank you. SO SO SOOO MUCH!!!
To My Fellow Vocal Creators
You are in the right place. You are on the right track. Do not give up. Do not get discouraged. Just. Keep. Going!!!
The times are so perilous these days and it can really feel on many days like "what's the point of writing?" especially when the bills are stacking up and those Vocal stats/wallet pages are looking real dry. But I promise you, if you stay consistent with the writing, and just keep trudging on, this CAN and truly has the ability to become another major source of income for you. If you're writing just for fun, that is of course okay too. But if the money is also a reason you're doing this, then please don't be discouraged. Trust me, this water is worth the swim.
If you're interested in some helpful tips, I recently created a 9-page cheat sheet called "The Vocal Beginners' Cheat Sheet" and it basically lists out a bunch of nuggets, tips, and tricks I have picked up along the way. It's only $10 so if you want to check it out, by all means! I've tried to put as much information as I can in it and I hope the nuggets inside help you like they've helped me.
In Conclusion
I still cannot believe this! I will be celebrating this night with loved ones, a nice meal, and a bottle of wine!
Thank you again to everybody at Vocal, everybody that reads my work, and everyone that has supported me in any type of way. I love you beyond words will ever be able to say. Thank you so much!
SIX. FIGURES. BAAAAABYYYYY!!!!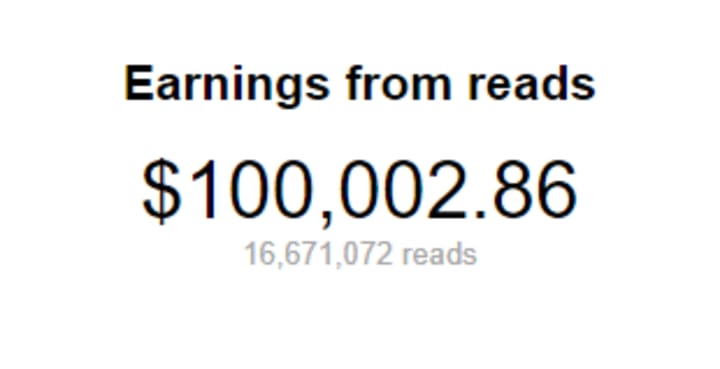 Reader insights
Outstanding
Excellent work. Looking forward to reading more!
Top insights
Compelling and original writing

Creative use of language & vocab

Easy to read and follow

Well-structured & engaging content

Eye opening

Niche topic & fresh perspectives
On-point and relevant

Writing reflected the title & theme
Add your insights