Introducing the OG Gallery
An update from Creatd's management team on plans to leverage the 'OG Collection' in the emerging NFT market.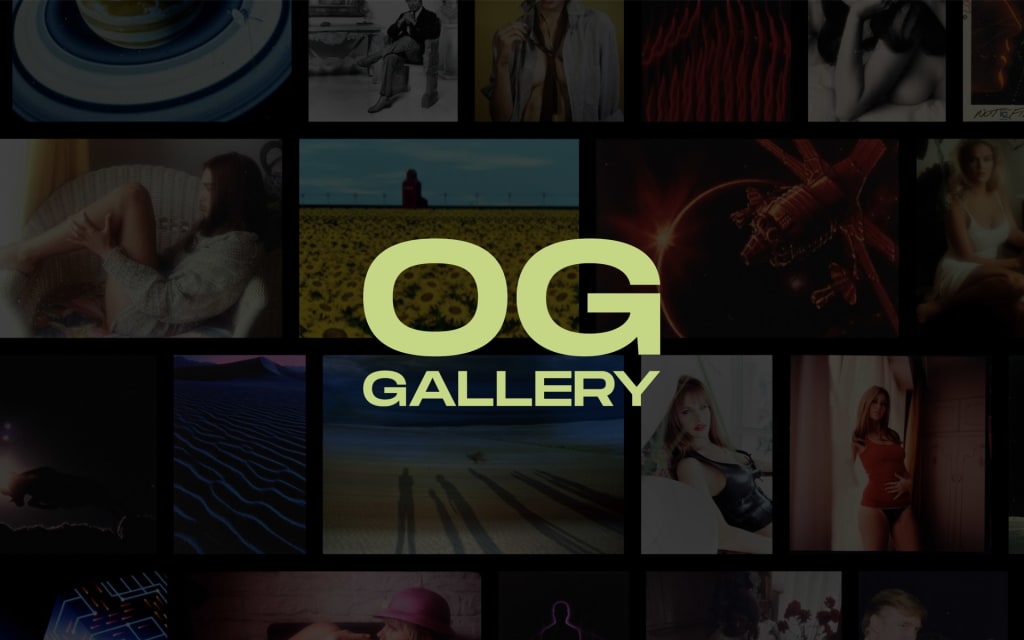 In the weeks since our last shareholder earnings call, there continues to be a great deal of inquiry regarding the relationship between NFTs and the creator space. I have been asked repeatedly by a few of our larger and sophisticated investors to expand on our NFT strategy.
Visit the OG Gallery
We, as a company, are institutionally curious about all things tech, including blockchain, cryptocurrencies, and its derivative space NFTs, or non-fungible tokens. We have a fiduciary responsibility to understand any tech that impacts the creative community we serve and determine if it is a benefit or a detriment to our mission. NFTs are no exception. This is the foundational view of our management team.
As I mentioned on my shareholder call, on March 31, 2021, we have experimented with blockchain in the past (including launching The Chain, dedicated to that very subject) and spoken about the impact a blockchain integration might have on our platform in the future. I mentioned, too, that we had come within days of integrating Bitcoin into the Vocal platform. But ultimately, as a management team, we made the right decision at that point in time not to pursue that feature as it did not make economical sense. In addition, I indicated that it may take a while for those economics in the space to allow for scale. Perhaps that is why Playboy (Nasdaq: PLBY), in announcing their partnership with Nifty, indicated that the initial launch will be with only two original drops: one in collaboration with artist Slimesunday and the other a Pride-themed curation with digital artist Blake Kathryn. Before contemplating scale, a prudent company first endeavors to understand the space. It's the old adage, crawl before you walk, and walk before you run.
In technical terms, crypto is a piece of metadata. By some accounts, the decade-old cryptocurrency market has created a financial network that uses as much energy as Argentina and has limited regulatory structure or federal oversight. Now, while this issue may take some time for our governments to wrap their heads around, eventually they will have to if the marketplace continues to grow. And, at some point, as I have seen in many other markets, there will be an inevitable reset in the valuation of assets. There is nothing fundamentally wrong with that, though it is something to consider before diving in headfirst. Let us not forget that there has been an outbreak of artists complaining that their publicly viewable work had been taken, transformed into an NFT, and sold at high prices without their permission. This is leading to enforcement issues for artists seeking recourse for copyright violations.
On the other side, there are a lot of legitimate collectors of art who now see a tremendous opportunity for monetizing online art. Just because an artist uses Photoshop instead of a paintbrush does not diminish the value of the work in the eye of its beholder. But, sooner or later statistics will bear out that most NFTs trade online for very little money and that the media focuses specifically on the transactions that are by nature not scalable. We have also started to study the risk that is inherent in the event that an NFT platform goes out of business and all the data needed to verify the chain are lost. Fortunately, I believe the market is addressing these issues and that they are shorter-term in nature.
Yesterday, we announced our first foray into NFTs in connection with the launch of the new environmental art platform, Untamed Photographer, and their premiere network of wildlife photographers. Today, we announced our second NFT initiative that I had first discussed on our March 2021 shareholder call, with the promise that I would update the market with any further steps. As I additionally said on the call, as a management team we look at any derivative opportunity that can generate value for the company without impacting our creator-first mission and the responsibility that comes along with that.
I have previously discussed a very important collection of assets that our company owns—the OG Collection—a library of digital artwork, imagery, original documents, illustrations, collectibles, and photographs from the archival collection of Bob Guccione, once the CEO of General Media, owner of publications including Penthouse, Viva, OMNI, Longevity.
Nearly a decade ago, I came across an asset that inspired me. I told my story in the very first article I published on Vocal. The OG Gallery will provide insight into the history and provenance of the collection as well as lend itself to NFT opportunities that arise directly from the library (which Vice Media devoted an entire magazine issue to in 2013).
Throughout Creatd's history, we have already leveraged the collection for numerous transmedia and IP opportunities including but not limited to: our work on the film Filthy Gorgeous: The Bob Guccione Story, directed by renowned documentary filmmaker Barry Avrich, which premiered at the Toronto International Film Festival in 2013; the book No One's Pet, written by notable film critic Glenn Kenny in 2016; and the award-winning 2015 film Till Human Voices Wake Us, directed by celebrity photographer Indrani and starring Lindsay Lohan. Finally, those familiar with our Vocal platform and its associated communities will recognize the names Longevity and Viva as Vocal's health and wellness and women-focused communities, respectively; both of these communities originated as digital reincarnations of General Media magazines of the same name, another example of Creatd's history of leveraging the collection for transmedia application.
With the launch of the OG Gallery, we begin the discovery of gauging interest, sentiment, and the probability of success in curating, minting, and marketing NFTs from the Guccione collection.
Read more about the history of the OG Collection and Creatd's strategic NFT initiative:
Reader insights
Be the first to share your insights about this piece.
Add your insights