Improve Your Business with Cloud Computing
Austin Rotter | Hoboken, NJ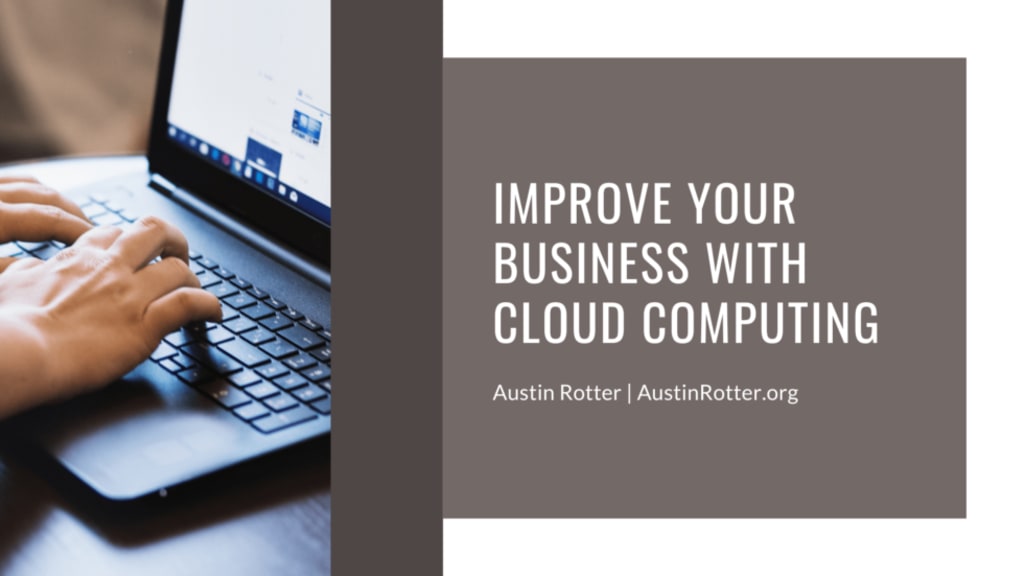 https://austinrotter.org/improve-your-business-with-cloud-computing/
A cloud computing service is an on-demand delivery of various computing services over the internet. Unlike traditional on-premise software, cloud computing services are usually paid for on a pay-as-you-go basis. This method allows businesses to lower operating costs and expand their scope of operations.
Due to the availability of high-speed internet connections and the ubiquity of mobile devices, cloud computing is becoming more popular among businesses. It allows them to process and store data more efficiently than traditional on-premise software. Here are some of the benefits of having cloud services in your business:
Accessibility
The data stored in cloud computing is highly accessible, as it can be stored on any device with an internet connection. Unlike traditional on-premise software, cloud computing services do not store data on your computer. Instead, they provide a central hub allowing users to access all their information.
Consistency
One of the most significant advantages of cloud computing is its ability to maintain consistency across multiple users. Since the files are stored in a central location, they can be easily accessed by everyone. Also, since the data is automatically synced between all devices, people can always get the most up-to-date version of their files.
Scalability
The ability to scale as your business grows is also another advantage of cloud computing. It allows you to adjust the number of people who access your applications easily. Unlike on-premise software, cloud computing services do not require you to spend much money on upgrades or capacity.
Remote Work
Cloud computing also significantly improves remote work, eliminating employees' need to rely on specialized software. It allows them to access their applications and files from anywhere.
Data Protection
Getting back up and restoring your data is very easy with cloud computing. It eliminates the need for you to spend a lot of money on repairs after a catastrophic data loss. Having the necessary equipment and resources to back up and restore your data is also very important for a business.
Lower Cost
Unlike on-premise software, cloud computing services do not require you to spend much money on repairs after a data loss. It eliminates the need for you to spend much money on networking equipment and hardware. Also, setting up operations in the cloud requires a relatively small initial investment.
With cloud computing, you can set up a setup that fits your budget and pay for what you use. Although the prices for business-oriented services are still monthly or yearly, they are predictable and can be easily managed.
About Austin Rotter
Operating in New York, Austin Rotter is a media relations, branding, and media strategy professional who has spent his career building skills, knowledge, and experience within the arena of public relations and online branding. A sharp and driven individual, Austin has distinguished himself as an executive in the industry.
Throughout his career, Austin Rotter has had the privilege of working with more clients than he can count. With more than eleven years of experience working in public relations and media strategy, Austin has helped numerous individuals and companies alike represent themselves online and in the public eye.
As we as a society grow ever-more connected, the importance of branding, media strategy, and public relations becomes increasingly more relevant and apparent. This holds especially true when it comes to finding the most cutting-edge ways to address his clients' problems at hand. Austin Rotter has distinguished himself as a professional who is compelled by innovative strategies. In his career, he has carved out his space in the Public Relations industry as a knowledgeable and driven media strategist. Austin's specialty is working with Fortune 1000 brands, promising startups, and hyper-growth tech companies, where he assists growth and development by providing media relations and strategy for these businesses. He has spent more than a decade building himself into a standout figure in the industry, one who is insightful, persevering, and focused on the best solution and strategy for his clients.
About the Creator
Austin Rotter is a Public Relations executive living in Hoboken, New Jersey, who operates professionally out of New York. Austin's particular skills lie in media strategy, media relations, and branding businesses.
Reader insights
Be the first to share your insights about this piece.
Add your insights