Mastering a new skill always comes with a learning curve. I'm one of the masochists who like to learn new things, and I've battled my fair share of unexpected obstacles. To illustrate, I bought a used car to "learn how to work on cars." You can guess how that went.
No matter how carefully I watched the YouTube tutorial, I ended up doing it wrong, needing an extra part, or the issue I diagnosed wasn't the issue at all. Yet, I still feel like doing things actively instead of reading about them is the best way to master a skill, so I keep trying and failing.
The new year brought a slew of new ambitions with it. The most noticeable change is an increasingly strong desire to reinvent myself creatively. I started the shift from working a traditional job to a creative one in 2020. Along the way I've slowly chipped at the layers of expectations and stereotypes, I felt stuffed into. Even my art took trial and error to express authentically.
In 2018, I found Vocal; I created my account sandwiched between two shelves at the library I worked for. My big money idea was to create a personal finance blog at the time. I had just finished "Rich Dad Poor Dad" by Robert Kiyosaki and thought I was the next Warren Buffet.
I wrote for two years before I saw any real success. I remember the feeling of accomplishment when my payout amount reached 1 dollar and crossed the 100 reads threshold. This was in ancient times before Vocal + and before challenges, so traffic was gained by getting a Top Story feature or getting lucky by ranking on Google.
The truth is I didn't know anything about creating readable, engaging content. I had never heard of SEO, and my friends weren't exactly interested in becoming famous bloggers, nor did they read articles for fun. So there was no one to tell me how to make things shake as a writer. Unless I wanted to pay hundreds of dollars for a course-it had to be learned through painful failure.
Though I wouldn't exactly say I've "made it," I'm constantly trying to get closer. Recently, while shopping at my local farmer's market, I noticed a section dedicated to selling art prints from artists in my area. I felt the familiar knot of embarrassment in my throat but decided to pursue getting my art in the store anyway. Thus begins my journey into printmaking.
How to Turn Your Art into Prints
For those looking purely for a step-by-step process, I'll break it down here, and we'll go in-depth below to explain some of the confusing terms. It's super important to ensure you're using the correct color profile BEFORE you make the piece, or you will have to redo it. Unless you have an expensive software like CorelDraw that can covert the color profile without diminishing the quality.
Step 1: Create your Canvas with the CMYK color profile.
Step 2: Make sure your DPI is within the range of 300-600.
Step 3: Decide whether you will print at home or use an online service.
Step 4: Picking Size, Packaging, and Included Materials.
Over the past year, I've collected a portfolio of digital designs that I promote through Instagram. However, I wanted the prints in the farmer's market to be different and evoke a specific emotion. So, I commissioned my girlfriend to help me draw and pick color pallets. Then, we drew and colored the designs on Procreate and voilà digital designs.
I figured getting them manufactured into physical products would be as easy as printing them off at home with fancy paper. But, after bothering every creator I had access to who had done what I wanted, I realized I would either need an art printer, ink, and high-quality paper, or I needed to go through a printing service.
The first printing service I tried didn't ship to the United States. The second one, a locally run printing facility, wanted to charge me upwards of 8 dollars per print. I didn't want to charge potential customers more than 10 dollars, so I decided against that company.
What proceeded was a series of navigating hard-to-use, dated websites that all seemed to require me to make an account to get a price quote. Many of them didn't offer art prints and only did other stationery you may find in an office. When I found a company that seemed decent, offered proofs before printing, and didn't charge an arm and a leg, I jumped at the opportunity.
RBG vs. CYMK
Using an artist's guide on their website, I learned that my DPI (dots per inch) needed to be between 300-600. The DPI is the image's resolution for both screen and print. Unfortunately, my DPI was sitting at 152. Luckily, I could adjust it manually through Procreate, even after completing my piece.
I also discovered that digital and print art use different color profiles. Some of the colors available in RBG (digital format) do not exist in CMYK. So, when converted, colors can show up dark and dilute the quality of the image. Unknowingly, I had created all of my art in RBG. This time I couldn't adjust the color format in Procreate. If I went forward with these designs, the final product would be dull and lower quality.
The color format can only be selected before creating the canvas with Procreate, so I had to develop new pieces made in CYMK to generate a print I was satisfied with.
Note: A friend of mine ended up having software that could change the color profile without losing quality, so the designs were saved :).
Sizing
If you're using an online service like I did, they may only offer specific sizes. I wanted pretty small prints, varying from 4.25 inches by 5.5 inches to 5 x 7 inches. Unfortunately, after creating the art, we discovered that we would have to sacrifice some of the content drawn along the border to fit the sizing requirements.
So, if you're looking to make prints of your own, be cautious of how close you keep important elements of your design to the edges of the canvas.
Packaging
Finally, I ordered clear plastic slips and cardboard backing boards to slide behind the art and give the package structure. My girlfriend also created business cards using cardboard colored paper to place inside the package, so customers know where to find us online and other ways to reorder.
Go With the Flow
Undoubtedly there will be problems along the way. For me, my prints took over 2 weeks to arrive when the website advertised two-day turnarounds. I had already secured a spot in the market and the time spent in limbo spurred my anxiety- but it didn't have to. Gaining a level of resilience is helpful in any creative endeavor. The no's come as frequently or more than the yes's; each shouldn't take much of an emotional toll.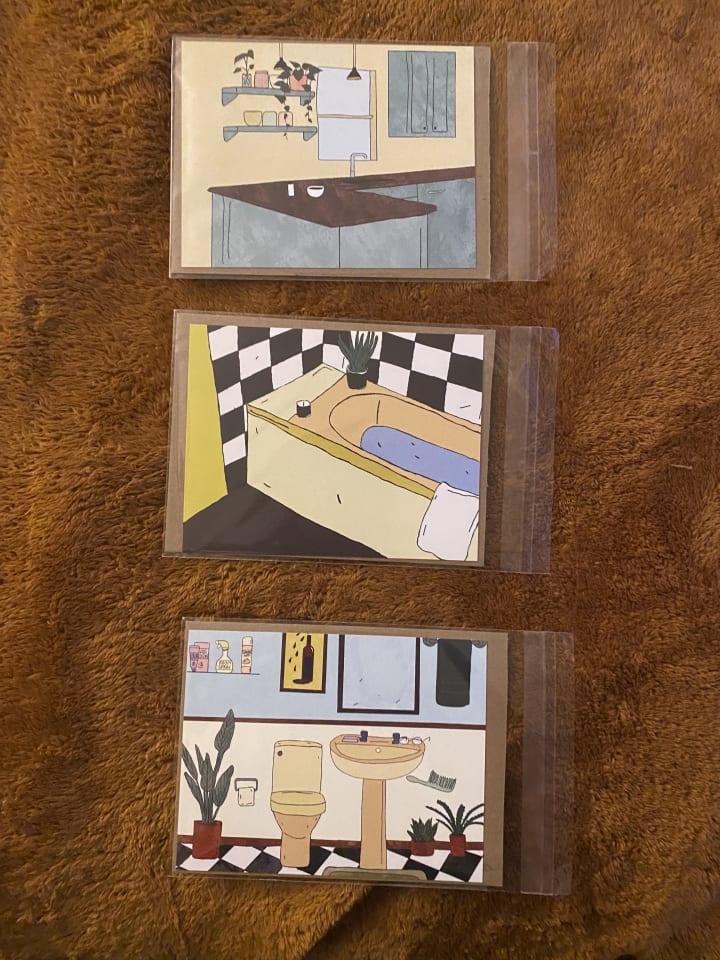 Parting Words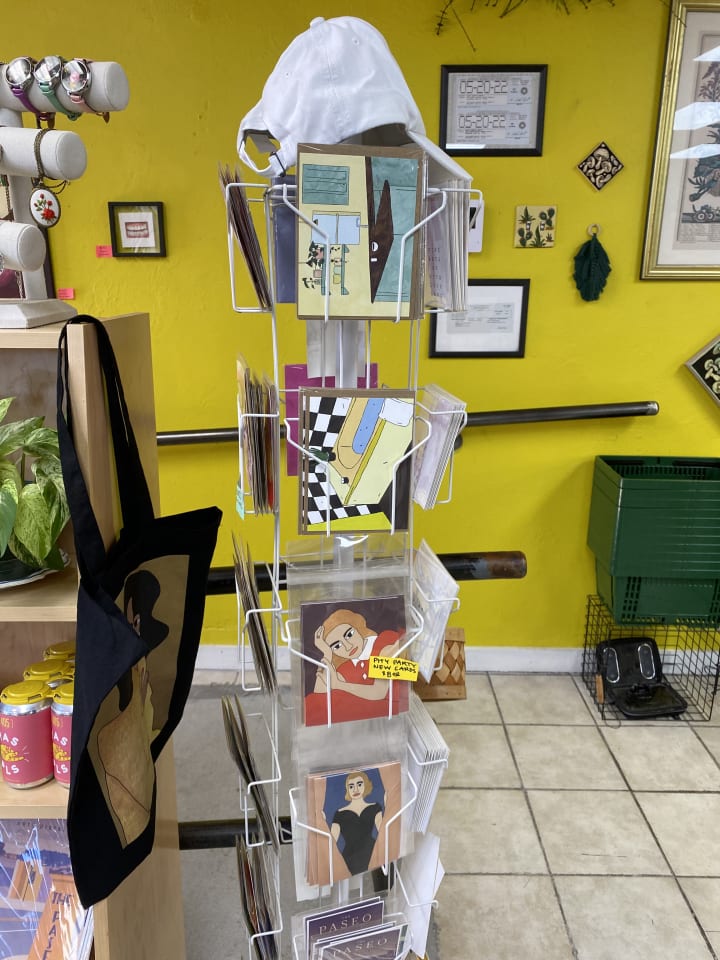 Hopefully, my case illustrates the ups and downs of trying anything new. I can now see that some of my mistakes were completely avoidable. There are some things only experience can teach you, but other things don't have to be. Nevertheless, it helps to shed light on the process, and hopefully, the future printmakers will avoid my mistakes.
It can be frustrating and discouraging to get prints you aren't satisfied with, so if that's happened to you, I encourage you to try again and take it slow. You're bound to make mistakes; it's more about how you react to them. Of course, no one's process is perfect, but I wish you the best of luck!
Reader insights
Outstanding
Excellent work. Looking forward to reading more!
Top insights
On-point and relevant

Writing reflected the title & theme

Compelling and original writing

Creative use of language & vocab

Easy to read and follow

Well-structured & engaging content
Expert insights and opinions

Arguments were carefully researched and presented

Eye opening

Niche topic & fresh perspectives
Add your insights