How To Make The Most Of Vocal
100 Day Content Creation Challenge
As writers, influencers, and online creators, it's natural to want to know exactly how to make the most of Vocal and the other platforms we create for. We pour our hearts and souls into the content we produce, and we want to put it front and center where it's going to be enjoyed by others.
This post is no exception! I'm about to spend a ton of energy on this piece, and pour out as much of my knowledge and experience of audience building, SEO, social media, branding, and content creation as I possibly can, to help you get the best start in building your creative platform as possible.
Dont have a Vocal+ membership? Get it here.
Naturally I want you to read it and gain from it, partly so I know my efforts haven't fallen on deaf ears or gotten lost in the endless sea of forgotten blog posts and webpages, and partly because I want to grow my own platform and further establish my voice and presence as a creator.
In this way a content hub like Vocal relies heavily on an exchange between creator and consumer, and if you haven't established a strong foundation to rest your writing up against, you'll soon realise that consistent reads and 'fans' of your work are almost impossibities in this world.
Creating the finished piece is only 10% of the work. But fear not… In this post I'm going to take you through all the best practices to get eyes on your content, and help give you the absolute best start on your online writing journey!
Establishing Your Personal Platform
So you want to make the most of Vocal and other content mills, but they don't (much like Vocal itself right now) offer any 'subscriber' or 'community building' functionality on-site, and even if they do it limits your subscribers to those that take the time to create an account. So what do you do?
Picture your individual pieces of content like trains coming in and out of a station. We create the piece, we publish the piece, and then what? If you have no platform, if you have no community waiting to be picked up, the train just whizzes by. And so too does your content.
This is where your personal platform comes into play. Your community of readers hungry for more content, who know where to look the next time they want to catch a train, so to speak, and know exactly what to expect. And it's your job to build that!
This platform is a collection of offsite social media, your presence dependent entirely on how creative you want to get and how much effort you're willing to pump into it all. Your Facebook account, Instagram feed, YouTube channel, Twitter, Pinterest, LinkedIn, and all the other social medias you can think of.
The more firmly you establish a presence on these platforms, and the more consistently you manage your brand between them, the stronger your personal platform becomes. And let's be honest, having a community built around our writing just waiting to catch the next train is more than worth all the effort.
What's even better is this stuff just grows. Slowly and surely. Building larger and larger with each story, each post, each photo, until the platform itself becomes so large it begins to gain its own attention. It's like building blocks. What starts as a couple grey bricks soon becomes a castle, and people head over to those all of their own free will.
At the end of this post I'll be sharing my 100 day content creation challenge, so that's sure to get the ball rolling in the right direction!
How To Establish A Presence
Everytime you publicly post anything, be it a rant on Facebook, short tweet, or a photo to Instagram, you are inadvertantly adding to your online presence. You're sharing your voice, your loves, your interests with the world around you, and the more you do it, the more consistent, and thus strong, your presence becomes.
We need to take it upon ourselves to jump aboard these social media platforms and build a following on them, so that when we drop a link to our Vocal content, interested people are already standing by to clickthrough and read.
By consistently sharing to these networks we are giving our audience a small insight into our lives. Sharing with them who we are. And if they like it, they'll stick around for more. Soon they'll react, or comment, or share, and your social media channels continue to grow organically.
You can read some more fundamental audience building tips in an article I previously wrote for Hubpages here
It's all about content. Pick a couple platforms and start posting to them reuglarly. Not just your vocal links! Post about everything that supports your brand. Post up pictures, opinions, small snippets of yourself and your life that your community will connect with.
If you want to make the most of Vocal and attract new readers to your online content, you'll have to start using social media to build genuine connections with those that respond to your content. Need a cool Instagram account as an example? Here's mine.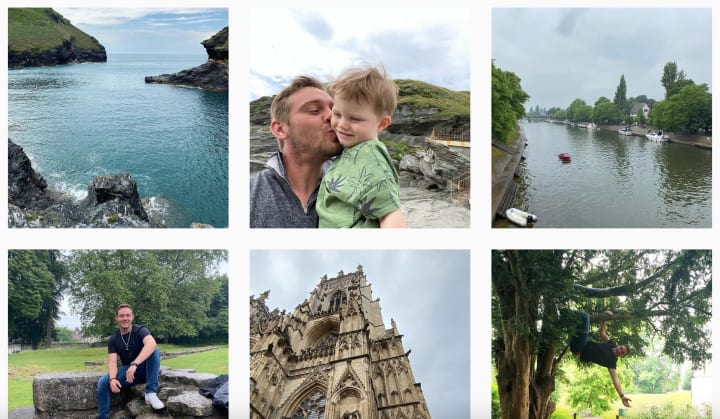 Basic SEO Practices For Writing Online
SEO is among the most daunting and misunderstood concepts in writing content online, and for good reason. It's put up on a pedestal by 'internet gurus' and overcomplicated by almost everybody trying to sell you something.
But the reality isn't all that complex. It comes down to choosing a Keyword and using it a few times (at a few key areas) throughout the piece. Eventually search engine spiders will crawl your content and place it on google under that exact keyword.
What is a keyword? Well, think of it as a search term. When you go to google and type in a question, that in itself is a keyword. The results you're shown is dependent on the strength of the site and the page in question under that keyword.
When writing your posts, think about what question you are answering and what people will search in google to find you. The more broad and specific the search term, the less competition you'll have for those top ranks.
The keyword for this article is 'how to make the most of vocal.' You'll see that it is the title of the post, in the first paragraph, and dotted a couple times throughout the entire piece… that's really enough. There are other keywords present too, 'online content writing' being one of them. See if you can spot them all.
Search engines do take other factors into account too, such as paragraph length, healthy back-links, engagement, and traffic. So be sure to keep your writing clear and concise, and make use of that social media platform and other posts to link back to your post.
It's always worth reaching out to bloggers and influencers in the field you're writing in to build a relationship with them. A backlink from them can provide strength to your post and a much needed source of traffic!
Likewise, link out to well-established sites and pages to help illustrate your points. Google loves this! For a more in depth look at SEO, check out this post by Wordstream. See what I did there?
100 Day Content Creation Challenge
Now onto the good stuff! Let's put everything we've learned into practice and turn ourselves into content creation machines with 100 days of focused writing and platform building.
You've got to trust the process, stay consistent, and not allow any rogue or negative thoughts to creep into your head over the next three or so months.
So how does this content creation challenge work? Can you even think up 100 posts to write about? Well that's where Vocal really shines!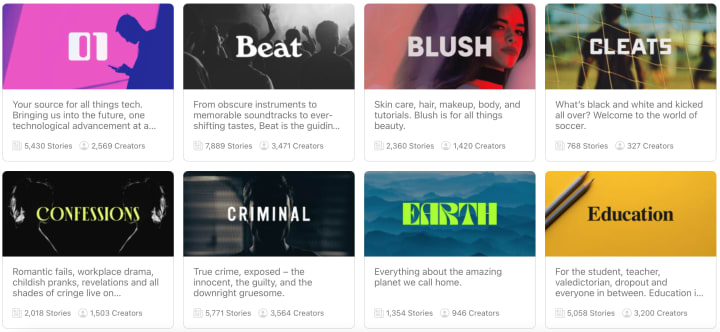 There are 33 communities within vocal, and we're gonna think up 3 posts for each community. Not only will this teach you to write on demand for a specific audience, building a broad and diverse portfolio as you go, but will give you the confidence you need as a content writer.
You'll discover that you have enough to say about every topic under the sun just through life experience and enough creative thought. While some communities will be easier than others, I guarantee you that you'll be able to come up with three SEO rich stories without feeling out of place.
And hey, if it was easy, it wouldn't be much of a challenge now, would it?
So go familiarise yourself with the communities here, write each down on a piece of paper or word document, and leave three lines beneath each. Day One's task is to come up with titles for each of your 99 pieces of content. Then you're on your way! It's just create, create, create from then on!
Oh wait! Creating content is just 10% of the battle, remember? You didn't really think that's all there is to it, did you? Here's a daily checklist for everything surrounding your piece of content every day, that will start to seriously build up your platform and presence as a writer.
1: Read and heart three pieces of content in the relevant community. Top stories are perfect for this. Reach out to the author to show some love and even link to their stories in your own if the content matches!

2: Create and publish your piece of content. Do so with SEO in mind and pick some decent keywords. We all have stories to suit most topics in the world, so share your voice in a way that builds up that image of who you are.

3: Share your content in all relevant Facebook groups and on your personal Facebook page. When I'm writing in a certain topic, I search for a bunch of groups that I can later share my article in. Because we are going to be splitting our content across the Vocal communities, we can create a list of groups under each community so we're already ready to go on approval!

4: Share to any and all social media accounts. Instagram, Twitter, Wordpress, LinkedIn, YouTube. Whatever you personally like and would love to build a community in.

5: Engage with your community. Leave comments in groups, talk to your readers, reply to everything.

6: Repeat.
If you really want to make the most of vocal, follow this challenge to the absolute best of your ability. You'll pick up money in bonuses, increase your reads, build up your readership platform, and have a serious chance at picking up 'top post' a few times along the way!
One thing I have noticed about this wonderful platform, is that it rewards those willing to go the extra mile!
Have patience, keep creating, and build your dreams into reality. I'll see you in 100 days!
Head over to The Vocal 100 Day Creator Challenge group on Facebook to engage, share, and get involved with a community of members (including myself) focused around the same goal. I'll see you there!
Dont have a Vocal+ membership yet? Get it here.
If you took some value from this post, consider leaving a small, one off tip to help support the creation of future content.
Read Next
how to
About the author
An avid writer from the UK with a passion for words! Whether I'm posting my musings to social media or creating longform content for the masses, You can bet I'm somewhere trying to make sense of this wonderful chaos we call the universe.
Reader insights
Be the first to share your insights about this piece.
Add your insights