How Do You Recover Snaps You Did Not Save?
A step-by-step guide for recovering Snaps you didn't save from your PC, Android, or iPhone.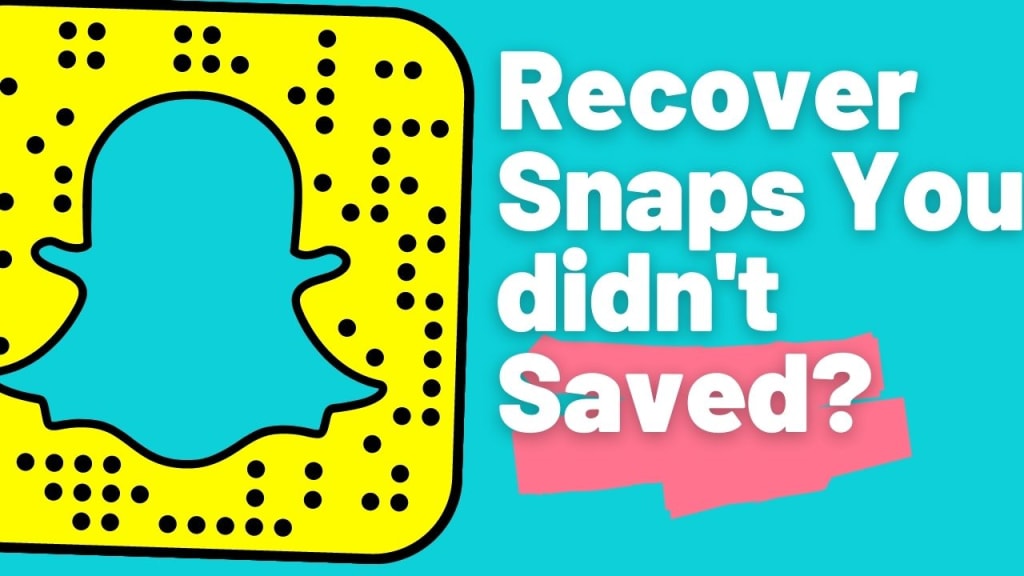 How to recover Snaps you didn't saved? / Picture created by the Author
Snapchat is one popular and most widely used social networking platform where you can share photos, videos, messages, snaps with your friends, family, and others. But the only disadvantage is that Snapchat doesn't let its users save Snapchat photos or videos. It gets disappeared after 10 minutes of being viewed by the Snapchat user. So, they set a time limit for the snaps you sent to other users, and they will be deleted immediately after the receiver has viewed them. People are constantly in difficulties as a result of this.
So, if you didn't save Snapchat photos or videos on your computer and phone or it got deleted after a limited time, then how do you recover them? Several Snapchat users mainly ask it. This article will guide you on how to recover the snaps that you failed to save. So continue reading!
Is it possible to recover the snaps that you didn't save on Snapchat?
We all know that when the time limit is over, Snapchat snaps got expired or deleted forever. But this is not the case at all. Your photographs are stored in the cache of your phone or computer and are not deleted. However, when you share a photo with someone on Snapchat, it is routed through the Snapchat server before reaching the recipient's device.
Generally, your photos are stored on Snapchat's server for up to 30 days. You can also use the following methods to observe how you can save Snapchat photographs on your phone:
If you save Snapchat snaps in the "Memories," they will never be deleted and can be retrieved at any time.
You can easily store a snap that someone sends you by capturing a screenshot. But the person will be alerted that you have captured a screenshot.
If you put a photo on your Snapchat account as a story, it will only be displayed for 24 hours. However, if you post it to a "Local Stor" or "Live Story," Snapchat will store it so you can watch it later.
How to recover your snaps that you didn't save from Snapchat on PC?
Yes, if you failed to save or mistakenly delete Snapchat snaps on your computer, you may quickly retrieve them. All you have to do now is restore those snaps from the recycle bin or employ a photo recovery tool to recover them.
However, if you haven't previously saved Snapchat photographs on your computer, you can try to restore these photos from your phone.
You can retrieve deleted Snapchat photos on your phone using a variety of methods. However, before looking for photo recovery options, be sure you haven't stored the images in Snapchat Memories.
If you saved Snapchat photos in the Memories section, you could access them by browsing your Snapchat home and swiping up to access stored images.
If you can't find your snaps under the "Memories," section you'll have to take further steps to get them back:
You can recover deleted Snapchat photos by checking your associated cloud account or your phone's cache memory, or you can use a Snapchat photo recovery application software to recover those snaps.
How to recover your snaps that you didn't save from Snapchat on your Android phone?
The most outstanding feature of Android smartphones is that they maintain app cache memory in the SD card or phone memory, which is quite helpful. Because the cache files are hidden within the folders, you may restore your Snapchat photographs using Android cache files. On an Android phone, here's how to effortlessly retrieve Snapchat photos.
Recovering photos from your Cache Files:
Firstly, you have to open the file manager on your Android device and go to the "Android" folder.
You'll get a list of all the apps that are installed on your device. Open the "com.Snapchat.android" folder first, then the cache folder.
All of your deleted Snapchat photographs and videos can now be retrieved in the "received image snaps" folder. All you have to do now is gain access to the deleted photos and retrieve them.
How to recover your snaps that you didn't save from Snapchat on your iPhone?
If you are an iPhone user, there is good news for you. You may quickly now get Snapchat snaps back that you didn't save from Snapchat on your iPhone if you have already backed up your Snapchat messages in your iCloud storage or enabled iCloud syncing on your iPhone.
This procedure will require you to restore your iPhone completely, so make a backup first. Here's how to go about it:
Firstly, go to the "settings" menu and then click on "General" and then "Reset."
Next, click on "Erase All Content and Settings."
Click on "Restore from iCloud backup" from the "Apps & Data" menu
Finally, choose the iCloud backup file containing all of your Snapchat snaps, and the backup will be recovered on your iPhone.
Read more Snapchat related articles:
How Do I Access Snapchat History?
On Snapchat, If I Unfriended Someone But Did Not Block Them How Can Befriend Them?
On Snapchat, Does Blocking Someone Delete The Message You Saved?
If you Unfriend Someone on Snapchat, Will You Keep Your Streak?
[Easy] How To Cancel Premium Snapchat Subscription?
Does Snapchat Detect Screen Recording on Android?
I hope this helps.
how to
I am a blogger who writes about Blogging, YouTube, Quora, Medium, Substack, and Vocal. We also publish content about everything. https:/aamirokamal.medium.com
For business inquiries: [email protected]
or Twitter: @_aamirkamal