[Easy] How To Cancel Premium Snapchat Subscription?
A step-by-step guide to cancel the premium Snapchat subscription.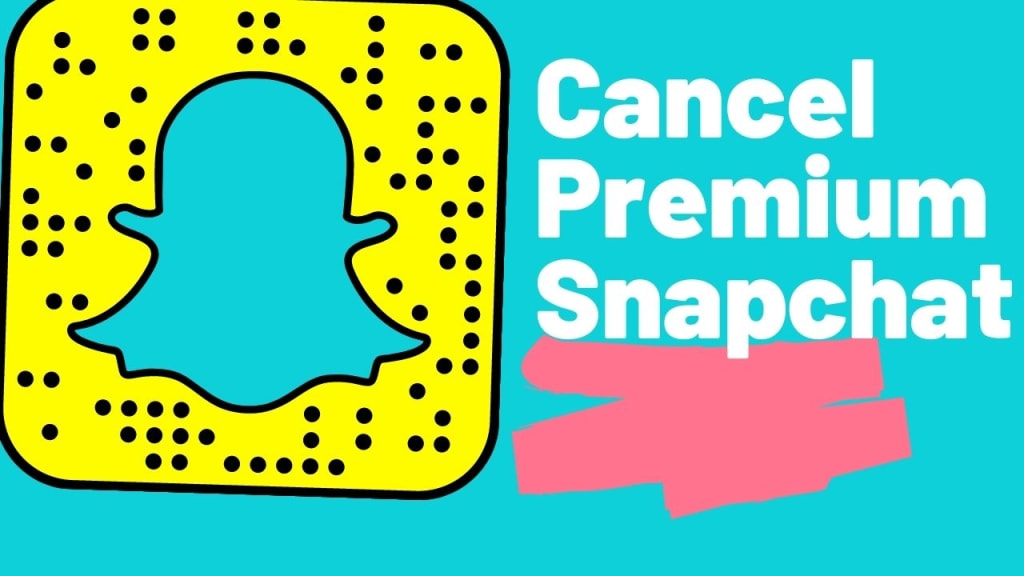 [Easy] How To Cancel Premium Snapchat Subscription? / Picture created by the Author of this story.
Are you looking to know how to cancel Premium Snapchat Subscription? Then you are at the right place. Here we will discuss what premium Snapchat accounts and the process to cancel its subscription is. So, stay with us and go through the entire article.
Snapchat is a popular messaging app for Android and iOS devices. It is an American multimedia messaging application software. Its unique characteristic is that photos and messages are only visible to visitors for a limited period. Snapchat was founded by Evan Spiegal, a co-founder, and is currently led by Snapchat.Inc.
Users of Snapchat now have a premium Snapchat account. Snapchat Premium account is a standard Snapchat account that many people participate in. You do not need to install or download any additional software to make your Snapchat account premium. You only need to configure a privacy option, and people who wish to view your confidential material will pay you.
What premium are Snapchat accounts?
When a person makes their Snapchat account premium, he/she may set his account to private and share his photos or snaps with just specific friends and individuals. It is similar to your regular Snapchat account, but you may make it more personal for professional purposes.
When a person creates a premium Snapchat account, they will share content in exchange for money. This is referred to as premium Snapchat. It is more like an Onlyfans version of Snapchat.
Snapchat does not officially recognize premium Snapchat accounts; therefore, account owners must develop their transaction procedure.
How does a premium Snapchat help to make money?
Most people wonder how to produce a high-quality Snapchat and how to profit from it? So, here's the solution.
Premium Snapchat is typically used to send private photographs. As a result, many adult celebrities use this app to make money. They create a premium Snapchat, which implies that people need to charge $5 to $10 each month to receive their adult snaps. It's similar to a monthly subscription.
Snapchat premium accounts are used for various reasons, including privacy concerns, the sharing of adult and sexual content, the exchange of business information, and a variety of other things. Premium provides the user with privacy. In basic terms, it might be claimed that for the premium features of Snapchat, people charge and collect money from users.
It is known to all, a premium for anything indicates that you must pay a certain amount for that item, such as when you purchase a car and must pay monthly premiums.
Likewise, a Snapchat premium account features users to get compensated for their content or material. In a premium Snapchat account, you may upload 18+ images and videos, as well as anything else you want to share and post, and in exchange, you will be compensated by viewers. You are additionally compensated for each screenshot and view of your shared post.
According to a survey, it is shown that 78% of high school students use Snapchat daily. With the massive demand for Snapchat in today's world, you can undoubtedly take your business to new heights. People make money by selling content in this manner.
How do you cancel Premium Snapchat Subscription?
If it is required to cancel or unsubscribe from your premium Snapchat account, follow the below steps. First, make sure that you want to cancel your Premium Snapchat account. If you agree, then go with the below processes.
How to Cancel Snapchat Subscription on your iPhone or iPad:
Firstly, open the Settings application and click on your name
Next, click on the "Subscriptions" button
Hit your Apple ID and view it.
Next, sign in and scroll the pointer down to the "Subscriptions" button.
Next, click on Snapchat (subscription)
Finally, press the Cancel button to unsubscribe from your premium Snapchat account.
How to Cancel Snapchat Subscription on your Android device?
Firstly, open the Google Play Store on your android device.
Make sure you are signing in with the proper account if you have so many google accounts.
Now go to the menu and then click on the "Subscriptions" button.
Select the Snapchat subscription you want to cancel and hit the "Cancel Subscription" tab.
Finally, you have canceled Snapchat Subscription on your Android device
If you remove your Snapchat subscription for once, it will be removed entirely from the Google Play store. Also, your future subscriptions will be canceled and no longer will be allowed.
How to Cancel Snapchat Subscription on a Mac computer?
Firstly, go to the Mac App Store
Then tap on your name at the bottom of the sidebar.
Now press the "View Information" tab at the top of the window
Next, sign in to your account with the exact username and ID if asked to do so.
Now, scroll down on the next page and hit the "Subscriptions" tab
Click on "Manage" and then "Edit" inside the Snapchat application
Finally, tap on "Cancel Subscription" and end your Snapchat Subscription.
Read more articles we published about Snapchat:
Does Snapchat Notify Someone When You Look at Their Snap Map?
Taking Screenshots on Snapchat: Can Snapchat allow Screenshots? A Beginner Guide
How to add a Snapchat User to the quick add tab?
Does Snapchat Detect Screen Recording on Android?
I hope this helps.