How Do I Access Snapchat History?
How do you see your Snapchat history? A detailed guide to access your Snapchat history.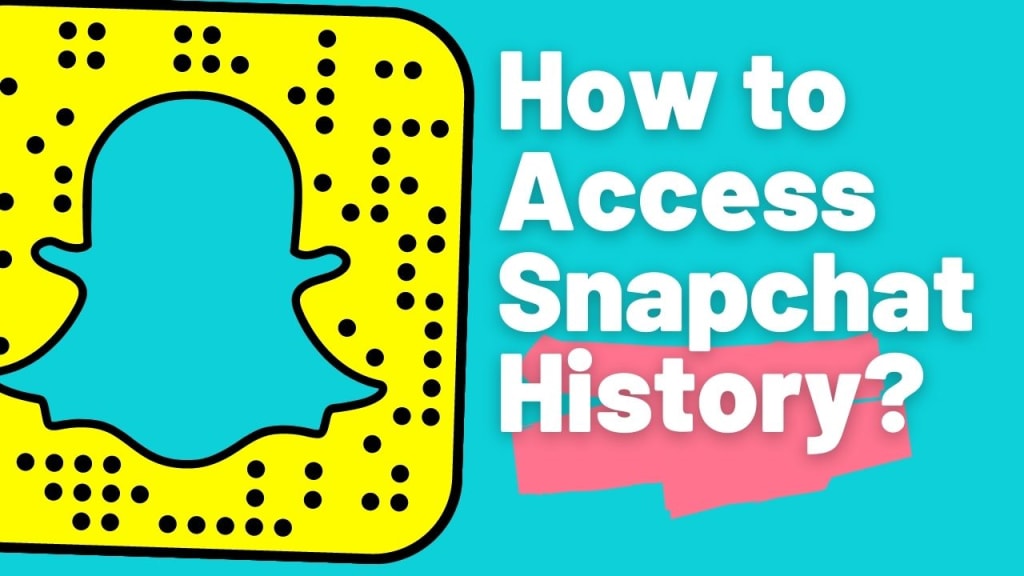 How Do I Access Snapchat History? / Picture created by the Author (Aamir Kamal)
Snapchat is one of the most widely used social media apps among young people today. It enables users to share their daily experiences. Also, it provides more advanced features, including games, news, entertainment, and a collection of innovative photo and video editing tools. But Snapchat is not like the other social networking applications that let their users save whatever they have posted on their timeline. Snapchat content is designed to expire after the recipient has viewed them.
Its major purpose is to allow users to take photographs and videos, apply effects and filters, and share the results with their friends. Ultimately, the app is mainly about snapping, sharing, and deleting once the material is viewed.
Your Snapchat buddies can only see the stuff you share for 24 hours or whatever time restriction you select for your snap. Your Snapchat buddies can only see the stuff you share for 24 hours or whatever time restriction you choose for your snap.
Afterward, your shared snap or post will disappear. However, there are a few different ways to view your Snapchat history. Whether anyone snapped you or the ones you got.
Let's check out the below process to access and retrieve your Snapchat history:
Download your Snapchat data on an iPhone:
Firstly, open the Snapchat app on your device. Swipe left or right to navigate the app on your iPhone.
You have to log in to your profile, as you are already an existing account holder.
Enter the proper details such as username and password to log in
Next, go to the settings icon at the top-right corner of the screen.
Scroll down the page to find "My Data." It is most probably placed between Blocked and Log Out options.
Next, press the "Submit Request" button placed at the bottom of your screen
You will be received an email acknowledging that your request got accepted.
Open the email that you received at least after 2 minutes. Be sure to choose the most current email from the Snapchat Support Team.
Press "click here" mentioned in the email and log in to your Snapchat account. This information would have to be re-entered for verification.
Now, scroll down to the "Your Data is Ready" section and press the clickable link.
Next, hit the "More" button, and you will be given two options to save your data, including iCloud Drive and On My iPhone
Could you choose one of them and then press Add? Here, we will select iCloud Drive.
Next, navigate to your iCloud Drive to see your Snapchat history. Keep in mind that you have to choose the most recent file you saved in your iCloud Drive.
Finally, choose the Snapchat history you want to see.
You can also download your Snapchat data on your Android phones with the same processes mentioned above. The difference is you don't need to save the Snapchat history file in iCloud Drive; instead, you will be sent a link after your data is ready to download.
Go to the download page and download your data, a zip folder attached with the link. On your Android phone, the data will save in the Android cloud server. Now you can see the Snapchat history that you want to see with date, time, and person name. Also, you can find the location, timing in your recovered data.
However, you can access your Snapchat History on your PC. The approach is identical, and only you'll need your PC to access your email address and retrieve your Snapchat history. If you don't have access to a Windows or Mac computer, you may still do it from your iPhone by following the steps above in the article.
Besides that, there are many monitoring apps available to see your Snapchat history. Just have a look:
Using Spyic, see your Snapchat History
Spyic is regarded as one of the most effective Snapchat monitoring tools in case of retrieving history. You can have complete control over your Snapchat history. It is secure to be used. Spyic operates in a stealth mode. To see your Snapchat history, follow the step-by-step procedures:
Create a premium account first with Spyic, and you will receive an email to access the control panel.
Press the "Start monitoring" button and put the information about your target device
Go to the Snapchat app and log in with your proper username and password
Finally, you can see Snapchat history along with other info.
Using Truthspy, see your Snapchat History
Snapchat users have been using TheTruthSpy software to track Snapchat history for years. You may even use the app from afar without any issues. The app monitors with the most up-to-date technology and is the best at what it does. Take a quick look at how to use this app:
At first, go to the official website of the TheTruthSpy app and create an account.
Log in to the application with a suitable subscription plan.
Finally, you will be able to start monitoring your Snapchat history.
Read more Snapchat related articles given below;
On Snapchat, If I Unfriended Someone But Did Not Block Them How Can Befriend Them?
How Do You Know If Someone Unfriended You on Snapchat?
On Snapchat, Does Blocking Someone Delete The Message You Saved?
How Do You Retrieve Deleted Snapchat Messages?
[Easy] How To Cancel Premium Snapchat Subscription?
I hope this helps.
apps
I am a blogger who writes about Blogging, YouTube, Quora, Medium, Substack, and Vocal. We also publish content about everything. https:/aamirokamal.medium.com
For business inquiries: [email protected]
or Twitter: @_aamirkamal