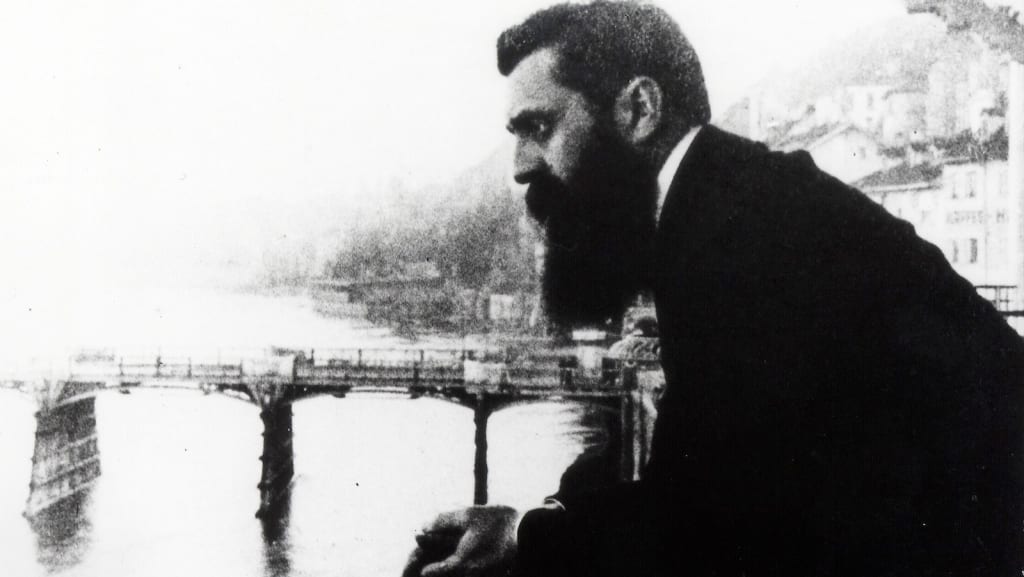 Theodor Herzl, the founder of modern Zionism
As long as in the heart within, the Jewish soul yearns, and toward the eastern edges, onward, an eye gazes toward Zion.
I should preface this by saying I'm not Jewish.
If anything, my faith is closest to a mixture of Christian and New Age beliefs. Spiritualism, perhaps, or very close in some ways to Hinduism or Buddhism. I once chanted the Hare Krishna mantra every night and have read and listened to the Bhagavad Gita numerous times. My daily spiritual practice isn't prayer; it's reading Tarot, which, because I get paid to do it, most likely disqualifies it as a "spiritual practice." (Laughs.) But I deal in "energy" of various kinds, psychic work, all the time. Every night of my life, nearly.
My favorite piece of music is the Israeli National Anthem, called Ha'Tikvah, which means "The Hope." It is one of the only national anthems written in a minor key. When I first heard it, many decades ago, on an album called L'Chaim: The Ultimate Jewish Music Collection I knew it then, and I know it now, to be the holiest piece of music I have ever heard. I can sing it in Hebrew, and I frequently do, although I learned it of course, phonetically.
It's based on an old poem called "Tikvateinu". There are many, many versions available to listen to on YouTube. Below is one of them, in Hebrew and English:
To me, it is the perfect melody. In the vocals, I can hear the Voice of God. I had a strange day last year when I woke up in a short-term mental care facility with severe depression. I have heart disease, and, because I was having continual palpitations (due finally to a reaction to a medication I was on), I was convinced that I was not going to be around many more weeks. I woke up that morning before breakfast was served, and I went out into the dayroom and sat with a cup of decaffeinated coffee. And I began to sing "Ha'Tikvah." And I found myself feeling the presence of Yahweh God. And it scourged me. I began to weep. And I sang, And I sang. And I sang it again.
As short as it was, it seemed the most beautiful, the most perfect message I could ever hear. But Yahweh God is not blind; you cannot run from Him. He sees through all your deceptions and short-cons, all your phoniness and tricks and lies. Right through you, until you are quivering with grief and fear.
And I began to think. I thought about the Holocaust for the first time in many years. About a people that lost a THIRD of their nation, only to found and build a new nation, against all odds, only three short years later. And since that time, mankind has begun the countdown, until that Final War, moving the last pieces of the puzzle into place. The Bulletin of Atomic Scientists has just moved the fabled "Doomsday Clock" to "ninety seconds to 'Midnight'". Whatever may come, Lord, Let It Be.
I didn't write this article to claim to be some case of "holy conversion," some example of a flawless and angelic happy soul. I'm one of the most conflicted and angry, egoistic and misanthropic beasts you're ever likely to meet. And my life has, by most summations, not been a "happy" one (whatever that particular bourgeois phraseology hopes to convey). I "Walk the Line," as Johnny Cash used to sing. I ride on two sides of the fence, between good and evil, night and day, dark and light.
So I took down my images of Krishna and Shiva later and put up a huge image of Christ. But maybe His suffering is too ancient for me, too removed in a historical context, to really reach me. I can think of the Holocaust, though, and become a blubbering, weeping wretch; or sometimes it brings a stillness to me, a sense of what Etty Hillesum said (in a general sense) was "our failing" God of what We owed Him. Of our compounding misery in the world to our folly. The sheer enormity of that event stifles my reason and leaves me speechless. And so, Ha'Tikvah, "The Hope." And there may be Hope for me yet.
The original poem...I can't remember offhand who wrote it. Wikipedia. I find it a meaningless detail. I'll refrain from writing a history of the song because I find such histories meaningless. God, Himself might as well be singing that song to me, and sometimes through me, and my skin goes into prickles and gooseflesh when I hear it, and I'm not even Jewish. And today some girl killed seven of her classmates and herself, and I listened to Etty Hillesum being read on audio, and, as Ed Sanders once wrote and I love to quote, ALL WAS.
But that song, those Hebrew words:
Kol od ba-levav p'nimah, Nefesh yehudi homiyah, Ulefa-atei mizrach kadimah, Ayin l'tzion tzofiyah.

Od lo avdah tikvateinu, Hatikvah bat shnot alpayim, L'hiyot am chofshi b'artzeinu, Eretz Tzion v'Yerushalayim.
I sing them, and in English, they should mean little to someone who is not a Jew. But to me, they mean everything, because, one day, we are ALL going home, away from this world and its "material miseries," its manifold injustice. To be a part of the All. The ONE. But God knows the outer layer of ugliness you wear as a disguise, and His voice rings out in the firmament, in a plain, clear, beautiful, dark, and mournful-sounding song called, ironically, "The Hope".
I have no wish to overdo it with this article, make it a shmaltzy mess. So I'll finish here. Below is a link to a history of "Tikvateinu" the poem, the man who wrote it (Naftali Herz Imber), and how it became the Israeli National Anthem.
I can't say anything else to you. Rimbaud, in Season in Hell, said life is a farce in which we are all forced to participate. He also said, "This is an oracle, we are ALL going to Spirit." But, because he could only convey those words in a "pagan tongue," he wanted to "keep his mouth shut." And now I'm shutting mine. But not forever. Goodnight.
Then our hope - the two-thousand-year-old hope - will not be lost: To be a free people in our land, the land of Zion and Jerusalem.
About the Creator
Author of Haunted Indianapolis, Indiana Ghost Folklore, Midwest Maniacs, Midwest UFOs and Beyond, Scary Urban Legends, 50 Famous Fables and Folk Tales, and Notorious Crimes of the Upper Midwest.: http://tombakerbooks.weebly.com
Reader insights
Outstanding
Excellent work. Looking forward to reading more!
Top insights
Easy to read and follow

Well-structured & engaging content

Eye opening

Niche topic & fresh perspectives
Add your insights