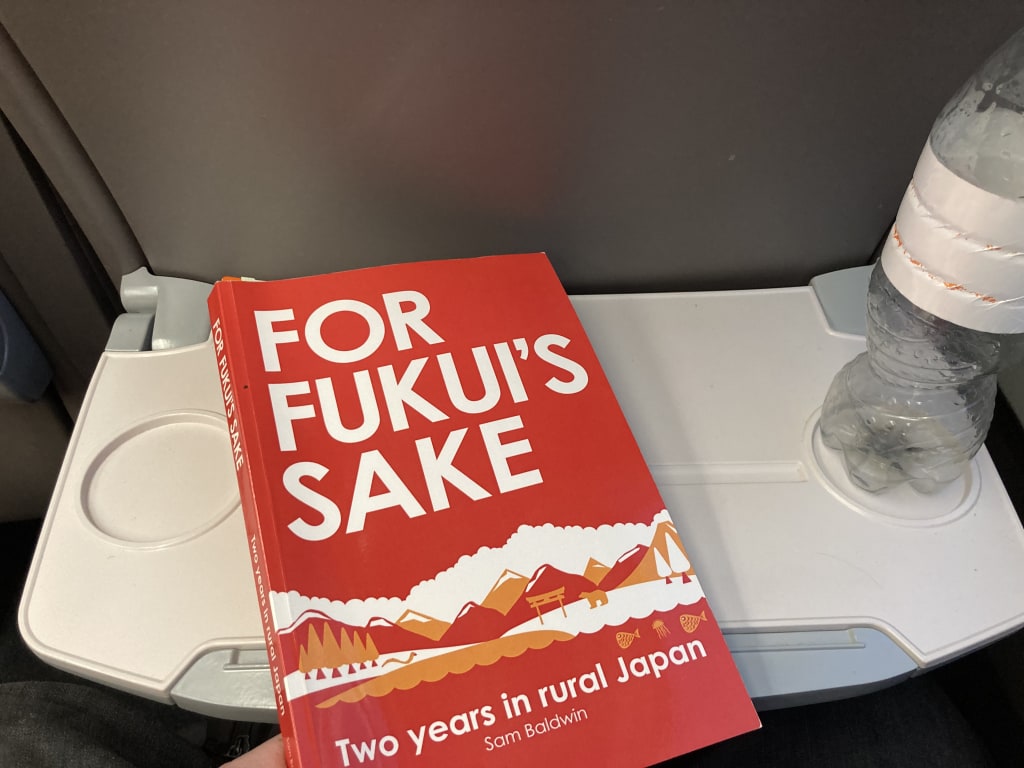 Mostly on a train ride to my parents' home
From September 2015 - June 2016 I was a foreign exchange student at Nagasaki University of Foreign Studies in Japan.
In September of 2019 I was living in Stirling with my girlfriend, herself a former student there. We would marry each other in December of the following year, in a very small and very hectic ceremony before she headed home to her parents' for Christmas.
Our request for a spouse visa would be rejected by the UK government and we would not see each other until late September. I was now on the search for a better paying job so that I could bring my wife back to the UK.
In October of 2021, I asked one of my teachers at NUFS for a reference for a teaching position in Durham. He provided it and suggested I apply for a position at the university as well.
Two months later I interviewed for the position and started having second thoughts almost immediately. There was a lot to think about.
I would have essentially three months to uproute my life and head to Japan! I would be there for 3 years! Possibly more if I could renew my contract with the university! I would need to find a way to get our cat over to Japan as well! Most importantly, I'd be able to get a visa for my wife to live with me. I asked another former teacher of mine for any advice on moving to Japan and she was, as always, a star, but I still felt nervous.
I had spent all this time worrying about the actual move and not about living there. Several years ago, my mum had bought me a book called For Fukui's Sake: Two Years In Rural Japan by Sam Baldwin, an autobiographical story about … well two years in rural Japan as an English teacher attached to the JET Program.
I wondered if he would have some words of wisdom for me. So, heading home for Christmas on the train I opened the book and started reading.
This is going to be an odd book review, I'm less talking about what I think of the style, or the narrative, which are both weird things to address in a non-fiction book anyway. I'm more looking for things that the book can advise me about for my upcoming job and how to address things like homesickness, culture shock and those accursed centipedes.
Getting settled
My head has been a non-stop spiral of "apartment, phone, internet, bank account, tram card, business cards, plane ticket, quarantine" and a thousand other things for the last week or two. My biggest worry by far is getting everything set up. Already, I'm in a different position to Baldwin.
I've been to Nagasaki before, it's honestly one of my favourite cities. It feels busy and out of the way at the same time and oddly enough reminds me of my hometown a little. I have friends there, I know most of the people I'll be working with, my wife will be coming over with me. I won't be alone. I can figure stuff out when I'm actually there.
Culture Shock
This is the big one, in terms of both work-life and everyday-life I'm going to have to adjust quite a bit. I'm lucky enough that I know most of my future colleagues, although it has been about five years. I've even been out for a drink with a couple of them. I hadn't really considered how different work-outings (enkai) are in Japan compared to the UK. When I've gone out with work mates in the UK it's just been to the pub, maybe to get a burger. But Baldwin sort of makes it clear that they seem to be a lot, they're a lot more intense and way more formalised. At the very least, I can take solace in the fact that if I do something stupid it probably won't come up the next day. A lesson to get from For Fukui's Sake (and one that I've been given by a few friends and teachers!) is that I need to embrace these differences and adapt to them.
Baldwin explains that there are three stages to culture shock, a fascination phase, a negotiation phase and an adjustment phase. I certainly experienced these three phases, but I have to wonder if they'll last longer or shorter when I'm over there next.
Snow And Ice
The weather is going to kill me. Nagasaki is an incredibly hot place, and I spent most of my year-abroad there feeling oppressively sweaty. Baldwin talks about having one of the heaviest snowfalls in Japan's history and I was honestly in a similar situation. When I lived in Nagasaki we got the first snowfall in five or six years. Everyone was really surprised and delighted, but I had unfortunately been told not to bring a coat. By just about everyone.
I couldn't believe that after so much time being hot and sweaty that I was on the verge of being frozen solid. Baldwin's story of being completely cut off and trapped by meter-high snowdrifts put these issues in perspective. Yet, despite being virtually at war with nature he still managed to find positivity in it, using it to embrace nature, make new friends and learn new skills.
Again, I'm hoping I can learn a lesson from this; namely to just keep persevering when things look insurmountable, because they might be the times where I see what I'm really capable of.
Other Stuff To Do
I didn't do a lot in Nagasaki, I also didn't do a lot in Japan. I was going through some pretty bad depressive episodes and ended up staying in my room a lot.
Like a lot, a lot.
Baldwin took a huge advantage of his time in Japan, as well as the aforementioned adventures in the snows, he sought out people to help with mountaineering, people to help him learn hobbies and skills. So I guess I need to take that in mind.
I guess when I get there, I need to put myself out there.
Reader insights
Be the first to share your insights about this piece.
Add your insights