From Beard Oil to Hand Sanitiser
a Filmmaker, an Entrepreneur, a Salesman and a Doctor to kick it all off.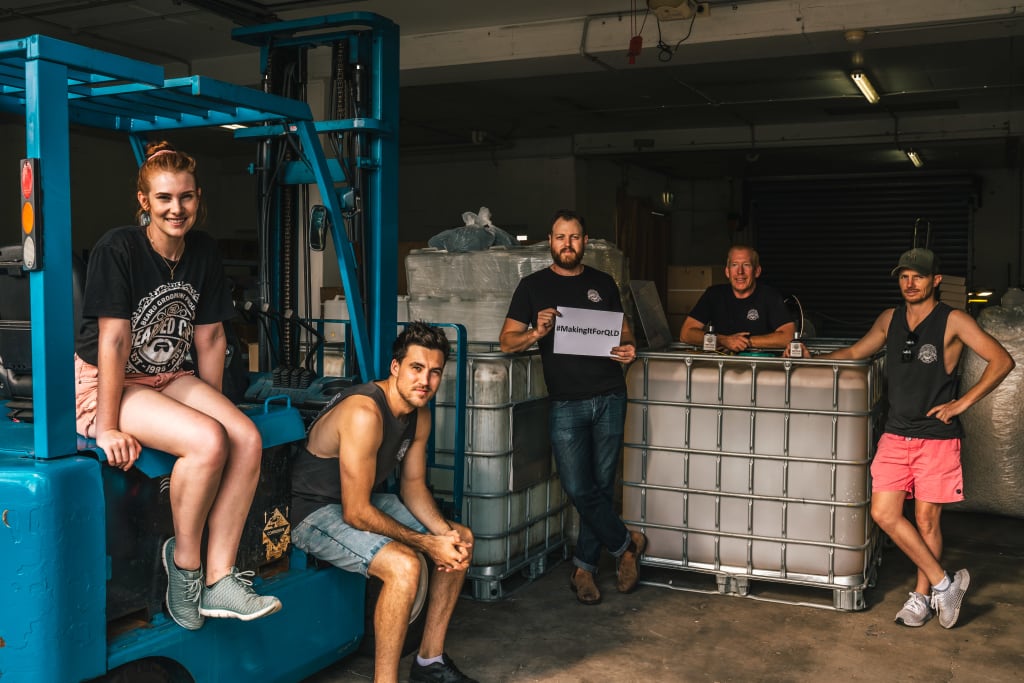 The Bearded Chap Government Press Shot.
I have always loved documentary.
It's the most objective form of journalism; the camera tells the truth where words fail. It leads you in directions you'd never thought you go, to places you never thought you'd be. It truely captures what is.
When I was studying film at university, I made a documentary about a Yogi who lived out of his car and travelled where-ever the wind took him. I was a naive 19 year old and it was the most wild experience of my life. Mostly because I knew nothing about this lifestyle, or what to do when your subject disappears for two weeks with no word.
Since then, I have come to realise a few things. You cannot expect everything you plan and express to go right, sometimes you just have to roll with the punches. Good things absolutely take time. Budget for coffee. And most of all, time is relative. Those two weeks I dedicated worrying over my grade for the unit and reshaping the documentary in a gallant effort to find him seemed futile, against his 14 day, no speaking Buddhist Vispanna retreat in the hinterlands of the Sunshine Coast.
Everyone has the same 24 hours, but how we see and what we do with our time is the definition of our character. Some ponder insight, others create products that combat global pandemics.
In October 2019, I became the photographer and videographer at The Bearded Chap. In this role I truly learnt what it means to create your own success, own your victories, and accept your failures. I had started a documentary series with our loyal customers just months prior, OUR BEARDED CHAP'S which was designed to engage our customers, who are from all walks of life, use our products and live by one of our values:
Be the man nature intended.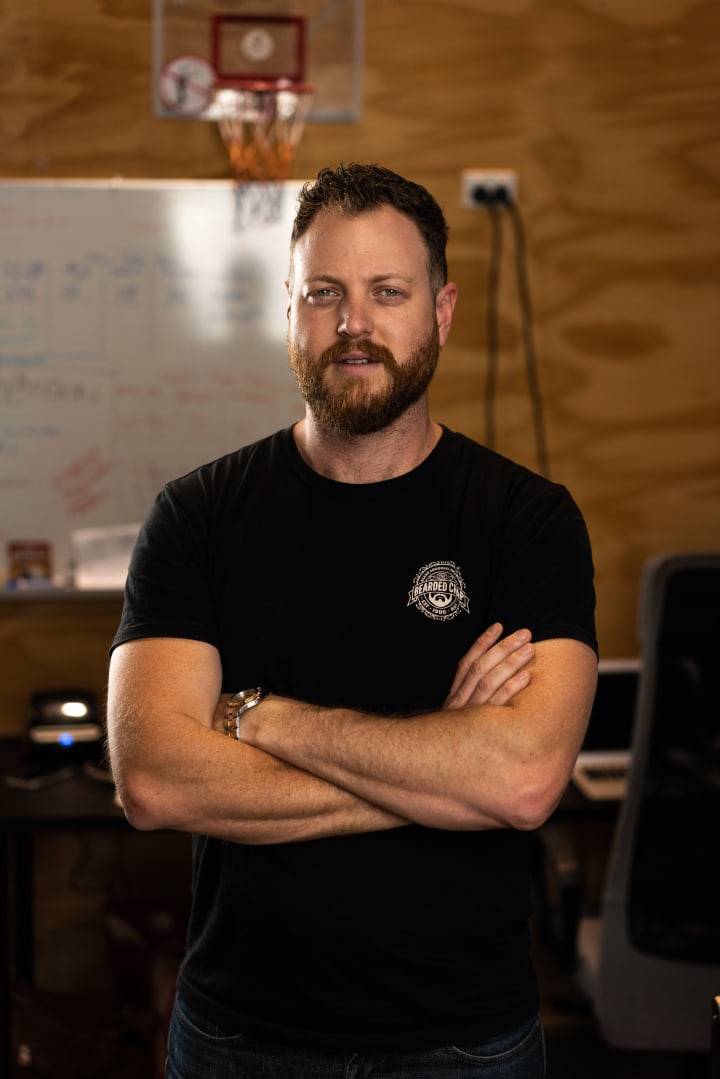 For 7 years Luke Swenson, the owner and founder of The Bearded Chap, has channeled ingenuity and tenacity to create an innovative brand that now reaches across Australia, America and Europe. However, while our company was starting to gain momentum, so was COVID-19 and it's slew of social and economic troubles in tow.
Quite literally days before quarantine and lockdown then enforced, I was scheduled to travel to Dallas, Texas to document our attendance at Barbercon™️ Convention, a major trade show to market our products to the US market. Following that, we had a trip planned to Melbourne, Victoria for our sponsored spot at Meatstock™️ festival. Our EU distributor had our EU launch scheduled for April 1st. Our small Australian company was making ground; we were growing and I was ecstatic to be apart of the journey.
Then almost on queue, the inevitable happens. Murphy's Law. COVID-19. The 2020 Corona Virus that stopped the world. It felt as if we had been passed the ball, which then promptly deflated in our hands. But it was not just us holding the ball, and it certainly wasn't just us playing. This once in a lifetime event forced the world to quite literally stop, isolate, and think. We had two priorities: keep our team safe and do something to help combat this virus that was quickly sweeping the world.
For the first week of the lockdown, the weekend before our Texas trip, it was a curious feeling. Here I was supposed to be on plane across the Pacific, but rather I was sitting on my couch, going over my directors treatment for a music video I was supposed to be directing the end of the next month - of course to be cancelled. Having had made multiple videos for the business and collected hours of archive footage of Luke's visits to barbershops around the country, I was starting to build a character, but for what, I had no idea.
I had already seen Luke pivot the company in the face of disaster once before. In Late 2019 Australia suffered the worst global bushfires in history. Over 60% of our nation was destroyed from wildfires that was precursed by the lack of rainfall in winter. Billions of dollars internationally were being raised to support those affected by the fires, and get our agriculture back to where it needed to be. The Bearded Chap crafted an innovative Beard Oil to raise much needed funds for Australians in need, 100% of the sale price was donated to Red Cross. Just 2 months after these fires, COVID-19 spread to our country as well as the rest of the world, and we were once again faced with another adversity.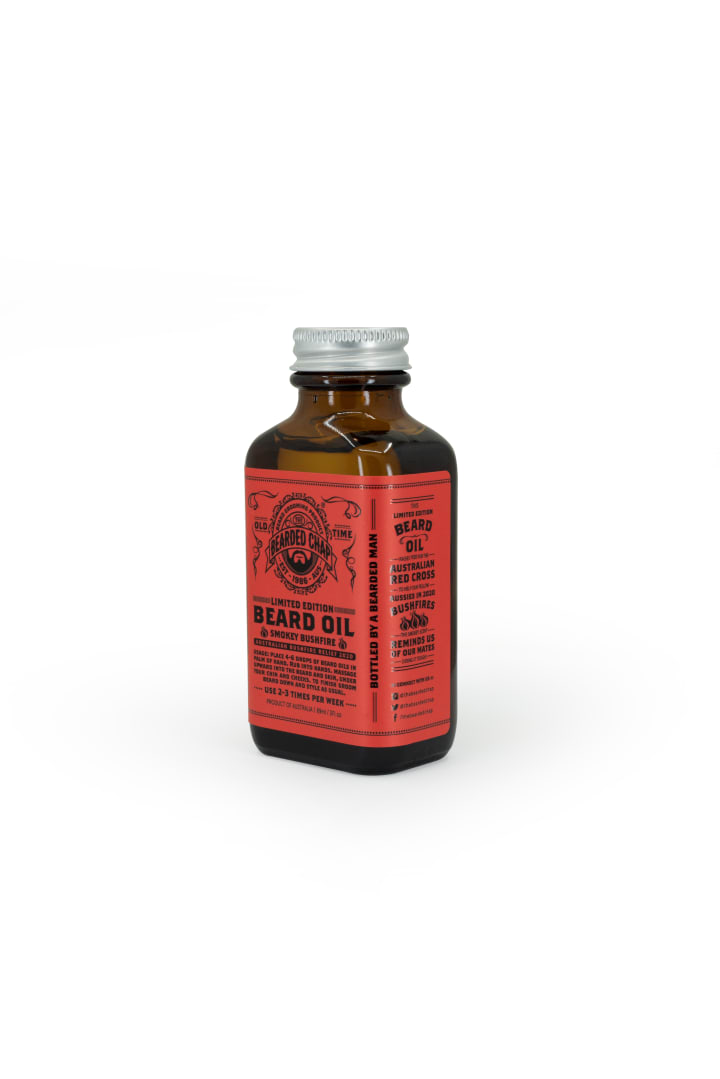 Luke's partner and Medical Doctor, Sarah McNamee, came home from work one day and told him about the imminent shortage of hand sanitiser across Australian hospitals. Just a few weeks earlier Luke had ordered 20,000 bottles for our production of Beard Wash, which was going to be fulfilled over the coming months. In denominations of 100ml and 250ml, there, sitting, was a potential for a response to the market that only few saw coming. It took 3 days from the conception of the idea, to the final formulation and design of the product. It was 9pm on a Friday night, just 14 days later, when the first batch of The Bearded Chap GERM KILLER was poured, capped, labelled, packaged and distributed across the state.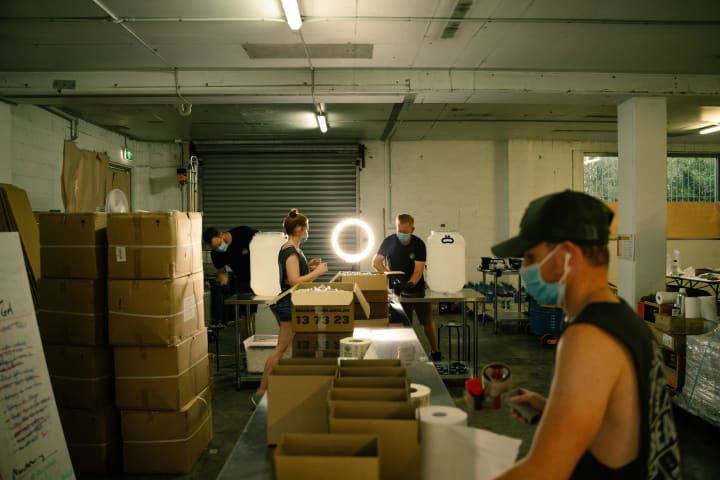 As a filmmaker, reactive problem solving initiatives like this are best captured through a lens to be believed. Photography and Film has always been a part of my character, documenting is my natural reactive state. It's to show the world; what is.
In the those 2 weeks is where the magic happened. The initiative was simple, supply the public and hospitals with the product to protect them from this virus while staying afloat in this economically crippling time.
Following the World Health Organisation's formula of Hand Sanitiser, our product had to be 80% v/v Ethanol to ensure it killed germs! Scouring to acquire as much Ethanol as possible was the natural next step so we hit every Bunnings, paint shop and distillery within driving distance of Brisbane. We managed to secured 120L from Inspirations Paint™️ in Ipswich, which provided enough to make 1300 x 100ml bottles; a small portion of our total orders. We didn't know at the time that this one small transaction would be the catalyst for even more momentum and exposure for our small company.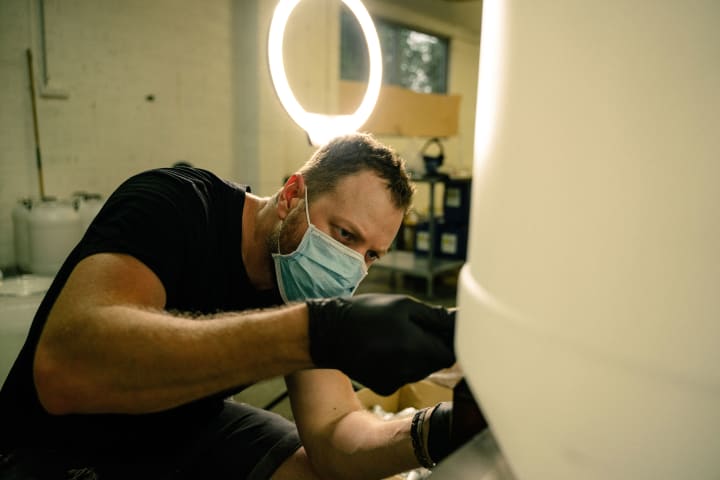 A lead from the paint shop got Luke onto ABC Radio Brisbane just days later, discussing the trials and the whole process. Which inevitably led to calls from journalists, and later, the QLD Museum.
Meanwhile, a government official from the Department of State Development, Manufacturing, Infrastructure and Planning was scrolling through Facebook and came across an advertisement for GERM KILLER, which he later said "was the best looking hand sanitiser he'd every seen". After a late night phone call with Luke, the next day, we received an email inviting us to join the #makingitforqld initiative, highlighting and supporting small businesses that were pivoting and adapting to the needs of the state. This led to a call with Queensland Premier, A. Palaszczuk's Ministers of Development & Manufacturing team ultimately to us securing 3000L of diverted ethanol from the largest rum distillery in Australia, Bundaberg Rum. Effectively this was enough to secure our first order from the QLD Government to make 3,750 bottles of GERM KILLER for QLD Hospitals.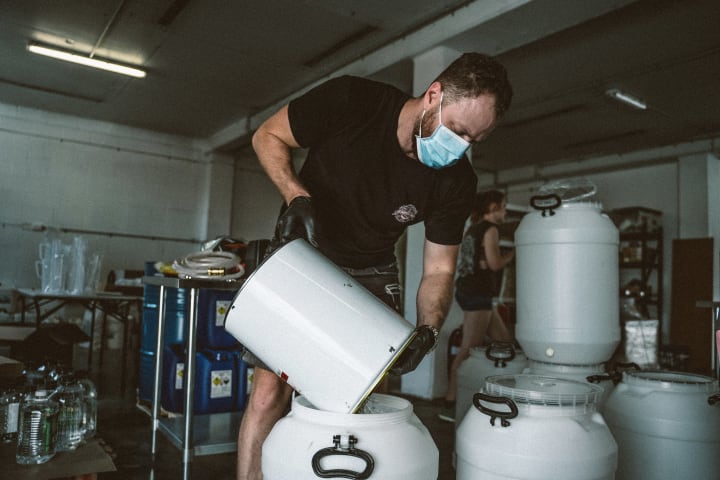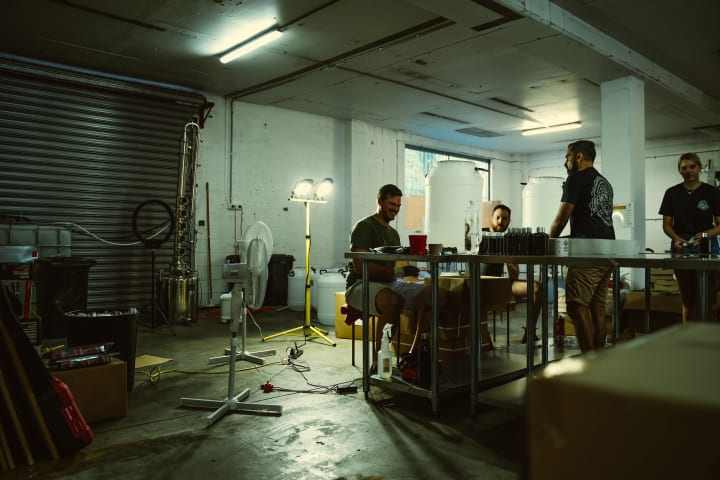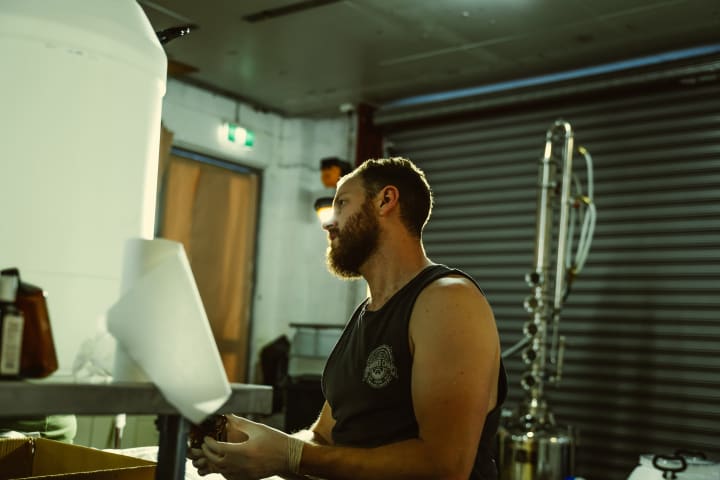 During the scramble to secure ethanol, sales had exploded to over 8000% following the release of GERM KILLER online. To adapt to this influx, we secured a larger 400m2 warehouse that could cope with the amount of product we were making, in addition to hiring new team members to help meet the demand of production.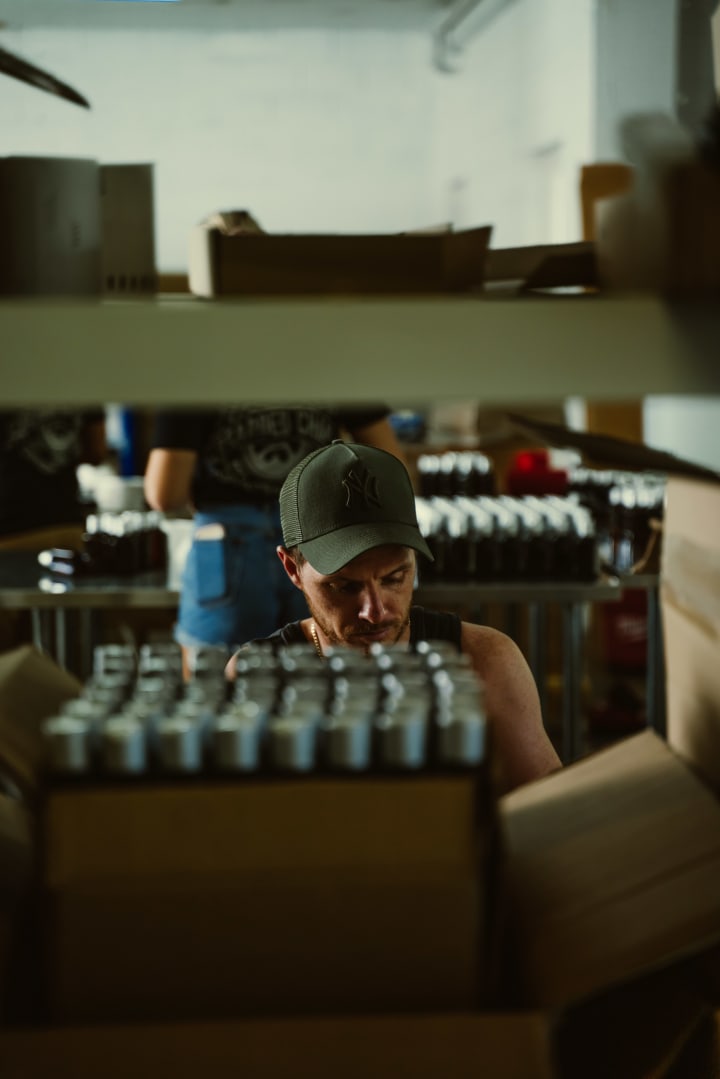 One of those new team members was Ryan Wiggins, a professional horse jockey, who was a close friend of Luke's - Thor Berg is sales rep for a events company that is treading water; and Ian Davies, a sales rep that worked with Luke years ago before The Bearded Chap in the wine industry, and of course Sarah McNamee, Medical Doctor and Luke's partner. We shifted physically and mentally to adapt to our ever changing environment to help our state and our country.
Before our very recent acquisition of a bottling line machine, which can produce 750 bottles an hour, production was very laborious work. Pouring hand sanitiser into bottles from allotted 60L drums, capping and labelling each bottle by hand then packing them into individual boxes to be distributed took its time and required the appropriate maths. The Bearded Chap Germ Killer was, quite literally, ready to go into the hands of the public.
Although we thought we were just doing our little bit to help our state, we didn't quite realise how our little contribution, made a big difference to the wider community.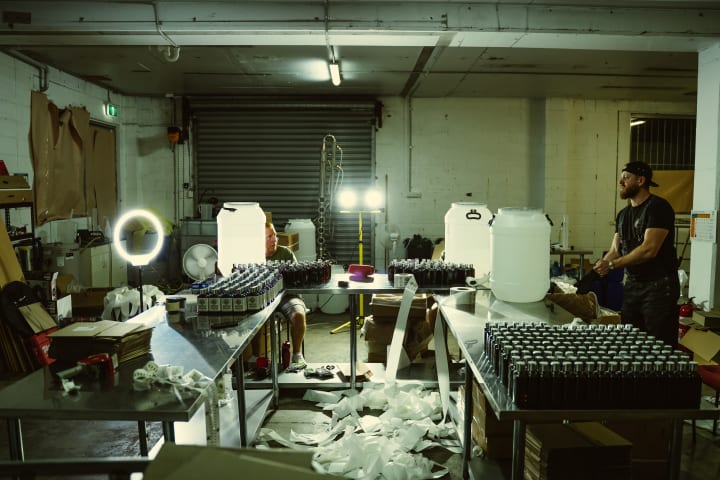 The Queensland Museum reached out to us to request for an interview with Luke and photograph our team and our factory, where all this craziness had unfolded. They also procured a few bottles of our GERM KILLER to be featured in their COVID-19 exhibition that they are currently putting together for the Queensland Museum as a permanent feature. This was undoubtedly to all our surprise however a surreal indication that what we were achieving truly was for the greater good. Both for combating a virus killing people all over the world and adapting to the environment and making a necessary pivot to keep our small Australian business from going under.
Hand Sanitiser was surely a turn we weren't expecting to take, it's something that while important, wasn't a matter of public safety until now. It just so happens that GERM KILLER fits into our range of mens grooming and hygiene products, one that'll go down in history as preventing the spread of a global virus and keeping people safe.
Documentary Trailer, Full film released soon:
Until then
Stay safe,
Hayden Rossiter