Coolest Lap Desks To Help You Work Anywhere
Turn anywhere and everywhere into a great workspace with the best lap desks.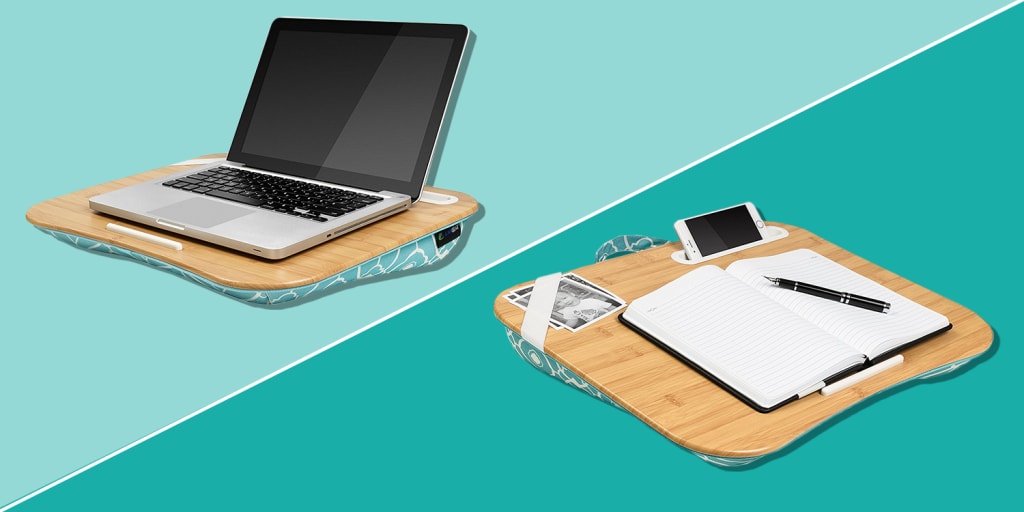 Laptops come with a great ease of use, and with a good laptop you can work virtually anywhere—in bed, on the couch, out on the porch, etc. However, hunching over a table or placing the computer on your lap can be uncomfortable, and if you want to upgrade and get the most out of every work situation, you should look into the best lap desks.
Computers get hot after heavy use, and despite the name, laptops are not comfortable when placed in one's lap for an extended period of time. The sleek design of most laptops also make them slick, and they can easily slide off the arm of the couch or the coffee table. You don't want to damage your most important tool, especially if you're working remotely. The best laptop desks can even improve your Netflix or Hulu experience, giving you a mobile entertainment center. So, what are the best lap desks on the market? Check out the ones with the highest user ratings here.
As the name would suggest, LapGear makes some of the best lap desks. This desk is also easy on your wrists and comes with a great padded wrist rest. The comfortable memory foam pad makes it easy for you to type for hours on end, and its design keeps your laptop from sliding around.
If you're struggling with carpal tunnel, this desk is a great option. In addition, it comes with built-in storage pockets and is capable of handling a laptop up to 22 inches wide.
Sitting for too long isn't good for anyone, that's why a lot of workplaces are switching to standing desks, to improve their employees' health. You can stand while you work on your laptop, or you can adjust it down and take a seat when you get tired; but either way, it's one of the best lap desks to get your work done.
Place this anywhere in your room and you've got a versatile workstation. If you are new to working from home, remember that not investing in a home workstation is one of the biggest mistakes people who are working remotely for the first time make.
This is one of the best lap desks on the market, in terms of functionality. It is incredibly practical and features four different angle options. It also has two separately adjustable sides, so you can place your coffee on one platform, and hammer out your work on another laptop tray. The legs fold up so it can easily be stored under the bed, or in other tight spaces.
This lap desk from LapGear is one of the best portable workstations, and they fit especially well in dorm rooms. It's a sturdy work surface and makes writing term papers a tad more pleasant.
The bottom is cushioned with a soft fleece-like material, and you can rest it on your lap comfortably, for long stretches. It's very practical, and comes with a built-in carry handle so you can transport it around campus with ease.
The Sofia + Sam is an amazing tool for multi-tasking—all from the comfort of your bed! It's a great work surface with a memory foam cushion wrist pad, so you can use it for hours, with plenty of comfort. It's on the smaller side, so it's great for tablets or a notebook computer.
It also comes with a desk lamp, so you don't even have to get out of bed and flip on the lights to start working. It's one of the best lap desks, and is easy to bring with you anywhere you need to go.
This designer lap desk gives your workstation a little style, so never hesitate to bring it to coffee shops or around campus. It fits laptops up to 17 inches wide, and features a little slot to place your iPhone.
The surface is properly designed to perfectly ventilate your laptop, keeping your computer at a perfect temperature at all times. It is one of the best lap desks that is capable of handling all your work needs, while also adding a bit of flair to your home decor.
This lap desk is great for taking on the go and also has a storage compartment to stash your laptop, when you're done working. The bamboo surface is stable enough for all your needs.
The storage space also comes equipped with a laptop strap that secures tightly with Velcro. The bottom is padded, so it's ideal for working in even the tightest spaces.
This mahogany lap desk offers some old-school vibes, but still has plenty of modern amenities. The portable writing surface allows you to work from the comfort of your favorite chair, while having your supplies on hand.
It comes with amazing stability because the soft micro-bead filled bottom keeps it from sliding around. As far as lap desks go, this is one of the most stylish and sophisticated.
If you've got a big laptop, the Oversized Memory Foam Lap Desk by Sofia + Sam might be just what you're looking for. It gives you the perfect surface for writing, reading, and working in bed or on your comfiest chair.
It has a luxurious cushion of near furniture-grade memory foam, for impressive levels of comfort and usability. It's a great laptop tray for the dorm room or the home office. Plus, it's ever got a slot made specifically with your tablet in mind.
Lastly, this is more on the no-frills, all performance side of the lap desk spectrum, but that doesn't mean that it isn't comfortable to use. In fact, its sleek design is perfect for your dorm room, when you've got limited space.
It's space saving, highly portable, and convenient whether you are reading or working on a research paper. It comes fully assembled and is easy to fold up and stash under your bunk or in limited closet space.
About the Creator
Joseph Farley is a North Jersey based writer who loves short fiction and stand-up comedy
Reader insights
Be the first to share your insights about this piece.
Add your insights