Best Standing Desks for the Office
Get cramps from sitting all day? We feel ya. Check out our list of the best standing desks for the office worker who can't deal with chairs anymore.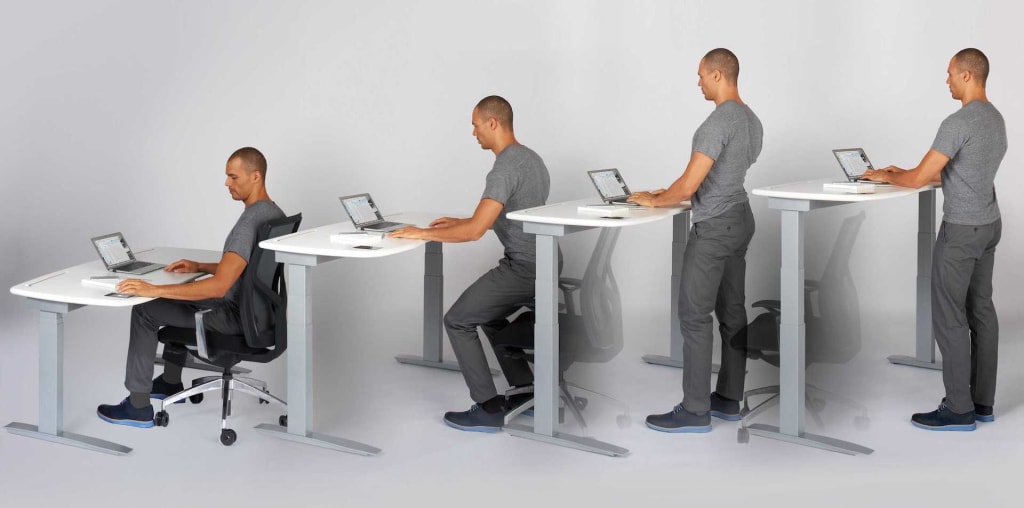 Did you know that having a seriously sedentary work life can affect your long term health and even give you heart problems? It's true. That's why so many of the top companies are now investing their money in the best standing desks for the office workers that spend over 10 hours sitting down while working.
Standing allows you to burn 10 percent more calories per minute, which in turn means that you will also lose weight while working. People who have standing desks are also less likely to feel fatigued, and more likely to stay focused at work.
A good standing desk allows you to switch between sitting and standing throughout the day — so, you never get tired of staying on your feet all day. Needless to say, it's easy to see why having a standing desk like the ones below can be a life-changer. Wouldn't you want to try one of these gorgeous desks out for a day?
If you're looking for a slick, simple, and affordable standing desk that is easily adjustable, look no further than ApexDesk's Elite Series. Cited as one of the best standing desks for office workers that don't want to manually adjust the height of their desks.
The Elite Series comes in a variety of different colors and also can be assembled within 30 minutes. It's sturdy enough to hold 225 pounds, and also has a six button controller for extra easy adjustment.
This electric standing desk is made by LifeSpan, a top manufacturer of the best standing desks for offices on a health kick. This particular model is four feet wide, and jumps from 27 inches in height to 50 at the push of a button.
Its modern build and highly techy look makes the Studio 4 Standing Desk a perfect pick for startups that want employees to work in style.
If you don't mind having to work a bit to ensure that you can stand up, you might want to check out this manually operated standing desk. You can sit down if you want to, but you can also crank it up a notch for a standup work session — all within a matter of seconds.
Admittedly, this isn't as convenient as electric standup desks, but at its price tag, it's one of the most affordable standing desks for office workers who want to have a healthy and productive work day.
The problem with many offices is that they won't exactly listen to workers' concerns about their physical wellness when it comes to office furniture. That's why we're calling this Portable Laptop Stand one of the best standing desks for office workers who have to make do with the furniture they've already bought at the office.
This lightweight, portable stand allows you to convert any desktop into a standing desk within seconds. Better still it's affordable and also can be used in bed, too.
VARIDESK knows how to make some seriously slick, highly functional standing desks. Their Pro Plus 36 model offers enough room for two monitors, eleven different ergonomic settings and also comes fully built, right out of the box. No installation needed means that it's as low maintenance as it gets — and that you don't have to deal with Ikea-style instructions.
This artsy-looking standing desks is currently the highest ranked standing desk being sold on Amazon — and that means it's definitely one of the best standing desks for office workers who want to stay healthy while they stay productive.
The main perks to this desk are its ease of adjustment, its two-tiered, space-saving design, its nifty keyboard tray, and its excellent price point. Simply put, this desk allows you to get lots of standing options and ergonomic power at a great price.
If you're looking for a stylish, simple, sleek, and easy to use standing desk that is ergonomically designed, look no further than the Height Adjustable desk from Ergonomia. Ergonomia's design is meant to provide a seamless transition from sitting and standing height — and it does just that.
All users need to do is pull the lever, squeeze, and adjust to the height you need. Then, bam — you got a healthy and productive work space, all thanks to a standing desk. Critics rate this one of the best standing desks for office workers new to the concept, we'll agree with that.
This super stylish standing desk has been one of the best standup desks for office workers in need of shelf space and that casual home office aesthetic. That being said, this is not an adjustable desk. Rather, it's at that unique height where you can sit in a high chair or stand without noticing much of a difference.
If constantly finagling with adjustments isn't your style, then this work station is perfect for you. We suggest this kind of desk if you're putting together your own home office for writing.
If you are short on space and big on health, the WIRK station by Stamina is one of the best standing desks you can get. This sturdy but minimal work station lets you switch from sitting to standing by just flipping the seat.
If you work on a laptop or a tablet and want to work from home, all you need is the WIRK station to ensure you stay productive throughout the day. That's why it's one of the best pieces of office furniture for people who have a minimalist approach to things.
Trust us when we say we were surprised to see 3M's desk as one of the best standing desks for office ergonomics — but it's true. It's easy to use, easy to assemble, comes with a keyboard tray, and also looks stylish enough to be an executive's desk. We can't argue with that design, nor can we hate the price tag too much.
If you want to know how to work from home in style, this desk will be a great way to start. If you're looking to increase productivity at work, or stay healthy at work, this will help too. So, why not grab it? It's an investment worth making.
About the Creator
Just another 20 something trying to break the glass ceiling one blazer at a time. Get your own coffee...
Reader insights
Be the first to share your insights about this piece.
Add your insights