chandigarh india
chandigarh indian city capital of two states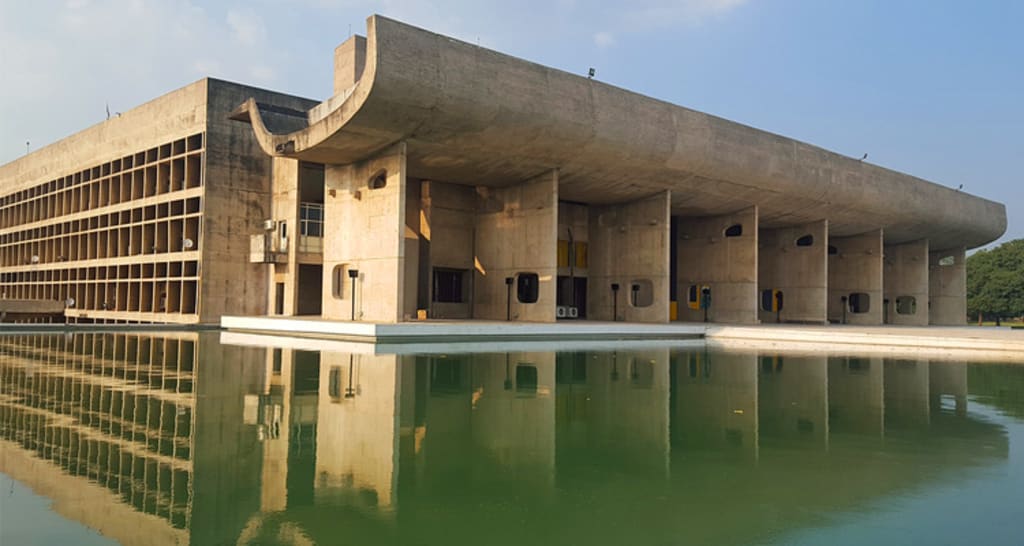 Chandigarh: beautiful city
Chandigarh, commonly known as the "beautiful city", is a remarkable city located in the north of India. As the capital of the states of Punjab and Haryana, Chandigarh exemplifies modern architecture, urban planning and a harmonious blend of nature and infrastructure. Designed by renowned Swiss-French architect Le Corbusier, the city is a unique masterpiece that strikes a balance between function, aesthetics and sustainability.
Spread over an area of ​​about 114 square kilometers, Chandigarh is a federal territory directly administered by the central government of India. It was created in 1966 and has since become a symbol of progress, prosperity and cultural diversity. Its well-planned infrastructure, green spaces and quality of life have earned the city its reputation as one of the most livable cities in India.
One of the city's iconic landmarks is the Capitol complex, which is a UNESCO World Heritage Site. This architectural marvel consists of three main buildings: the Legislative Council, the Supreme Court, and the Secretariat. The complex represents the administrative and political center of the city and exemplifies Le Corbusier's innovative urban planning principles.
Another significant attraction in Chandigarh is the Rock Garden, a one-of-a-kind sculpture garden created by Nek Chand. Spanning over 40 acres, the Rock Garden is a masterpiece made entirely from recycled materials such as broken ceramics, industrial waste and discarded household items. It features countless sculptures, waterfalls, and winding paths, giving visitors a whimsical and surreal experience.
Chandigarh is also home to the peaceful Sukhna Lake, a man-made reservoir located at the foot of the Shivalik Ranges. This stunning lake is a popular spot for boating, jogging, and spectacular sunsets. Surrounded by lush vegetation, it offers a peaceful retreat from the hustle and bustle of city life. Sector 17 is the central shopping and commercial district of Chandigarh. This pedestrian zone includes wide boulevards, bustling shops, restaurants and entertainment options. It serves as a vibrant hub for locals and visitors alike, offering a variety of retail experiences and a bustling atmosphere.
The city prides itself on preserving and promoting its rich cultural heritage. Chandigarh Museum and Art Gallery is a historical treasure, displaying a collection of Gandharian sculptures, miniatures and contemporary art. It offers a glimpse into the area's past and serves as a platform for artistic expression.
One of the city's most enchanting features is the Zakir Hussain Rose Garden. Spread over 30 acres, it is one of the largest rose gardens in Asia, home to thousands of rose varieties. The annual Garden Rose Festival is a highly anticipated event, drawing visitors from all over the country to witness the vibrant colors and fragrant flowers.
Chandigarh's well-planned residential areas are another notable aspect of the city. Divided into different zones, each with its own markets, schools and recreational facilities, the city offers a comfortable and convenient living environment. Wide tree-lined streets, clean neighborhoods and plenty of green space make Chandigarh a haven for residents.
The city also has a thriving culinary scene, with a wide range of eateries and eateries serving delicious Punjabi and North Indian food. From traditional street food to fine dining experiences, Chandigarh offers a culinary adventure for every taste.
In addition, Chandigarh organizes many cultural events, exhibitions and festivals all year round. The International Mango Festival, Chandigarh Festival and Teej Festival are just a few examples of the city's vibrant cultural calendar. These events celebrate the city's diversity, promote local talent, and provide a platform for cultural exchange.
Chandigarh's administration emphasizes environmental conservation and sustainability. The city is known for its many green spaces, including parks, gardens, and tree-lined avenues. Meticulous planning ensures a balance between urban development and ecological conservation, making Chandigarh a truly environmentally conscious city. To sum up, Chandigarh is a prime example of innovative urban planning and design. Careful planning, architectural marvels and the preservation of green spaces make it a unique and enchanting city. Whether exploring the Parliament House complex, strolling along the whimsical streets of the Rock Garden or enjoying the tranquility of Sukhna Lake, Chandigarh offers a blend of modernity and natural beauty. course. This "beautiful city" continues to captivate visitors with its charm, culture and commitment to creating a harmonious and sustainable environment.
Reader insights
Be the first to share your insights about this piece.
Add your insights