Blake McCoy on Why Your Community Can Benefit From Sustainable Living
Blake McCoy of Chicago shares why communities benefit from sustainable living.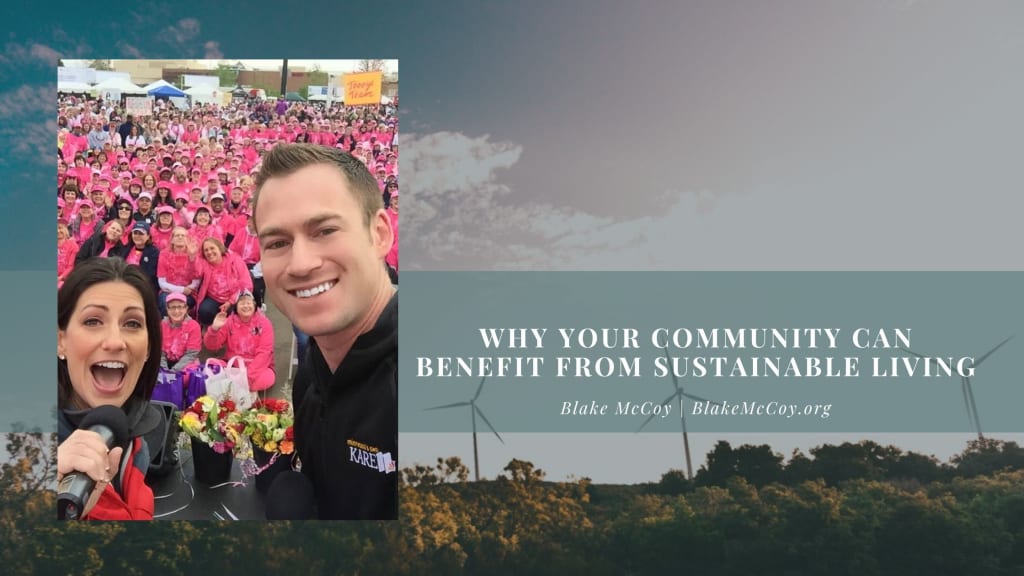 https://blakemccoy.org/why-your-community-can-benefit-from-sustainable-living/
The growing number of discussions about sustainable communities and development has increased the number of people asking about the concept. This approach is a way to look into the future needs of a community and how sustainable activities can help address these. It's also a way to make a conscious and informed environmental decision. The proper execution of sustainability measures can create many benefits.
Lower Costs
A community's standard operating costs will eventually decrease due to sustainable activities. This can be achieved through various actions, such as reducing the reliance on external sources and extending the lifespan of their resources. Being financially stable can boost a community's chances of becoming independent or developing. It can also help with waste reduction.
Less Financial Stress
The lower costs and economic value of sustainable activities can reduce the strain on a community's individual households. For instance, energy and transportation costs can be more affordable through this approach. People can enjoy their lives more by not worrying about their jobs or salaries. The happiness of individuals can also help strengthen the bonds among neighbors.
Public Use Efficiency
The goal of sustainable development is to make the public services and facilities of a community more accessible to members. This can be done by placing various facilities, such as libraries and parks, in a way that's easy to use and convenient for people. The appearance and maintenance of these facilities can be improved by implementing sustainable practices.
Positive Environmental Impact
The main reason people implement sustainability is that it's believed that it's beneficial for the environment. It involves reducing waste, using resources efficiently, and limiting the effects of harmful activities on the planet.
The positive impacts of sustainable development can be seen in reducing adverse effects on various environmental resources, such as water and plants. This helps prevent the development of crises that can arise due to the lack of these resources.
Better Energy Efficiency
Implementing energy-efficient practices can help improve the energy efficiency of a community. For instance, by implementing conservation techniques, such as turning off lights whenever they're not being used, the electricity consumption rate for public services can decrease. People can also start adopting energy-efficient practices at home. Community leaders can provide resources to help people learn more about this approach.
About Blake McCoy
Blake McCoy has established a career as a skilled broadcast journalist. Blake has anchored top-rated newscasts in Washington, DC, Minneapolis, Las Vegas and Boise, ID. As a recognizable face delivering news to those communites, Blake McCoy has looked for ways to give back and highlight important causes. Blake also spent several years as a Correspondent for NBC News, traveling the country reporting for Nightly News, TODAY, and MSNBC.
Alongside his professional career, Blake McCoy is focused on giving back and supporting his community. He is involved with multiple charities and organizations, both as a volunteer and donor. Blake has co-hosted the annual Susan G. Komen Twin Cities Race for the Cure, a Mother's Day event that raises millions for breast cancer awareness and research and draws more than 50,000 people.
Blake McCoy was also Ambassador for Dining Out For Life Minnesota, an annual event that partners with local restaurants to raise money for HIV/AIDS resources. In his role as Ambassador, Blake leveraged his position at KARE 11 to generate excitement and raise awareness. On the day of the event, Blake visited as many restaurants as possible to thank the owners, greet diners, and take photographs which were then used to promote the local restaurants. A symbiotic boost to everyone involved and an annual event that helped forge new ties within the community.
About the Creator
Blake McCoy is a dynamic, engaging broadcast journalist with a depth of experience. As a network news correspondent, Blake has traveled the country sharing stories of human triumph and tragedy, struggle and perseverance.
Reader insights
Be the first to share your insights about this piece.
Add your insights