Bangladesh vs Ireland 1st ODI Match Summary
by Manoj Rishi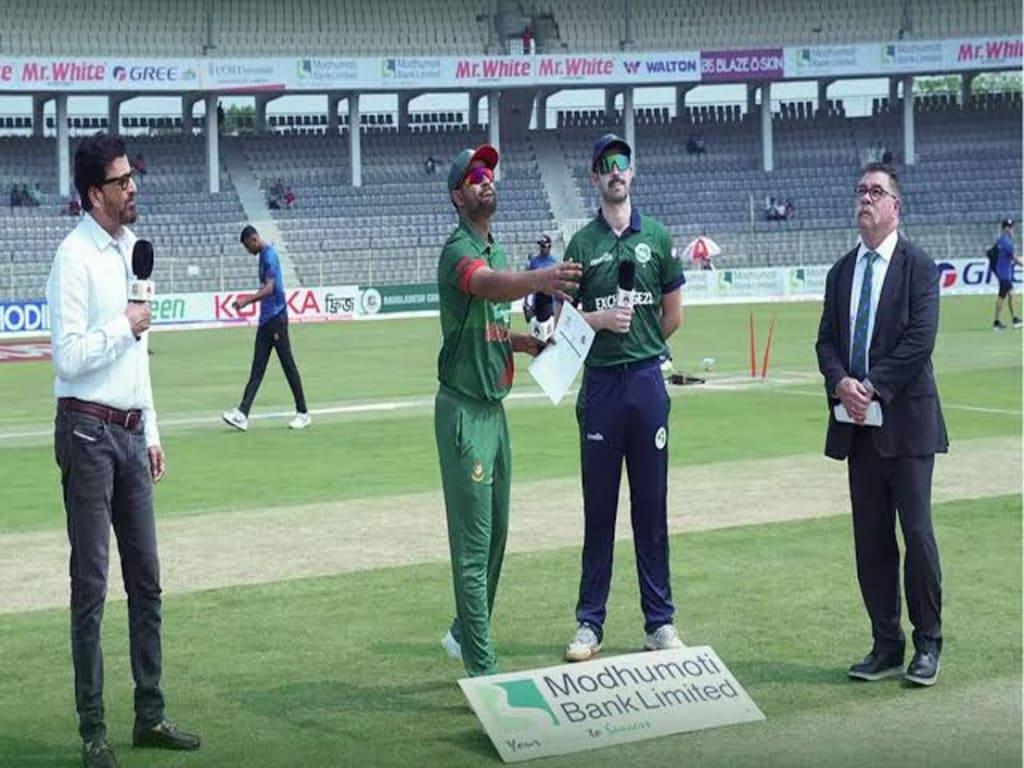 Bangladesh leads (1-0) Ireland
8:34 pm What a commanding display by the hosts. In this ODI, Bangladesh has taken an early lead, and that advantage is very convincing. Ireland will go back to the drawing board and strive to improve for the following game.
8:37 pm Although chasing 339, especially in Bangladesh, is always going to be difficult, Ireland got off to a strong start. Early on, the runs weren't flowing in quickly, but it was all about evaluating the circumstances. In the tail end of Powerplay 1, Paul and Stephen did exactly that and stepped on the throttle. With a 60-run opening stand, the openers created a strong foundation, but things have subsequently gotten worse.broken. Ireland only scored 95 runs off the final 9 wickets it lost. Ireland is quite concerned about this. In the following game, they will undoubtedly need their middle-order batters to perform better. Only George Dockrell attempted to create a problem here with his 45-run performance.
8:45 pm The bowlers for Bangladesh were blazing hot right away. With the new ball in hand, the Irish openers were able to deal with the seamers rather comfortably. Tamim Iqbal then made the decision to bring Nasum Ahmed in extremely early in the Powerplay 1 to alter the course of the game. Nonetheless, Irish batters were easily scoring runs. But, after Shakib Al Hasan and Nasum Ahmed began collaborating, the run flow was unquestionably stopped. ShakibAs Al Hasan spilled the first blood, the floodgates were opened, which Bangladesh seized upon. When Taskin Ahmed and Ebadot Hossain combined for six wickets, of which four belonged to the latter, seam bowlers benefited the most. When he handled the tail-enders, Nasum Ahmed captured three wickets. Also, without Mushfiqur Rahim at the sticks, none of this would have been possible. The seasoned player was an important asset, holding on to 5 catches throughout the full innings. Overall, the Bangladeshi bowling squad delivered a flawless effort.
8:47 pm Bangladesh started losing early wickets in the innings. When the Powerplay 1 began, they were three down, but Shakib Al Hasan and Towhid Hridoy won the game.to the adversary. Nonetheless, both hitters were retired in their 90s. The 44 runs Mushfiqur Rahim scored down the order in his cameo truly hurt this Irish team. Eventually, the lower-middle order made a small contribution to Bangladesh's highest ever ODI score. It finally became a little too much for Ireland.
8:50 pm Ireland's captain, Andy Balbirnie, is available for conversation. He begins by claiming that they thought this was a total they could chase at the halfway point, and that the wicket was also better, but the batters failed to gel after the first stand was broken. Also, he notes that the team had some environmental ignorance, but makes no excuses anda desire for them to significantly improve in the upcoming game. He ends by stating that they aim to compete and consistently defeat teams like Bangladesh.
8:51 pm After his excellent performance with the bat on his debut, Towhid Hridoy is named Man of the Match. He begins by expressing gratitude to God. He admits that the fact that he did not score a century on his debut hurts him a little, but he is still quite pleased with his innings. Mentions how Mushfiqur Rahim greatly aided him in maintaining his composure. He continues by saying that he simply tried to carry out his goals, and that did a great job for him.
8:54 pm The winning skipper, Tamim Iqbal, is here to discuss. He claims thatThe way they batted was extraordinary because the surface offered early challenges to the bowlers. He adds that Mushfiqur Rahim deserves special recognition for coming in and going on a counter from ball 1, which is not an easy manoeuvre, as well as Shakib Al Hasan's great performance. He continues by saying that the first 20 to 25 overs were played on a slower track, which is why the batting deserves praise. acknowledges Mushfiqur Rahim's efforts in front of the goal and lets him know that the team has entire faith in him. According to him, Taskin Ahmed is a bowler of the highest calibre, and Ebadot Hossain is on the verge of becoming one.
8:57 pm That concludes the coverage of this game for now. TheThe second ODI between the two teams will take place on March 20. As you are all aware, you can join us early for the build-up. The first ball will be at 1.30 pm IST (8 am GMT). Till then, have a wonderful day and bye!
Reader insights
Be the first to share your insights about this piece.
Add your insights