A Lyft Driver's Journal!
Journal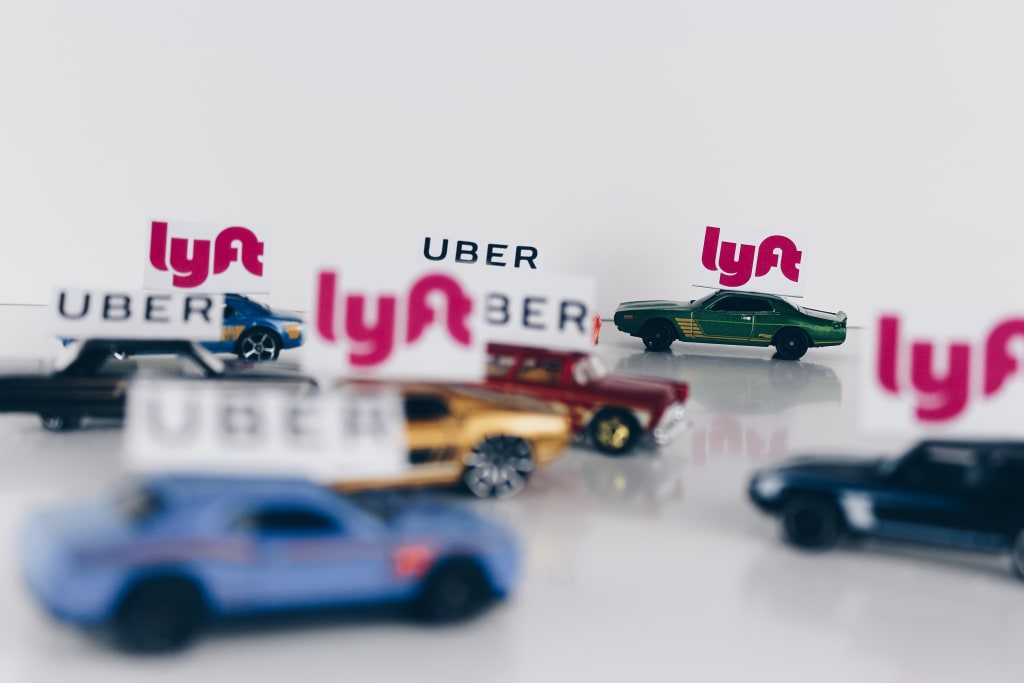 Hi, I'm Judy and today is my first day on my new job as a driver. Wait, why in the hell am I introducing myself? I'm so excited right now about the thought of having the ability to set my own hours, not to mention make as much money as I want just by downloading this one single app. Yes, of course I'm skeptical and nervous, with sweaty palms wondering about the unknown or shall I requote "the great unknowns."
I sit reassuring myself that this job couldn't be more stressful than my previous, with all the hot shinning bright lights and nagging staff workers racing everywhere against the clock or rushing to pump EPI to restart a heart. I'm usually under constant stress and my blood pressure is never regulated, but my pay always is.
I realize I haven't gotten a real raise in about 11yrs, and I'm feeling worthless as fuck right about now. The baby fine hair around my forehead used to be full and black, but now is grey and non-existent. Grey's Anatomy is great to watch on TV, but I'd rather not play the role in realtime. I think after 28 years I need something I can control... yes, more control. This is how my journey with Lyft began, my inner thoughts and curiosities.
I'm new and so green with so many plans in my head. One of them is that I will be the best damn driver Lyft has ever had using their platform. I plan to stock my car with drinks and snacks, and even throw in extra stops free of charge along the way for my passengers who need to make a quick store run along their route to pickup that must have pack of Marlboro ciggs, or just a snack from the nearest Qt or 7Eleven. I will pickup passengers in neighborhoods that other drivers pretend not to be able to locate, or eventually cancel the ride or hide out until the time expires on the app and the no show fee of five dollars is granted. I have decided to go above and beyond and over the top to be the best. You know like they say in the Army, 'be all that you can be,' believing in my mind that people genuinely care about good customer service and that it's my duty to represent Lyft and not to disappoint. I'll try this rideshare idea for six months and weigh the pro's and cons. Hopefully I last that long.
I'm in my 2006 big body Dodge Durango, headed to fill her up and start my new adventure. I'm not used to being on my own clock, but damn it sure feels good. All I have in my bank account is 900 dollars and a hope to flip it by the end of the week. It takes about 50 dollars just to fill my tank up a day. I figure 350.00 in my head is what I'll spend for the week. I'm on the highway now, but haven't turned on my app just yet to receive ride requests, because I need to calm down first. My body is so stiff right now you'd have thought I'd driven a thousand miles already. In fact I've only driven about 30 miles from my home in Ennis TX, and now cross into downtown Dallas. The app is finally on now. I hear a sound from my phone like a submarine radar or something, and a face icon appears across the screen with a +45 next to it. I'm freaking out for real now. I notice my hands shaking, as I pushed the pink square on my phone and suddenly navigation pops up on the interface. My mind is racing out of control and my foot is becoming heavier on the gas pedal. I'm doing about 75MPH in a 60MPH lane.
'I gotta calm this shit down,' I'm thinking inside my head, so I decide to make a call to my partner, thinking this would calm my nerves... nope wrong! She might as well have been in the car right next to me in the passenger seat! Now... she was screaming so damn loud you'd have thought it was her taking the first ride asking me for details about a ride that I'm still 15 minutes away from. I tell her to calm down and mute her phone so I could hear what was going on with navigation, but don't hangup cause I'm still nervous as hell! We're both yelling in high pitch voices like we've hit the lottery or better yet like the Cowboys had made it to the playoffs, stupid right?
I continue traveling and by now it's dark outside. Navigation is leading me to a bad part of town on the south side of Dallas. I'm in my head again thinking "I can't do this," and "what if I get robbed?" The thoughts are all bad and my neck is getting so damn tight. Palms are soaked with sweat at this point and my heart won't slow down. I'm feeling dizzy from all the winding wooded dark roads scattered with bunches of trees making me feel like I'm tunneled in.
I'm trying to memorize my path so I'll be able to escape or get out of what looks like the pits of hell. Thoughts of old horror movies are flooding through my mind. This is not good! Two minutes away she says. "She" soon will be named Lucy, my navigation's voice. Just out of the woods I finally see signs of life. I pulled up to a white gate, which opened up to a long driveway. In the far distance I see several older caucasian couples dressed in formal attire in front of an exquisite building, some fancy party I'm guessing. Fight or flight mode subsides slightly. A couple waves their hands in the air in my direction. They must be my passengers I thought. I pulled up the drive quickly jumping out my truck to greet them.
"Judy!" the gentlemen shouted.
"Yes that would be me." I open the back doors, all nonchalantly as if I was a professional chauffeur, who'd been in business for years and offer snacks. My pulse is jumping out my skin at this point, because I have no idea how to work this app and at the same time a million thoughts are continuing to run through my head. I'm wondering how do they feel having a black driver... are they comfy... all kinds of questions.
"You ok?" I hear from a deep voice behind me.
I was so caught up I hadn't realized my car hadn't moved in two whole minutes. Should I tell them I'm a new driver? Will this scare the hell out of them? I'm pushing every tab, drop down bar, and dashes on the screen until finally I push CONFIRM ARRIVAL. Another screen pops up that reads PICK UP PASSENGER and I push it. A familiar voice says turn left. Good ole Lucy!
A few moments of silence, then unstoppable bantering for an hour. We talked politics, about family, jobs, purses you name it we covered it. I pull up to the couple's mansion and the lady asks me to wait a few minutes while she runs inside for a minute. The guy tips me 10 bucks and proceeds inside. Im sitting behind the steering wheel, feeling my hands burning from the choke hold I just released and my back and neck feel like I've been in a wreck. I swear you would of thought I was driving a newborn home from the hospital. I never drove over the speed limit, matter of fact stayed five below. The lady returned to the driver side window with a bag in her hand and pushed it through. I'll be damned this woman just gave me a Vince Camuto bag! I thanked her over and over as she walked away.
The first ride is complete and I think it was a success. My phone made a noise and now it reads 40.00 dollars. It can't possibly be this easy and so pleasant. I ask my girlfriend to unmute her phone and the screaming started up a bit... no a lot a bit as we celebrate my initiation. Fast, easy, and stressfree money, or so I thought. You just hold that thought! Please come back for part two of a Lyft Driver's Journal. It only get's better!