5 Best Social Media Platforms For Marketing
"Lead people with what they want. – Lead with what they've already said. – Lead people from where they're at. – Lead them with the things that concern them." – Sandi Krakowski
Choosing the right social media platforms for marketing is important because if we dont research about this top then we just focus on those platforms where we won't find our target audience.
Social media as a marketing strategy is effective for every business but it becomes then effective if you choose that social media platform for marketing where your audience is otherwise this will won't work. Let's learn what social media platforms for marketing is best for every business.
Related:
Why SEO Is Important For Online Business?
4 Digital Marketing Strategies For Small Business
How Importance of SEO Can Help You Build a Better Brand
Facebook
Facebook has 2.7 Billion monthly active users. It's a huge audience, isn't it? Advertising on Facebook will give you a lot of benefits such as Facebook ads are cheaper than every social media platform and they have more users than any social media platform in the world.
Facebook for marketing is a great choice for every industry because they have a large amount of audience and lots of options for you to target your audience with Facebook ads such as through behavior demographic, age, gender, location, interests you put on your social media platforms for marketing list. You can spend a minimum of 5 dollars with Facebook ads. Most businesses put facebook top as their social media platforms for marketing.
Facebook Pixels is the most exciting feature in Facebook.it helps you track everything on your site by just putting pixel code on tha particular page that you want to track and if you advertise that product page you can know all the details about their event where they are going if they are purchasing or left without purchase.
You can track all of these Facebook pixels by just putting pixel code on that page which you want to track. This will give you a lot of data and this data will help your business to decide what changes you need to make or what people like more on your site and whatnot. This social media platform for marketing is the best choice for every industry because it gives you effective results at a low price.
Instagram
Instagram has 1 billion active monthly users this own by Facebook. Instagram is popular for sharing beautiful images and stories. If you have a clothing brand then Instagram might be good for you but if you have run a B2B company then Instagram might not be a good option for you to choose from.
You can connect your Instagram business account or Facebook business page so if you post on Instagram then it automatically posts it on your Facebook page. You can also advertise on both social media platforms at one price. Facebook ads will give you the option to choose if you want to put ads on both social media platforms at the same time.
LinkedIn
This not only for those who are looking for a job, LinkedIn has become a business social media platform where people engage together. But it's not the same as Facebook, it's for those who have some kind of serious type of business, especially for B2B.
If you are selling software that helps businesses to record their data and some kind of service that will help other businesses then LinkedIn is the most important social media platform for marketing your service or product.
LinkedIn Has 260 million monthly active users. Hubspot found that LinkedIn 277% more effective for generating leads than Facebook and Twitter. They mostly are B2B marketers and these numbers are increasing because they know that this is the best social media platform for marketing their B2B company.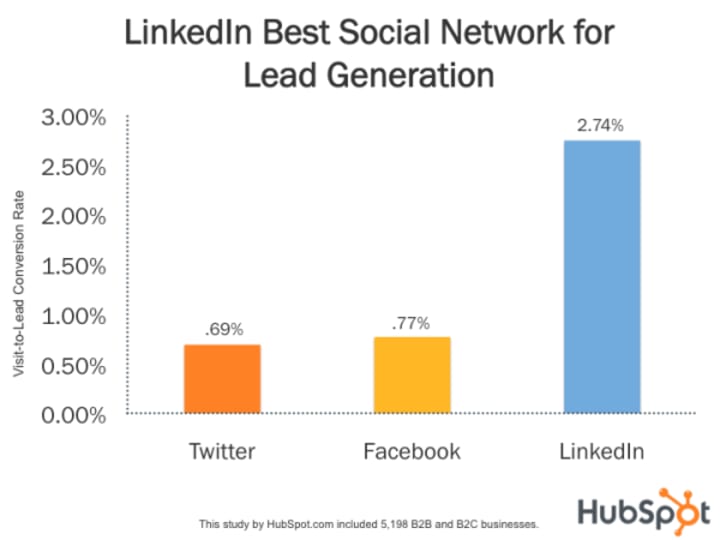 Youtube
This a video media platform where people create videos for making a personal brand and for marketing their company through their youtube channel. This is the best video platform on the planet because youtube has 2 billion users monthly it's a great platform for your business to make your product video and share it on youtube. you can also make money from this if you passed the requirement of 1000 and 4000 watch hours.
You can then put ads on your channel and make money this also a great source of revenue for businesses if they also want to market their product as well as also they want to make money from this then youtube is great. Most people succeed on youtube because they don't know about youtube seo and they dont upload videos every day because these 2 things will make you successful without spending any money.
Pinterest
This is for those who are selling women's stuff because Pinterest has over 442 million active monthly users with 77% are women 14% are men and 9% are unspecified. You can see that there are a large number of women audience on this platform if you sell your men's t-shirt here then surely this didn't work.
Because 77% percents are women so it's not your targeting audience But it's great for those who are selling things that are only for women. These social media platforms for marketing your women's stuff it's surely a great idea because your target audience is found there.
Conclusion
You got to find those social media platforms for marketing that suit your business model. Finding the right social media platform is the most important thing in social media marketing because if you are active on those social media platforms where you couldn't find your target audience then you need to focus on some other channels try and see what's social media channel works for your business.
Do you want Precious articles in your email?
Interesting Facts About Digital Marketing 2021
social media
Arsalan Haroon is a Professional writer who writes about various topics such as Marketing | Sales | Personal Development | Leadership | Business and Many more