10 Best Business Card Services & Designs
These business card services and designs will make sure you're handing out successful cards each time.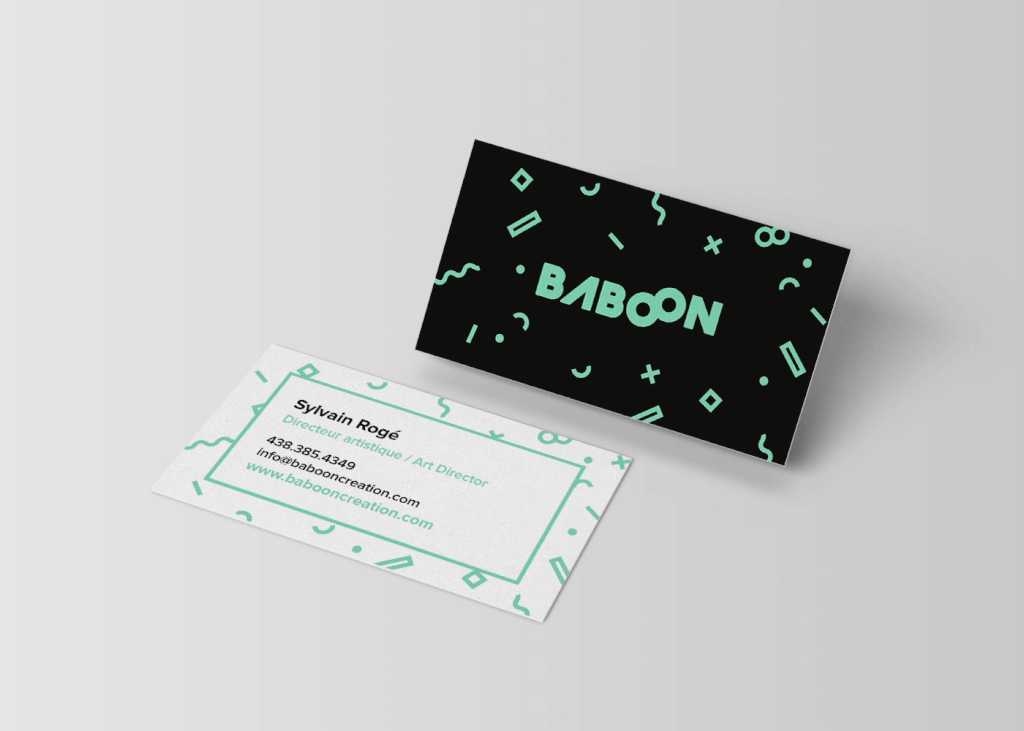 Creating a business card is more important than you think. A business card is something that, in a pocket-sized space, can represent you as a whole. So you should take it seriously!
Considering all of the opportunities you have to leave your personal touch on your card, make sure you're choosing the best for you. It's also one of the best small business marketing ideas that will help you grow your company.
Depending on the design you choose, and the service you chose to create it with, you have the opportunity to portray what you really want to be handing out: success. These are the top five best business card services and the top five best business card designs.
Sleek and Clean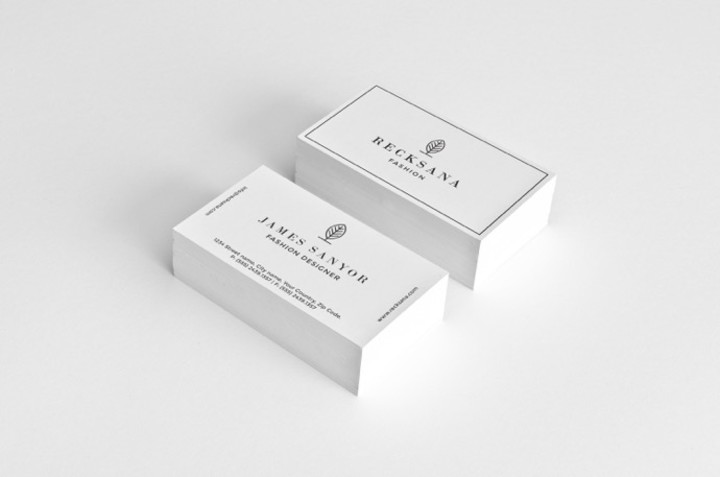 First, we will go over five of the most common and most successful business card designs to choose from before we get into the best business card services.
First is sleek and clean. This is one of the most professional looking takes at a business card. It is simple, but draws the attention to the most important information. This will typically feature a block of a single color, the most important information such as the business or the name in the largest font, and the rest in a smaller font.
Also, if you have a logo, be sure to feature this proudly, center stage, while the rest of the information is slightly smaller. You could even feature some texture here. Hand someone one of these while wearing the best business casual shoes for men, and you'll look sleek and professional.
Unconventional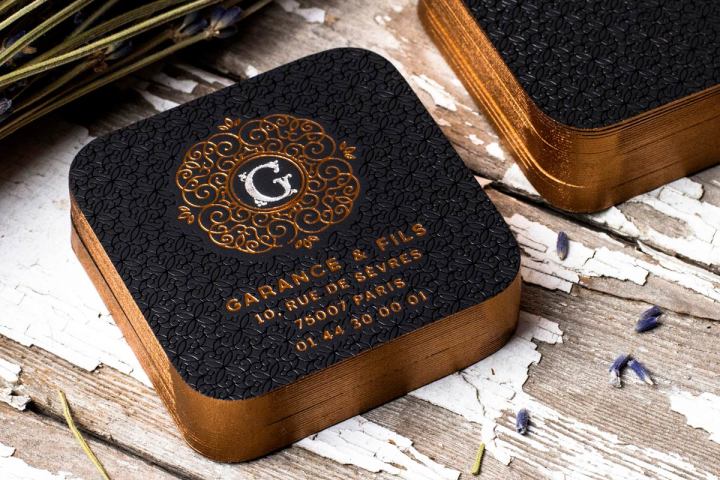 Using one of the best business card services to create an unconventional business card is not as common as the sleek design. However, it might be more worth your time. This is because an unconventional look like catch someone's eye, and make them keep reading. It will also help them remember you.
An example of this would be adding texture, an obscure design, or a vibrant color. Anything out of the ordinary can fit into this category. Someone who is a creative will strive with this design. You can also choose to create a different design on each of your cards. That's certainly unconventional and unique.
Fun and Unique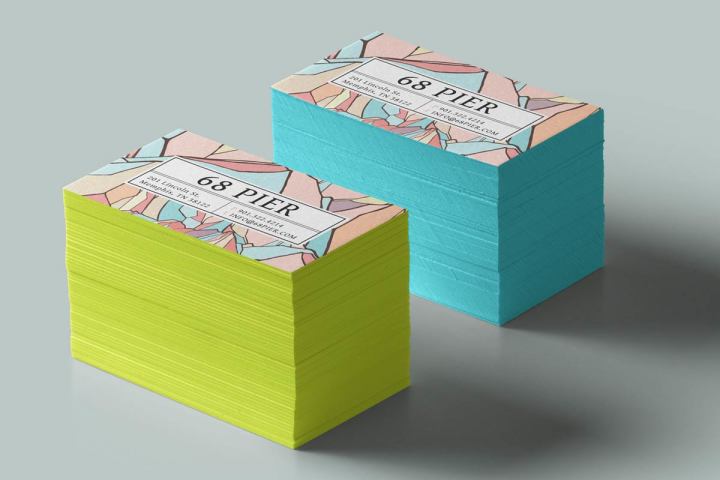 Speaking of unique, we have to mention a fun take at a business card. This will typically also be informal, but it will certainly capture your personality. A fun business card idea would be to play with the shape, texture, and color.
A business card does not have to be flat. You can even create a pop up card to really pinpoint your creativity. Once you've crossed the line over to informal, a world of opportunity opens. Create some fun folds, dimension, and color. Best of all, include happy colors and fun characters that will put a smile on your face.
Luxurious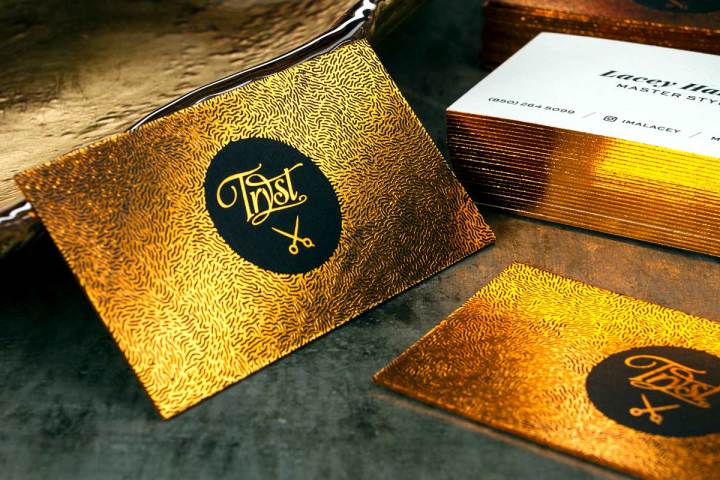 There are plenty of ways to use business card services to make your cards look more expensive than they really are. The first suggestion we want to make is a card sleeve. This will create a more luxurious feel, for just a few extra dollars each. This makes the process of taking the card out much like opening a gift, or a letter.
You can also play with expensive looking colors such as gold, silver, and hints of brown to mimic wood. Keep the design sleek and simple, while adding a bit of extra pizazz, and you've mastered the luxurious business card, because you're very important.
Transparent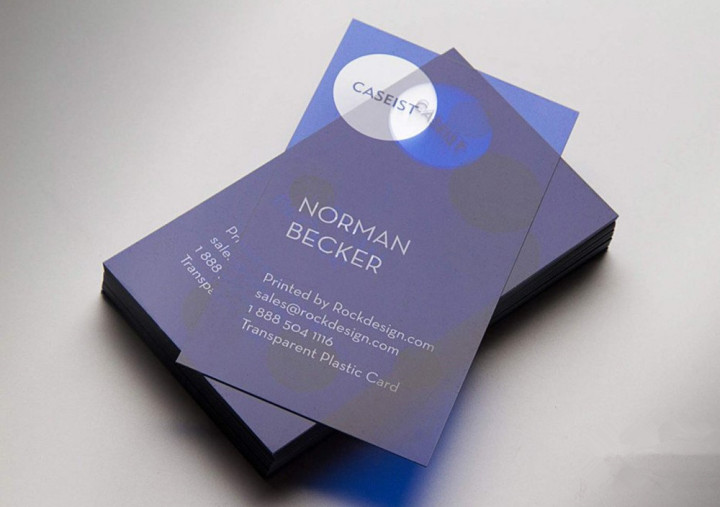 This is certainly one of the most interesting takes at a business card, so we decided to finish off on this design. Transparency will catch anyone's eye, because when have you seen a transparent business card? This creates a very unique and personalized card, while still providing a sleek and classic design.
When you play around with details like this, it is important to keep the rest of your card simple and sweet. You can make just the logo transparent, or the whole thing. This will allow this part of the card to consistently change colors and shine in the light. You could also play around with transparent coloring.
Now that you've decided which style you want, let's get into the business card services that you should consider. To start off, we're going to suggest Vistaprint. Vistaprint is a global e-commerce brand with a focus on digital and physical marketing products and micro business.
Their printing process is all online. Using a formula based on type of job, print run quantity, paper stock type, and finishing, their ordering process is personal and easy. Simply select business cards among their printing types, and begin creating.
As a company that was founded in 1995, their pre-printed laser printer compatible specialty paper has been making business cards since the start. Plus, you can also print folded leaflets, banners, and much more.
Moo is an online design and print company based out of London, England. Mainly known for their vast variety of business cards and other print materials, the company is one of the top competitors in its category.
With customers in over 190 countries, the company was only founded in 2006. And best of all, as of 2016, the company reported a revenue of £71 million, proving their place in the digital age printing space.
Moo provides you with the freedom to print a different design on every card if you please. You will get next day delivery Monday through Friday. And the website has an impressive 9.6 out of 10 rating on Trustpilot, proving their customer's support and trust.
You can also print postcards, stickers, or flyers with them while you're at it.
Yes, Staples has one of the best business card services. What doesn't Staples have, really? With thousands of templets to chose from, you can easily capture your personality and needs by having complete creative freedom.
You can also chose between card stock thickness and finishes to be sure your cards will maintain top quality. Online, you will simply order your select business cards. Before two in the afternoon, you can pick them up at your local Staples the same day! Or if you don't feel like leaving the house, have them delivered to your door in as few as three business days.
Jukebox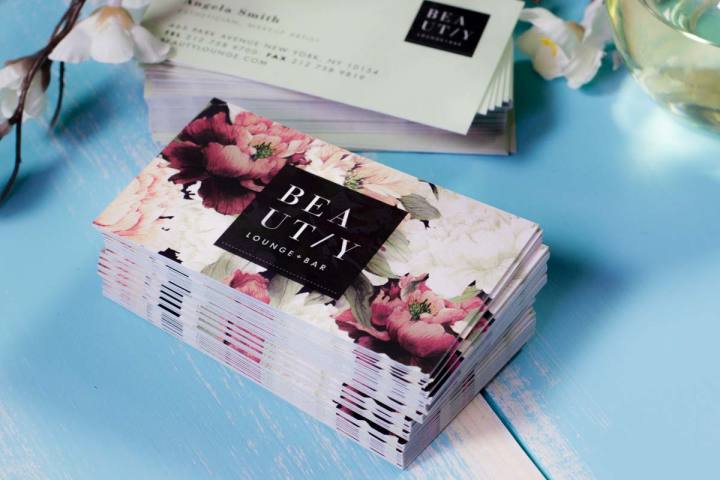 Jukebox provides a large variety of options to chose from when it comes to business cards. One of their most popular methods of printing is called Letterpress. Letterpress is a traditional printing method that provides an intricate process for creating a custom metal cast of your design to imprint the ink into the card stock.
If this isn't up your alley, you can also choose from typical business cards, and alter them depending on thickness, design, and even shape. Plus their great prices make using this company a great business idea for entrepreneurs on a budget.
123Print is our last suggestion among the best business card services, but it's certainly not the least. You can either create your own business card through their online platform, or simply upload your own pre-made file.
If you're lacking creativity, you can even browse some of their own custom designs to use. These are made to be customized as much or as little as you like. Choose the material, consider some of their best sellers, or go your own route. In no time, you'll have a stack of new business cards with your personality all over them.