Top 10 reasons to modernize your legacy systems in 2022
Here are the top10 reasons to modernize your legacy software applications. The perfect legacy modernization strategy paves way for a successful and high-quality delivery of any products.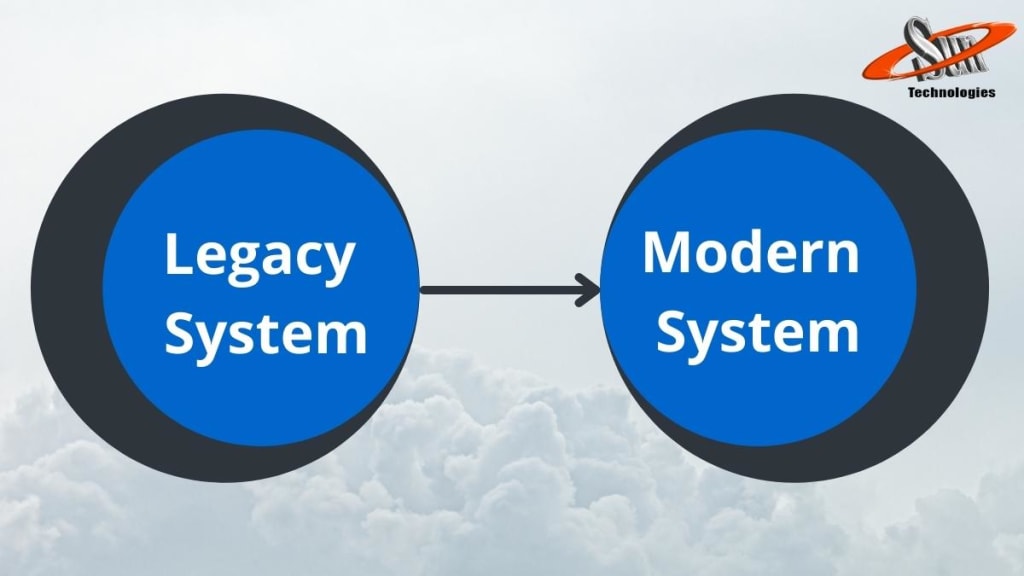 Legacy systems to modern systems
The world of IT is scaling up with better innovation day to day with help of Artificial Intelligence (AI), Internet of Things (IOT) and other data-driven business models. The organizations are in constant pressure with changing business trends, customer demands and latest legacy system modernization strategies, these forces organization to modernize their legacy software applications.
A legacy system's ability to scale up or down can be made impossible if new technologies emerge. Many businesses in the past have resisted modernizing their legacy systems. This leads to large unproductively for resources as they work with outdated technologies and tools. So, it's important to update old legacy applications and modernize them to take your business to new heights.
The first step in making legacy systems more efficient is identifying which legacy applications are crucial to your business and focusing on those areas. Business leaders must be careful in choosing the right technologies and platforms to yield a successful outcome. To do so, they should focus more on their legacy system modernization strategies and design them accordingly. Once crucial elements are been identified, organizations can begin modernizing your legacy application with a suitable approach to more efficiently a newer version.
Below are Top 10 reasons to modernize your legacy applications
1. Complex architecture
The Legacy software systems are built with more complex architecture, including design, complex coding, and documentation. It becomes challenging for organizations to review, re-rewrite, refractor and rebuild the outdated, complex, legacy software application in this fast phase world. As new technology trends emerge, the software application's complexity is also reducing by adopting to the suitable trend. The Modernized legacy software applications built with less complex architecture will make it easy for an organization in the long run.
2. Maintenance and Cost Issues
Most of the IT budget goes off in its legacy system maintenance. Legacy software does not allow updates, new features, or bug fixes because it's too old. The developers will need to rebuild it from scratch to change anything. It takes a lot of time and cost to maintain the outdated legacy software application. Therefore, the business needs to modernize its legacy application to reduce maintenance and cost.
Once applications are modernized with the latest legacy systems modernization strategies, they are easy to maintain and cost-effective. This is because the whole modernized legacy software application lies on updated technology. Therefore, maintaining the modernized legacy software application becomes manageable and reduces extra costs.
3. Lack of resources
It's time for new technologies and programming languages like Python, .Net, Java, and much more. Most legacy applications are built on PowerBuilder or COBOL programming language that are outdated. In today's digital world, very few organizations sticking on to the older technologies and resources, as they require experts to resolve the challenges associated with the legacy systems. This kind of legacy architecture should be retired or moved on to another more modern technology since most organizations have already started with the digital shift.
The modernized application will have further support in scaling up with innovative features and can be automated with the help of emerging artificial intelligence and machine learning (AI/ML) technology. Therefore, this will help organizations be futuristic and innovative but cut down the extra cost of maintaining legacy applications manually.
4. Lack of compatibility
Today, most legacy applications are on-premises which means these applications cannot be used outside the organization or cannot be used on any other portable platform like mobiles. This leads to accessibility issues to field work-related organizations like construction, oil & energy, etc. Furthermore, as these systems are built on-premises, applications are primarily incompatible with mobiles or cannot be used in computers other than office devices. Thus, this affects efficiency because the resources cannot update data or applications from the field location.
Organizations need to modernize their application to be accessible from mobile or other portable devices. This makes it easier for resources working from remote locations or on the field to get access to the application or data to make strategic data-driven decisions faster and more effectively.
5. Issues with Documentation
Legacy software systems are usually built with an extensive manual code that includes huge documentation. These applications do not have any features to store documents in virtual storage. It becomes challenging to maintain the legacy software application with new resources, if there are unware of the complex coding. Keeping up the old legacy software application is challenging when no guidance is available. Therefore, the organization needs to modernize its legacy software application built on scriptless automation tools.
Modernized legacy software applications built on scriptless tools become simple for resources to maintain documentation and update the application according to future business requirements.
Check out our scriptless test automation tool IntelliSWAUT, a futuristic and easy-to-use interface that collects all the data and generates reports in no time.
6. Enlarged Time and Effort
Maintaining an age-old legacy software application takes a lot of time to update a few features or integrate with other tools. Same as the legacy software application, the whole system lies on on-premises infrastructure. This consumes more time and effort of the organizations while reviewing, rewriting, refactoring, and remodeling the legacy software application.
Modernized legacy software systems built on cloud platforms will return organization efforts while maintaining and supporting further.
7. Poor Performance
Old legacy software application have increased the failure rate. Lack of application features, security-patch updates, and poor maintenance due to the high cost involved will be prone to performance parameters, leading to high crash rates and security breaches. As application crashes increase, there will be increased downtime of the application where the organization needs more time to rectify and fix the issue. Increased downtime means there is less application availability to the organization or market. This leads to affect branding and loss of customers.
Organizations need to consider modernizing their legacy application to improve their application performance and market availability.
8. Lack of Data security
In the current business world, organizations face many threats from various sources aimed at damaging their reputation, breaching their privacy, and extracting confidential information.
Every day running an old legacy software application becomes no way to push any updates further. So cyber-attackers have an easier time breaching security and exploiting your system. The way to overcome this is by modernizing existing legacy software applications with a new application. This enables more flexibility to the application, and by this, we rectify, fix bugs in the application, and push necessary security patches when required. This regular updating of the application enables better safety from cyber-attacks.
9. Integrations with other tools
As the organization grows, there will need to introduce Enterprise Resource Planning (ERP) software like CRM into the business for better tracking, documentation, and audit of all operations like finance, inventory, sales, HR & admin, etc. But age-old legacy software applications are built with non-futuristic architecture, and this application cannot be linked with any ERP software.
Modernization of the legacy software application will open up more opportunities to compatibility with other third-party applications like ERP, CRM, etc. In addition, this will increase better tracking of multiple operation operations with a single-window.
10. Modern authentication vs legacy modernization
Modern authentication is web-based login or sign feature, where the user has to login from the web portal to get access to accounts or any applications. In modern authentication, the user is verified with more than one security authentication process, whereas in legacy software applications, there is only one way of the verification procedure. With the modernization of legacy software applications, an organization can prevent unauthorized user login, data breaches, and other issues related to security.
Conclusion
Sun Technologies with 20+ years of experience in IT consulting services, can help with modernize your software applications to true potential. Our in-house expert's team of strategy and implementation leaders bring proven techniques and their experience with Agile, Cloud computing DevOps, microservices, QA, and APIs to help transform your legacy software applications. We make legacy systems more adaptable and effective with our expertise and global delivery capabilities. Our end-to-end engagements in providing legacy modernization solutions with a wave-based approach enable custom levels of client collaboration to mitigate project and operational risks.
Check out our blog onSun Technologies legacy application modernization solutions for more insights about our strategies to custom modernization for client's legacy systems.