An Interview With Robert Davis On Neonatal Rescue & Neonatal Care | Robert Davis RD Heritage
Robert Davis shares his experiences with Neonatal Rescue & Neonatal Care.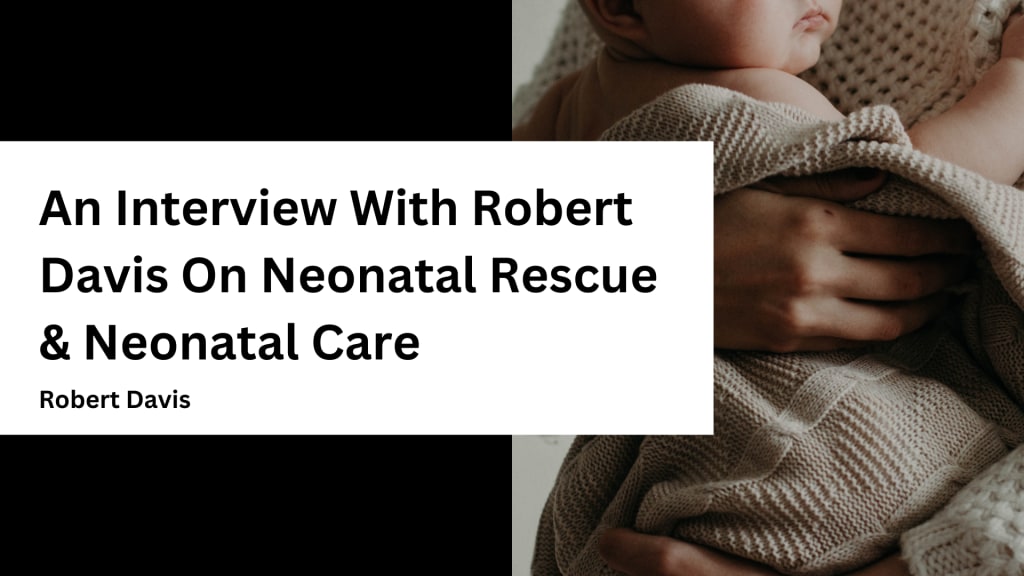 Question: Describe your background and how it led you to becoming involved in neonatal care
Robert Davis: As a physician I am passionate about saving lives. I worked as an ER and ambulatory care doc for many years, prior to investing in people and companies. Our family office, RD Heritage Group, has invested across a wide spectrum of industries: automotive, oil & gas, healthcare, real estate, tech, solar, etc. What is most important to me is to do good. Make this world a better space, like a boy/girl scout cleaning up a campground making it better then when they first came in and pitched their tents.The fact that innocent lives are lost in low resource settings, in rural communities in the US (Indigenous Peoples), in remote areas in Africa, etc. - is tragic and unnecessary.
Question: Why is neonatal care important to you?
Robert Davis: Worldwide, 1 out of 4 babies have birth asphyxia (lack of oxygen and blood flow to the brain, during or right after birth.) This problem can be quickly addressed in developed nations: US, Europe, Hong Kong, Singapore, etc. - where personnel and technology is readily available. However, in low resource settings, newborn babies are dying at birth, because of the lack of neonatal ventilators/CPAP (Continuous Positive Airway Pressure) machines. Those babies don't need to die. I believe that I have a social and moral obligation to help those newborns.
Question: How did you first hear about Neonatal Rescue?
Robert Davis: I was referred to Neonatal Rescue from a venture capital fund in the Mountain West that I have worked with previously. I met Rob Brown, the CEO and co-founder of Neonatal Rescue and was exceptionally impressed with his vision.
Question: Why did you choose to get involved with Neonatal Rescue?
Robert Davis: It is the right thing to do. What if a newborn's life could be saved in Uganda and that little girl grows up to be president, or that little boy in Zambia finds a cure for cancer – isn't that what we are supposed to do as human beings. It is likely those newborns won't be a president or find a cure for cancer, but they are people and they deserve a chance to live. My simple focus with Neonatal Rescue is to save lives, make a difference, and make this world a better place.
Question: Why is their mission important for neonatal care?
Robert Davis: In the developing world, almost a quarter of neonatal mortality could be eliminated if healthcare providers had access to ventilators and proper training. Unfortunately, developing countries have extremely low access, due to the cost and availability of the devices and the training to use them. Neonatal Rescue provides both ventilators and training in remote areas where there is no power. The ventilators are both solar and battery powered and can function in a clinic 100 miles from the electric grid.
Question: What type of work have you done with Neonatal Rescue?
Robert Davis: RD Heritage has facilitated a GOED Award (Nevada Governor's Office of Economic Development) and has arranged for an investment into the for-profit arm of Neonatal Rescue from a partner at a prominent private equity fund that has over $8B under management, and a substantial commitment into the non-profit arm of Neonatal Rescue from a large Texas family office. Additionally RD Heritage has facilitated relationships with Native American tribes in the US that have low resource challenges, as well as introductions to the Presidents and implementation of neonatal ventilators and philanthropy work in Gambia, Sierra Leone, Côte d'Ivoire (prior Ivory Coast) and Ghana.
Question: What has been your best experience with Neonatal Rescue?
Robert Davis: Knowing that we are saving lives in real time. Last year we placed 150 ventilators and saved 15,000 lives. Second best experience has been working with the heroes at Neonatal Rescue who are implementing Neonatal Rescue's vision in real time.
Question: How can others get involved with Neonatal Rescue?
Robert Davis: Donate, invest or volunteer in Neonatal Rescue - which has both a nonprofit and for-profit arm. Go to: https://neonatalrescue.org or email Rob Brown, CEO at rbro[email protected] or write to me at [email protected]
About the Creator
Robert Davis RD Heritage is the co-founder of RD Heritage Group and is a skilled professional with three decades of experience operating in the financial industry across the globe.
Reader insights
Be the first to share your insights about this piece.
Add your insights