You Will Never Be Better Than Your Spouse's First Love
A Story of Woes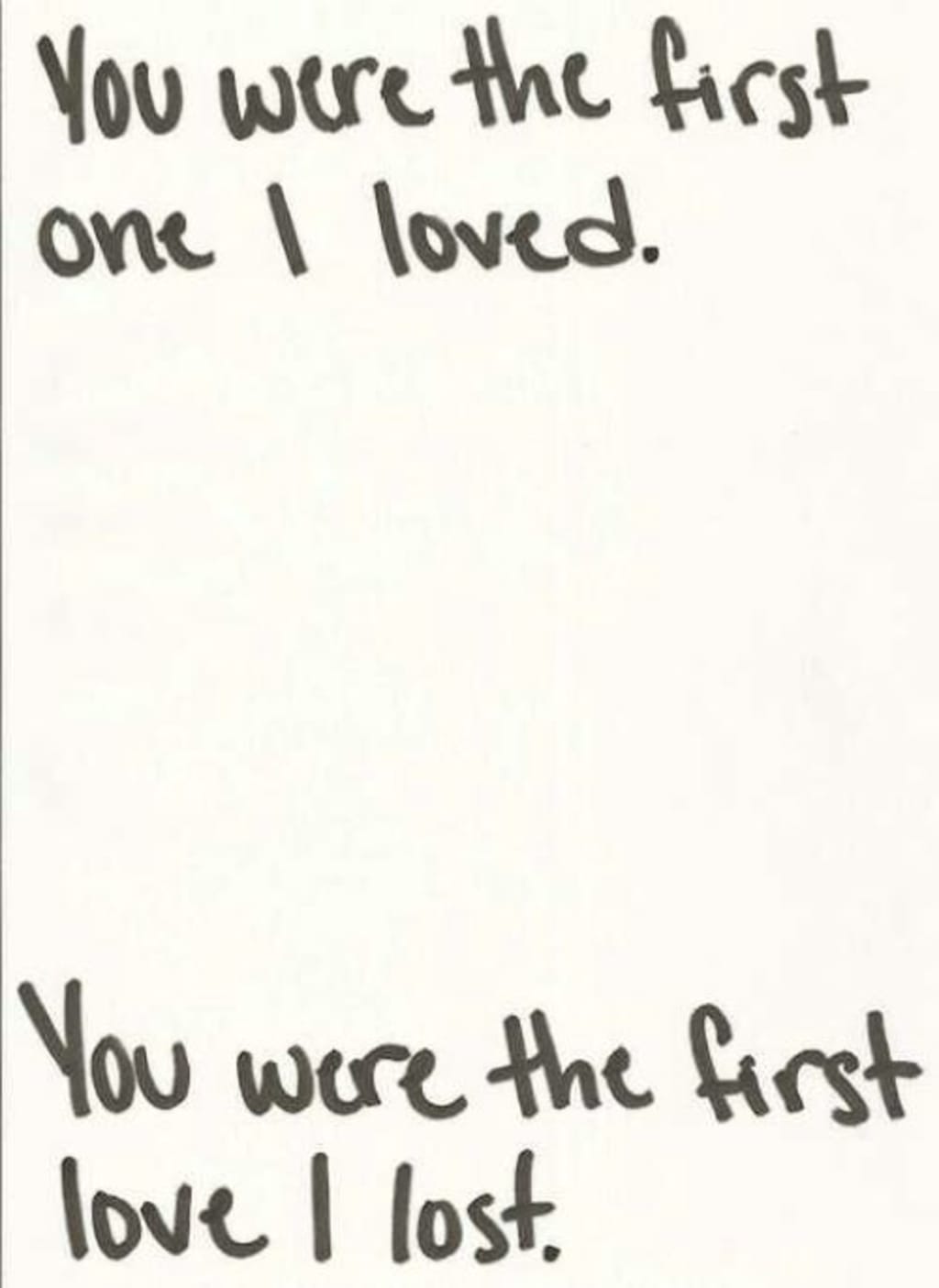 My husband's torment
My husband had love before me. I know that's not something new, but his love died. This is her story as told by his teenage journals. They were teenagers, and she was a girl that he shouldn't have been in love with. He saw her everywhere; school, friend's homes, and at his favorite arcade. They had plans to run away and get married and have kids. They had secret codes that they used to say I love you when they were near people who wouldn't understand their love. They had been friends since they were babies, and lovers since they were 10. That was until they were 16, and her heart gave out. She was surrounded by her family and her love, but not even he could make her heart start again. He mourned her and resigned to never fall in love again.
Fast forward nine years later. My future husband walks up to me and asks me out. I had seen him around work and thought he was cute, but I would've never thought he would be interested in me. So when he asked me out, I thought he was joking. I said yes though. Sometimes I think about that day I said yes, and wonder if my life would've been different if I had said no. Would I still be with a man that I loved, but knew he was gay, even if he didn't want to admit it to himself? Or would I have just stopped dating again and be satisfied with living with my smothering, verbally abusive grandparents? Or would I have finally successfully killed myself? I guess I'll never know, because I did say yes and went out with him.
After a few dates, I go to his home for dinner and video games. I looked around his living room and saw a picture of a smiling girl with pinkish hair.
"She's pretty," I said. "Who is she? A friend? A family member?"
I should have never asked about her. I regret it so much now. He told me about her. I saw in his eyes that he wasn't over her, but I still ignored the signs and continued with the relationship. He talked about their relationship, and how they had to keep it a secret. He talked about how much they loved each other, but she was also bisexual and wanted them to have a polyamorous relationship with their best friend. He talks about how they never had actual sex, but when they did oral it was one-sided on her part. He talked about how she had a horrible family, but when she ran away from home, she didn't run to him. She ran to her girlfriend. She came out to her family and also told them about her girlfriend, but never proudly told her family about her other love. She posted videos and photos of her girlfriend on Facebook, but there were only tame, friendly photos of her other love. As he's telling me their story, I'm thinking that nothing was right about their relationship, and also that maybe he's over her and began to loathe her as he got older. I was so wrong about that.
As our relationship progressed, he would make small jokes about how her boobs were bigger than mine, and how they loved the same video games, and how I didn't cuddle with him the same way she did. The jokes began to get hurtful, and I just dealt with it. We got married last year, and I thought that the jokes would stop, and that her picture would be in a box or somewhere I didn't have to stare at it anymore as I had been for months. We moved into our place and the jokes stopped for four months. Finally, I was enough for him... or so I thought.
We almost fully got our boxes unpacked and I'm putting things away when I see her. Her hazel eyes staring at me and saying "You're not good enough"; "He's still in love with me".
I turned her picture around while he was asleep. He saw her picture turned and yelled at me and told me to never do that again. The "jokes" started back that night. His favorite joke is about how her boobs were way bigger than mine. Do you know what that does to a person's mind when they have to hear that their body is sub-par to their husband's first love? It makes them hurt themselves. My husband calls me selfish when I try to kill myself, but is it selfish when you're trying to get a break from feeling like you're not enough? What should I do? Should I just deal with the jokes? Leave him for a few months? Give him the option to go and find someone else that meets his standards? Or should I just do a curtain call on my life? I hope one day he understands that I love him. I love him. I treat him better than his first love ever did but it's never enough. I do love my husband but does he love me?
About the Creator
Amber here! I hope I'll write something that interest you. Thanks for viewing my articles!
Reader insights
Be the first to share your insights about this piece.
Add your insights