yellow
millennial meets mum again.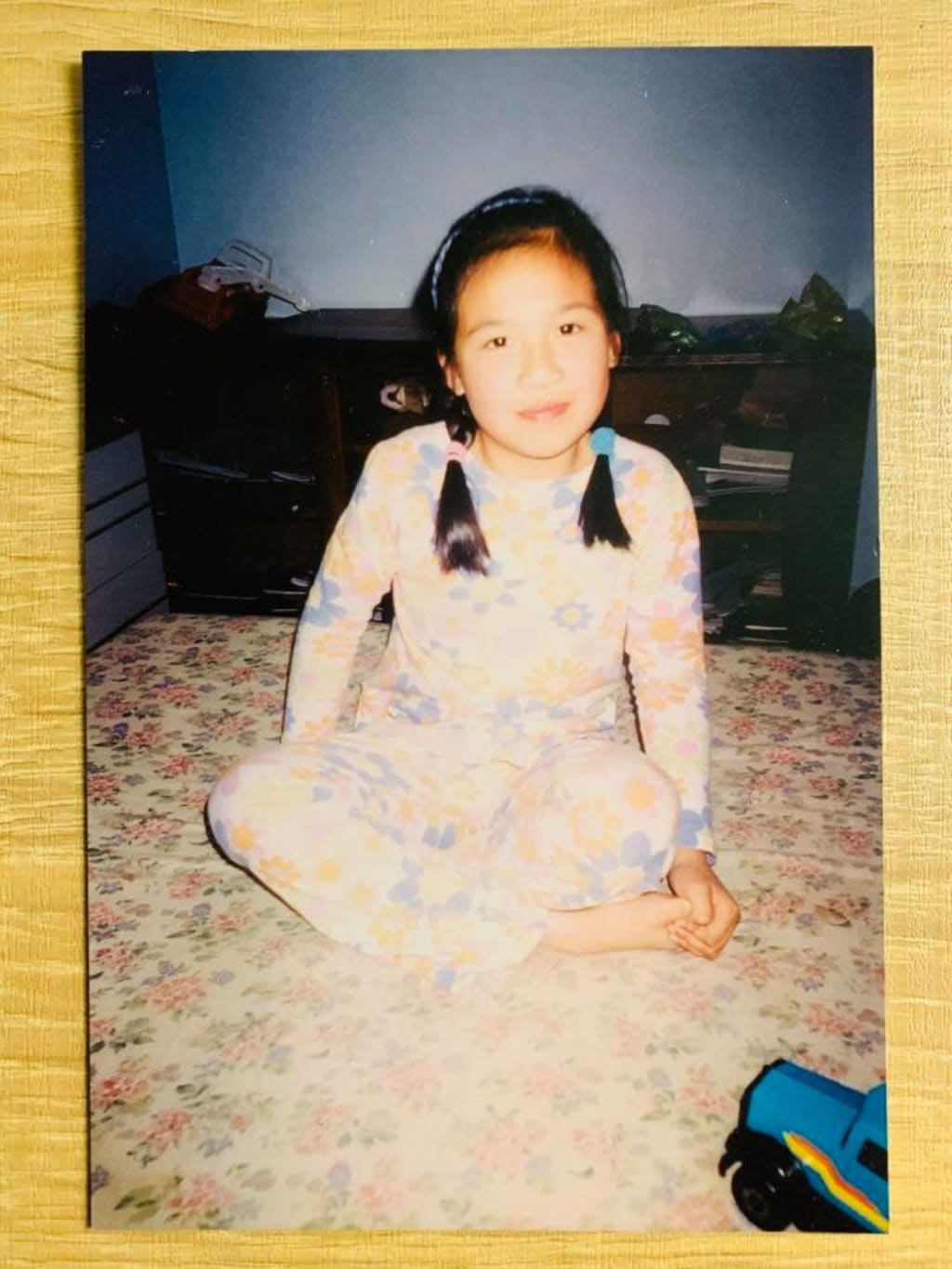 photo @juju nguyen: returning to my 'yellow' childhood.
"I'm not eastern or western, I'm GREY."
That was the last line to the short film competition I did for the Australian Centre for Christianity and Culture. I made a statement about my dual identity and I told the world where I stood at that time, I was 'grey.' It was in Spring 2018, a year after I graduated from being a failed architect. Picture lights, canopies, drinks… Cheers to the awards ceremony. SNAP. I didn't know how I put on a face for the photos. It was a rough and greyish year... "Great film J." I happened to wear my favourite grey shirt for the paparazzi. SNAP. Snap out of it J.
~~
"How much did you earn from your last job?"
I answered truthfully. "15 dollars." (dong in Vietnamese)
"Sorry, we can't pay you that much here."
For the first time ever, I lingered on my response. My 'yes I can help' could not come out easily as it used to. The truth was, I was traumatised from my past internships. I did not want to go through this again like my last three summer breaks. Hashtag: A newbie freelancer who-worked-with-no-pay-because-she-did-not-provide-a-quote and hashtag still dreaming of my tiny house.
Is this karma?
"Come on, you'll be doing good work reaping bonus points for your next life."
I chuckled. Thank goodness she could not see my face. I rolled my eyes and looked at the wall for a few seconds. Was she desperate or is this fate calling?
I wanted to tell her: You have no idea how much I've volunteered to build up an essay of experiences to put on my resume. Hashtag: Still unemployed.
How much more could I do to pay back my spiritual debt? How did she read my mind?
Is my past life telling me to fix my karma that is due soon?
Dear Heavenly Father, please help me.
~
Mum would kill me if she knew I was about to invest my weekends wiping tables and washing dishes when I could wash my six other family members' dishes. No freedom for me in this Nguyen family. I had duties to do and I was stuck with my mum - very much like the stickiness of Asian red bean sticky rice. It was very hard to leave the house without her approval.
You're probably thinking, why don't you move out?
Okay, I'm embarrassed. She cooks, washes my clothes and feeds me. Hashtag: I can't live without rice, tofu and sticky rice. In return, I give back to my mum by practicing my highest ideals from our eclectic religion- Buddha, Confucius and mixed in with Jesus: 'Love and honour your father and mother.'
Hashtag: Millennial stuck in sticky rice, stuck in debt and stuck here for some time… yikes.
~
After the phone chat, I told mum I was volunteering. She has gotten used to this. I reminded her that I was also studying a new course.
"Mum, I will work soon. This course is good and I will get a job soon. You told me that the fortune-teller told you that he knew my life path was going to be like this for a while."
Hashtag: An annual tradition in the Nguyen house to get a reading.
I packed my bags. I left hurriedly without my mum seeing me. She would freak if she saw the word Jesus in my lyrics sheet.
~~
Mary did you know, that your baby boy, would save your sons and daughters?
"Julianne, I can't hear you. Open your mouth when you sing. Come on guys, the semi-finals are later this week."
Luckily, this week Mr Piano Man (our singing coach) was in a good mood.
I could not focus. All I could think about was that night.
Mother Mary, what am I doing here?
Help me, I feel so weak. I don't think I can do this.
Come on J, focus. Come onnnnn.
~
I was helping my youth group at my parish. I was seeking a spiritual community and only met them a few months ago. This was the only opportunity away from my mother's nest that I could do what I enjoyed. I could fly and breathe for a bit here. Hashtag: Escaping from my millennial mayhem but not a Catholic herself...
I got changed in the toilets. 5pm shift until midnight.
What's the worst that could happen?
~~
I walked in through the door.
Three ladies, chalked in make-up and holding napkins, looked at me.
Be submissive, be sweet, be respectful J. You got this.
I bowed slightly and addressed our seniors using our typical Vietnamese greeting to our seniors.
One lady with silky long hair flowing to her hips dressed in a pastel pink Vietnamese dress told me to help her put napkins in the table holder. I guess she was the head of the three.
She then called the lady with bright red lipstick and said something like, "Give her the rundown and tour."
I nodded when she began talking. I did what has gotten me in the past four years with volunteering especially in the Vietnamese community. Pretend you understand. Nod.
I nodded again and acknowledged using 'Da' which is a common courtesy word to show respect as a lower rank human being obliged to serve your senior.
She pointed to each of the rows of tables and gave them numbers.
DING. Cool, a bell. She grabbed my hand and gave me a bowl of noodles with meat and mint.
Classic pho. "Table 11."
The other two ladies were still at the table. I could feel their eyes on my back.
Shit, which one was 11 again? Why did you make this so hard?
The lady with bold lipstick came back to me.
"Did you understand what I told you? Come here."
I did not know what to say in Vietnamese to the man waiting for his food. I put the bowl down and smiled. He was on his phone. Phew.
The other lady of the three stood up from the table. She told the lipstick lady that I was born here in Australia.
Lipstick lady's eyes widened and I smelt cigarettes from her breath.
"Do you want me to explain in English?" She asked in my first language.
Pretty good English. Impressive.
DING DING.
I told her that I was fine. Deep inside, I knew I had to learn the hard way.
I made my way into the back kitchen with a bucket load of chopsticks, half-finished chilli sauce and leftover rice.
I whiffed in beef, lemongrass and star anise spices. Good old days. I pictured my mum...
"What's your name?"
I was brought back to the smell of detergent and bleach.
I don't often share my Vietnamese name but in this case, I did. "Hoang Oanh," I answered.
"What did you study?" The chef sounded frank.
I paused to remember the Vietnamese word for architecture. It came out slowly.
"What the heck are you doing here?" I knew what he meant. My conscience kicked in. Sigh.
"Hoang Oanh, at the front please. Your job is to be at the front. Go, go, go."
~~
Something strange happened when the night finally settled in. Everything around me was like a scene of my family gatherings growing up. Picture uncles and aunties with food stuck between their teeth, clunking their glasses with alcohol and slurring out words to sing along to post-war Vietnamese bolero music.
Wait, is this what karaoke bar life in Vietnam looks like?
How will I get through the next 3 hours?
Mother Mary, help me.
That night, I broke two wine glasses and was pulled to the back because my skirt was facing the wrong way. Hashtag: And also, never wear white sneakers while working in a Vietnamese restaurant. Damn you, hoisin sauce.
~~
The last time I was there was before lockdown 5.0. I came to collect my pay. I secretly thought that this would be the last time I would be there.
She handed me a white envelope with my Vietnamese name written on it.
It was 20 minutes until curfew. I spotted one police car down the road.
I opened the envelope. 50 bucks. 11 dollars an hour. Sigh.
"Where are you?"
"Yes, I'm on my way home mum. Just finishing off this meeting."
By meeting, it was my quick escape word. She knows that it means I was out volunteering.
At least I got some money. Hashtag: petrol money.
~
The next week the boss lady called. I knew she wanted me for a shift. I left it ringing. I remembered the argument I had with my mum when I got home that night as she found out. Hashtag: Typical millennial. Lying about my pay over the years has gotten tiring.
"I told you. Don't work at any Vietnamese places. Those people are ripping you off."
I thought mum wanted me to respect people of our own kind. Hashtag: Mum's orders above all.
~
While helping mother cook the rice after turning my phone on silent, I overheard the case numbers from the TV. I looked outside from our sliding door with the sun seeping through the shades and heard a bird chirping a tune on our tin shed.
While the bird was singing... I pictured a bird and started singing in Vietnamese.
Hoang Oanh translates to 'yellow oriole.'
I felt my feet perched down on the ground for the first time in a very long time.
I think I'm going to stick with sticky rice for some time. Time to morph back into yellow.
Hashtag: Goodbye Grey.
family
I'm here for my introverts, misfits and the divergents.
#LESSjunkmoreJUJU
~Currently documenting my post-lockdown life:
Part time Mental Health Worker / Part time Artist.
Let's make meaning together Millennials ✌🏽