When Love Conquers All
The True Triumph in Life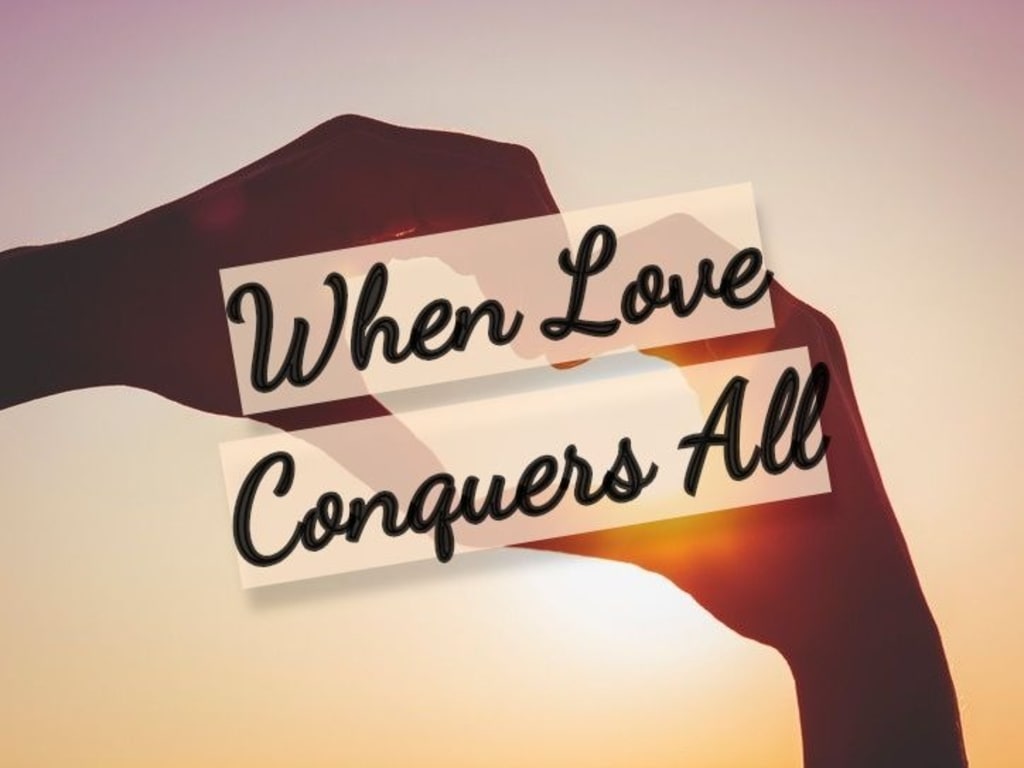 When love conquers all, nothing stands in your way. Not a cloud, not a storm, not a negative thing.
Rainy days, a thing of the past—sunshine is here to stay. The storms will blow away, just hold on tight. I'll love you through all, even on the rainy nights.
~~~~~~~~~~~~~~~~~~~~~~~~~~~~~~~~~~~~~~~~~~~~~~~~~~~~~~~~~~~~
Brought together by nothing less than fate, made for each other piece by piece, from day one that we met you would forever be a constant in my life. Whether back in the shadows or front and center, you were never far away.
Through elementary school we met, growing up side by side yet classrooms apart, walking through middle school together, thinking we knew all there was to life, 'til we stumbled through high school, realizing we actually knew much of nothing. Somehow, someway, our friendship blossomed and bloomed, growing bountifully and beautifully 'til it could no longer contain the strength of a single flower.
Our friendship bloomed the closer we grew, spending many days together outside of the classroom. We had hugged many times before, until one specific time, I breathed in deep and realized I never wanted to let you go. Finding comfort in your embrace was something I always did. At the time, I couldn't put my finger on it.
I fought tooth and nail to keep you away, for there was no way I could possibly develop feelings for a man who felt the same. Relationships were scary and never meant to last. Who was I to be the one to take you up to bat?
Yet I watched year by year as our friends found love, while we stayed single. It was only a matter of time before fate came to play. As fast as I ran, you were one step ahead. Caught me in the last year and I could no longer deny—I loved you with all of my heart, that's why.
As soon as you captured me, there was no letting go. You held on so tight, just like me to your hand. We soon became intertwined, two hearts mixed with one soul. Where one went, the other was never far behind, everyone knew this to be true. Our single flower soon burst into a garden, spreading love far and wide as we grew to love what we had become.
It made sense, looking back, that we were meant to be. The loners becoming lovers, what a tale to be told! I feared for a breakup. I'd seen so many before. Watching our friends fall in and out of love by the months as they passed, but one thing held true—our bond was meant to last.
Love conquers all in this story right here. Four years later and one thing is still true, I love you most of all. Most say couples grow old of seeing each other every day; the honeymoon phase fades after a day. But I've yet to experience this thing that they speak, for I fall in love with you again and again each time I lay my head to sleep, like resetting the clock, winding it back by a week. Our honeymoon phase was meant to last—four years going strong has proven that there. Maybe that's what true love is all about, finding your best friend and just fooling around.
I can't wait to marry you next year, my dear, so here's to all our happy years. I can't wait to share 40, 50 more with the one I love most.
Our story does not end with this right here. We'll go on forever, I know this to be true.
And that's what happens,
When love conquers all.