Understanding eCheck Payments and Merchant Services: A Comprehensive Guide
What is echeck and how its works ?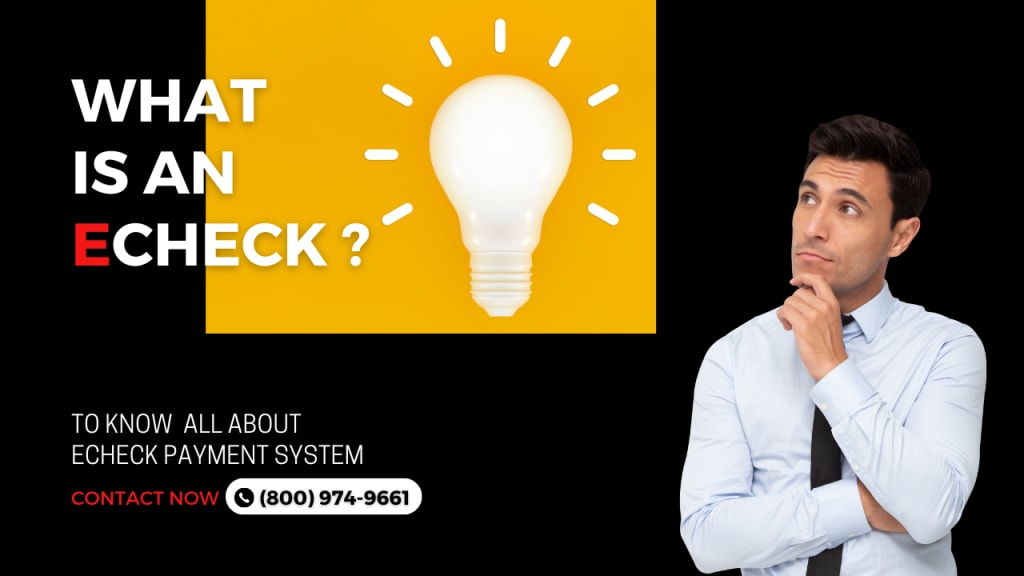 As technology continues to evolve, so do the ways in which we make payments. Electronic checks, or eChecks, have emerged as a convenient and secure alternative to traditional paper checks. In this article, we'll dive into the world of eCheck payments and explore how they work with merchant services.
What are eCheck Payments?
An eCheck payment is an electronic version of a paper check. It is a form of online payment where funds are transferred directly from the customer's bank account to the merchant's bank account. The process is similar to a traditional paper check, but instead of physically mailing the check, the payment is transmitted electronically through the Automated Clearing House (ACH) network.
EChecks can be initiated in a variety of ways, including through online payment portals, mobile apps, or even over the phone. Once initiated, the payment is processed through the ACH network and typically takes 2-3 business days to clear.
Benefits of eCheck Payments for Merchants
For merchants, eCheck payments offer a number of benefits over traditional payment methods. First and foremost, eChecks are more secure than paper checks. Because the payment is initiated electronically, there is less risk of fraud or theft associated with paper checks.
In addition, eChecks are faster and more efficient than paper checks. They can be processed and cleared more quickly, which means that merchants can receive their funds faster. This can be especially important for businesses that rely on cash flow to maintain their operations.
Another benefit of eChecks is that they are often less expensive than traditional payment methods. Banks typically charge lower fees for eCheck transactions than for paper check transactions, which can save merchants money in the long run.
How Merchant Services Work with eCheck Payments
Merchant services providers offer a range of payment processing solutions to businesses, including eCheck payments. When a merchant signs up for merchant services, they are typically provided with a payment gateway that allows them to accept eCheck payments online.
The payment gateway serves as the interface between the merchant's website and the ACH network. When a customer initiates an eCheck payment through the merchant's website, the payment gateway securely transmits the payment information to the ACH network for processing.
Merchant services providers also typically offer a range of other services to help merchants manage their payments. This may include features like fraud detection, chargeback protection, and recurring payment processing.
Choosing a Merchant Services Provider for eCheck Payments
When choosing a merchant services provider for eCheck payments, there are a number of factors to consider. Here are some key questions to ask when evaluating potential providers:
• What types of payment processing solutions do they offer?
• What are their fees for eCheck transactions?
• What features and services do they offer to help manage payments?
• How secure is their payment processing platform?
• What kind of customer support do they offer?
It's also important to consider the provider's reputation and track record. Look for providers with a proven track record of providing reliable and secure payment processing solutions.
In addition, it's a good idea to read reviews and testimonials from other merchants who have used the provider's services. This can give you a better sense of their strengths and weaknesses and help you make an informed decision.
Conclusion
eCheck payments offer a convenient and secure alternative to traditional payment methods. They are faster, more efficient, and often less expensive than paper checks. When combined with the right merchant services provider, eCheck payments can help businesses streamline their payment processing and improve their cash flow.
If you're considering accepting eCheck payments for your business, it's important to do your research and choose a reputable merchant services provider. With the right provider, eCheck payments can be a valuable tool for growing your business and improving your bottom line.
About the Creator
ECheckplan.com is the leading payment facilitator bridging the gap between merchants and merchant account providers.
Reader insights
Be the first to share your insights about this piece.
Add your insights