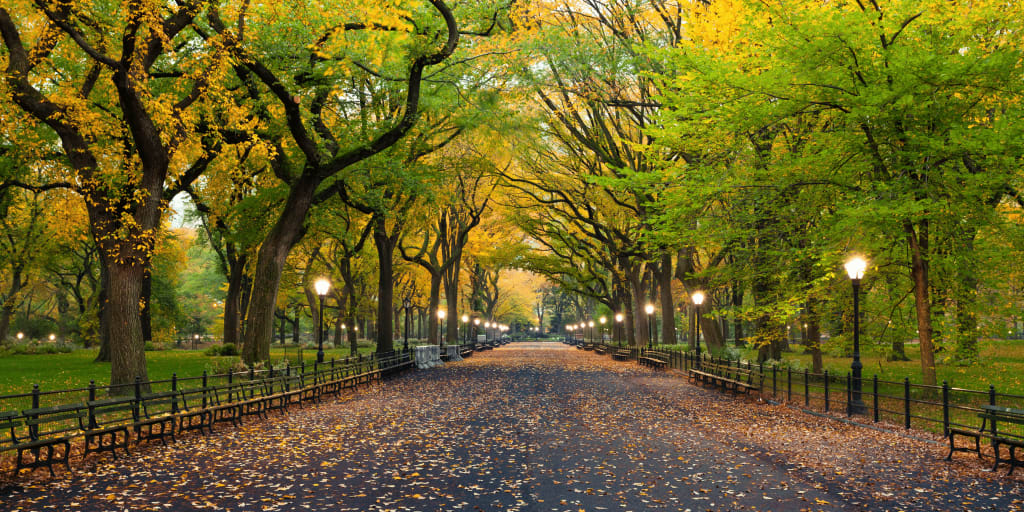 We went out to dinner, my aunt and I, to a little Mediterranean fusion place squeezed between two hotels and buried under a thick layer of scaffolding. The table was a bit sticky, and the menus were wilted, but this could be blamed on the heat. The other patrons were loud and a bit rowdy -- this could also be blamed on the heat. After an hour of sipping ice water and devouring papoutsaki eggplant, ("Where do you think you would like to travel in your life?" my aunt asked. "I would like to see the living bridges of Meghalaya, and the starling migrations. How about you?" I asked. "Oh, I'd like to see the northern lights," came her reply) I was about ready to leave. Then a man outside sat down at an electric keyboard and began to play jauntily.
"Do you think he will sing?" my aunt asked, delighted. "There is also an accordion. Do you think he will sing?"
The question was no sooner out of her mouth than the young man began to belt a wordless, scatting melody of 'Ba-ba-ba' as he pounded on the keys. What he lacked in skill he made up in enthusiasm. He didn't seem hesitant or even cognizant. He played for the joy of it, his slicked-back ponytail bobbing along with the beat. Despite his joy -- or perhaps because of this -- a waitress soon kicked him from his roost at the keyboard.
"We have another singer coming," she explained, "Someone… else." (She didn't say, "Someone better.")
Despite the young man's amateurish display, I had been tapping my foot. I used to think that music was best appreciated with silence. Now that I'm a bit older, I know that was wrong. Music is meant to move the soul, no? If not the soul, then perhaps something a little less dramatic. Maybe it's meant to move the hips, or the toes, or the ankles. Who knows? Maybe my foot-tapping and polite clapping at the end of each nonsensical verse was the most appreciation I'd ever given. I had stopped going to shows when I got home from England, and I'd stopped clapping at them years before that.
"I am feeling neglected," hollered a woman from the first row of seats.
"I'm sorry, madam. Would you like the check?" a waiter asked.
"No, I'm not finished. I was just feeling a little neglected," she said sourly. I didn't look over to catch her eye. I was afraid if I tried, I might burst out laughing.
Eventually, we left. My aunt showed me to the subway I will have to take tomorrow to get to a friend's birthday party, and then we went on to see the river. On our way up a hill to see the statue of Joan of Arc, we walked past a woman, bent at the waist, leaning over the fence, weeping bitterly. I told myself I would tell myself she was listening to a sad book, a sad song, a sad anything-that-wasn't-her-own. And we walked on. We reached the statue of Joan of Arc, where someone had carefully tucked purple flowers into the crevices of the stone. I looked up the type, but they were not the lesbian violets as I would have hoped. They were, in fact, Perez's Sea lavender, but it didn't dampen my mood as we walked on, passing two sisters racing on scooters and a dog park.
The dogs in the dog park had as much variety as their humans -- the great, hulking masses of fur that are retrievers, a whippet that reminded me of a sickly Victorian child, tiny yappy yorkies, and classic bustling dachshunds were all in attendance. As we turned to head back to the apartment, we passed more people with dogs. The two sisters on scooters had stopped their scooting to join a third, even younger sister, who shouted at their father to throw the ball to her. She swung her racquet and missed the ball entirely. She declared something loudly, but I was too blinded by the earnestness with which she swung: as if there was no way she could miss, because she wasn't swinging to hit the ball -- she was swinging for the joy of it.
We passed a homeless man with an enormous assortment of stuffed garbage bags. They were piled on top of each other and stacked to such heights I wondered how his cart stayed upright. The man had passed out on the bench, not hearing the production of Love's Labor Lost that was going on just beyond his view. We hung back to catch a snippet or two of the performance. A profoundly sweaty man with an enormous tattoo of a compass on his back jogged past us -- criminal, in the heat, unimaginable, in the heat -- and went up the steps. We followed and caught a bit more of the performance walking on the other side.
And then -- one of the performers had walked off from the others. An older woman with crispy bright red hair and black stockings, waving freckled hands as she spoke. She'd either hung back or gone ahead of the other players, but she was reciting her lines to an extremely interested audience of one: a pigeon. I wanted more than anything to stop and ask her for her story, as if it were something she could give, as if it was somehow owed to me. I was mystified by her, bewitched by the strange, ugly magic of the pigeon's attentiveness. I doubt it would have mattered if the pigeon were even there. Even the pigeon knew that the woman wasn't doing it for him. She wasn't doing it for any audience. She wasn't even doing it for the other players, or least of all for us. She was doing it for the joy of it.
But then we pulled ahead, driven by some unseen tide. She vanished from our line of sight, replaced by blinking traffic lights, a chubby baby on a curb waiting her turn to walk, and a crystal salesman chatting about the pros and cons of sativa vs. indica. The traffic light turned from red to green. A green light -- our turn to walk, and on we walked. We returned to the welcome chill of the apartment, and I slung off my holographic purse and wiped the sweat from the crisps of my hair at the back of my neck. My aunt called the cats to their dinner, and I made green tea. And I see in my mind's eye a collection of these people, each figure made of bright painted porcelain, illuminated from within -- illuminated by that beautiful, wonderful, terrific ugly magic.
Reader insights
Be the first to share your insights about this piece.
Add your insights