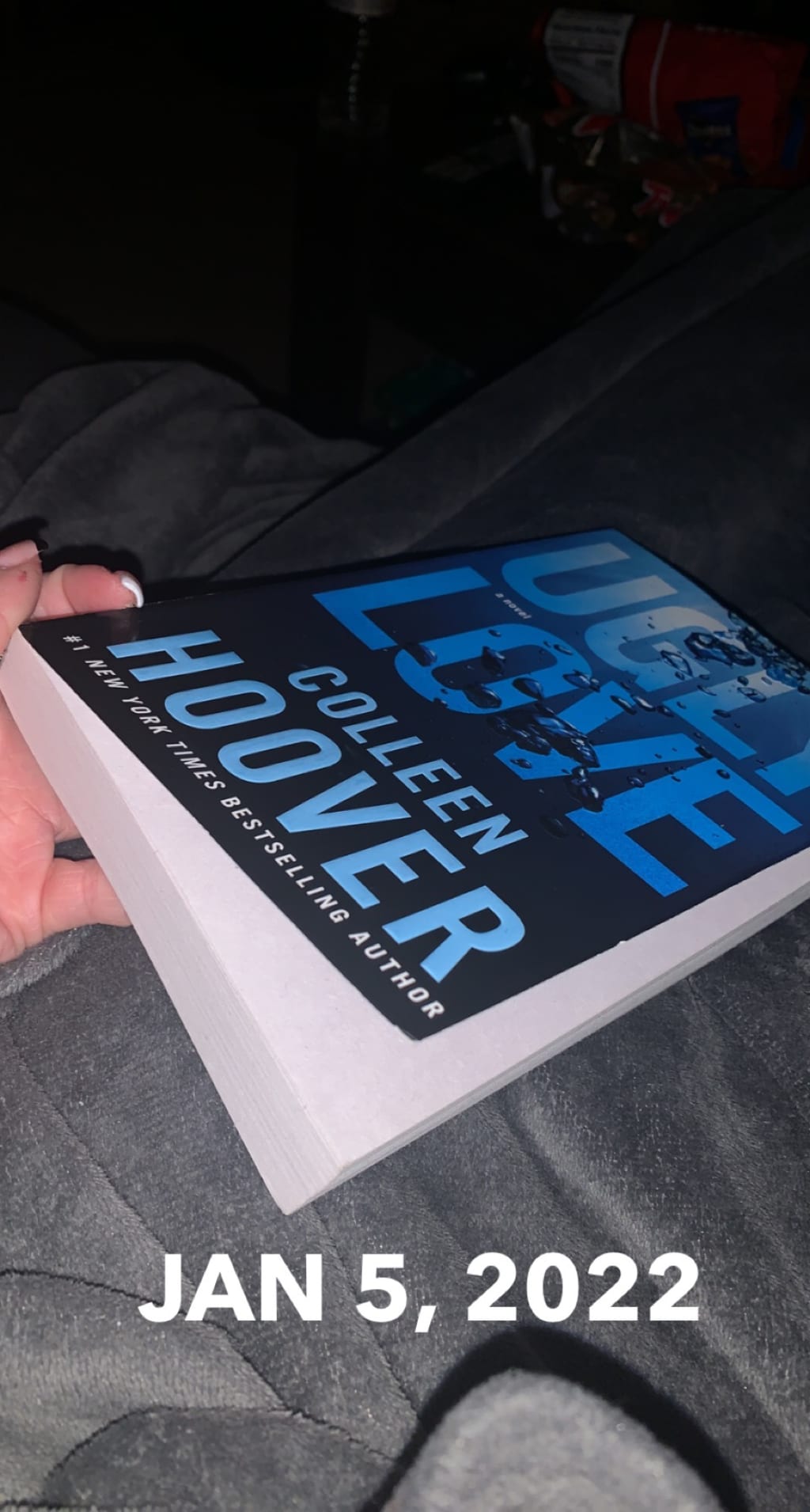 Hello Readers:
'Ugly Love' by Colleen Hoover was the first book I read in the beginning of 2022. This has helped me get back on track with reading books. Once I read this book, I had to read more of Colleen Hoover's stories.
Ugly Love is a friends with benefits to lovers romance story. It tells about a young lady name Tate who moves in with her brother while focusing on her studies. She finds a young man name Miles, sitting across from her brother's apartment. Tate finds this handsome man in uniform looking lonely and upset. But Tate doesn't realize that this handsome man is her brother's best friend from flight school. Tate's brother helps Miles whenever he can.
Miles, a pilot, once fell in love at a young age with a girl name Rachel. He instantly falls for her the moment he laid his eyes on her. Rachel and Mile's love story turned out to be a tragic. Not so much fairytales and happy endings for this couple. It even feels just as heavy as the tragic love story of Romeo & Juliet modern told. Imagine telling the person you want to spend the rest of your life with all these plans and ideas for the future only to be left torn and those dreams vanished so quickly. Does this make you want to pick up this book and find out what's so tragic and horrible about Mile's past? Because, I think I would be left clueless and wondering if I was reading this summary.
Once realizing that Tate and Miles are neighbors, they start to become friends having no strings attached; they have rules established and neither one of them have no idea what they are getting themselves into. This sounds like a red flag. I can only imagine hearing danger danger just from even explaining this! From there, you'll read about bumpy roads, heartbreaking stories from the past, and all I got to say is that you're in for a rollercoaster! This love story is truly ugly and this love triangle is all messy in every way.
My review on this story: I LOVE this book! If you're on TikTok, you may see some videos from other readers who did not like Miles so much. I have to disagree. Yes, there are things that should be unforgivable but can you blame someone for holding in all that guilt for so long? Who wants to feel at peace with their own self? Who may feel like they are uncap-able of having those feelings again? Who wouldn't want to find a guy all because he's your brother's best friend? (What a way to find a guy all because of a referral, am I right?). If you were to ask me: "What book would you want to read for the first time?" This! Ugly Love would've been one of my top few choices. Can I also just say that it took me FOREVER to understand that the cover and the story connected to each other? I think it's so cool to incorporate the cover and the whole concept of the story to the overall design of the book. I had to think about it when I saw a video going around explaining it and I felt like the missing puzzle was missing.
Sorry to anyone who hasn't read it and I spoiled the whole cover meaning behind.. Oops!!!
Literally, you get what you're reading if you haven't caught on to the title.
This duo POV will make you not want to put this book down.
**Side note: Read this before reading November 9.**
book reviews
About the author
Hello: If you're finding my page, you either like to read books or write. I do both + photography :)
Follow my socials here:
Main Insta: @kr1110
Book/Write Insta: @krissa1110
Photography Insta: @krissa_kreative_photos
TikTok: @lifeofkri_ssa
Reader insights
Be the first to share your insights about this piece.
Add your insights