The Fine Print
Dreamland Billionarie #1 book in series review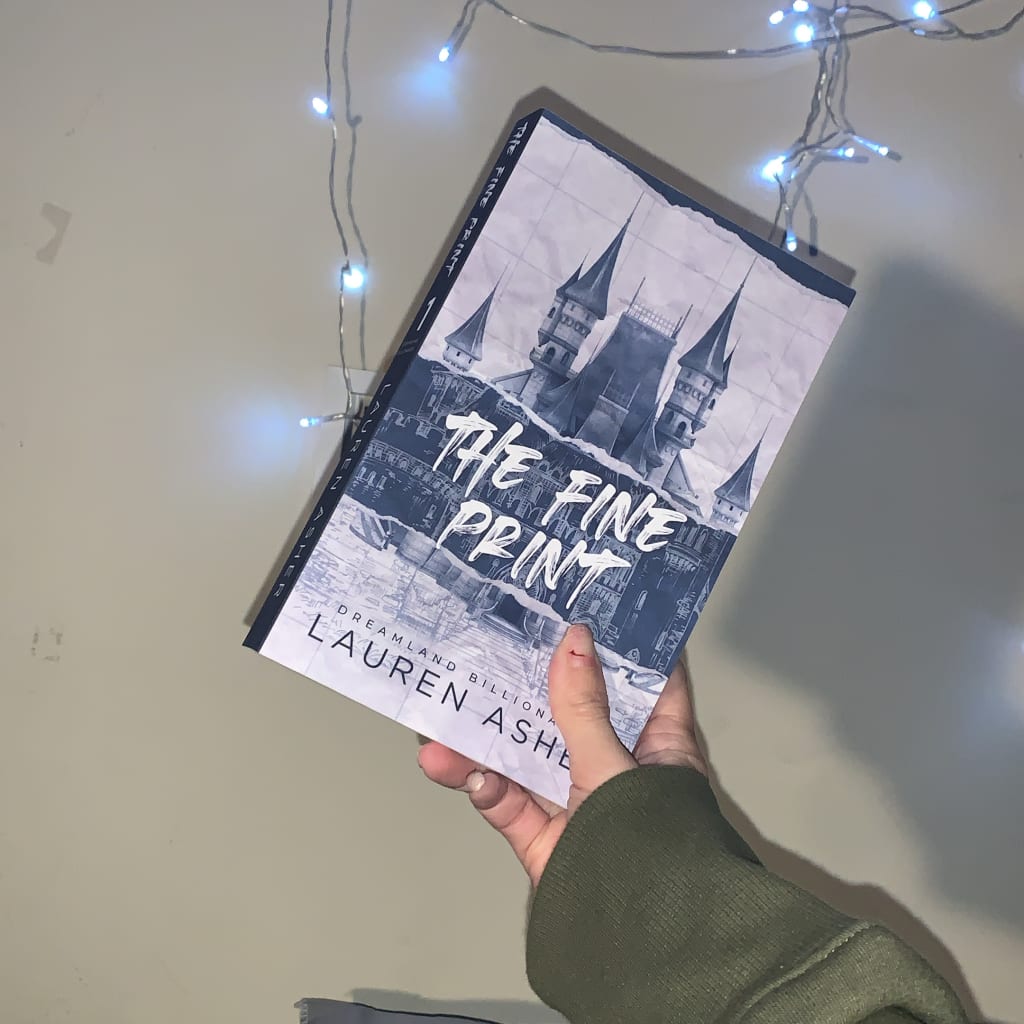 Is Disneyland you favorite place to be? Are you into business man? Or simply would love to have a hard working, business man of your own? If you answer yes to any of these questions, this 2 book series is for you.
Unfortunately, I have never been to Disneyland but pretending I was apart of the Dreamland was close enough! I've read Lauren Asher's 'Dirty Air' series (4 books in total) and I instantly fell in LOVE with the series. So it was no brainer to reading this. The popular book that's raging all over TikTok.
Meet Rowan, one of the 3 grandsons who has to complete a task that his deceased grandfather left. His grandfather left 3 different tasks, all different for each of these young man before being able to claim the inheritance left for them. Rowan, wants nothing to do with Dreamland. Mr. Kane (their grandfather who owned Dreamland) and is proud of all the hard work and dedication when creating this fun amusement park. Until, he meets a certain woman who changes everything for him. Zahara gets hired to help bring ideas to life in order to renovate Dreamland.
Once business partners who turn into lovers. Rowan's job is to create fairytales. Zahara is supposed to bring them to life. Will this team be able to create other people's fairytales? Or do they get to have a fairytale after all?
I was so excited to read this once it came appearing on my for you page via TikTok. Once I read this, I just COULD NOT put it down. Reading about thisDreamland/Disneyland inspired story only reminded me of the relationship between Belle and the Beast from the classic Disney movie, "Beauty and the Beast." My all time favorite Disney princess movie. I could see so many comparisons when I read this.
Not only did the relationship remind me of how they are working together, seeing each other, but it reminded me of how Zahara can help control Rowan's anger when under pressure to renovating the amusement park. What Zahara doesn't know is that Rowan is just looking to completing the task. Zahara didn't think she would end up in where she is. The relationship reminded me between Rowan and Zahara and the characters from 'Beauty and the Beast' is that once you spend so much time with someone, the more you learn about someone and getting to know them. The feelings could grow fond of each other. Who saved who during the distress in living under the castle?
This love story will actually make you feel like you're riding on the rollercoaster (literally and figuratively). The ups and downs these characters face, the sweet moments you want to grasp, the downhill of all the things that went wrong during this project.
I would recommend reading this story if you're looking for a fiction, romance story with Disneyland characteristics with hot, bossy, business man, you're in for a treat. And yes, this story does have spice.
Along with 'Ugly Love' by Colleen Hoover (yes, you can read my review on my page), this would be another top favorites and one of the few books I will recommend and one of the few that I would want to read again for the first time. If you like this book, you'll want to IMMEDIATELY want to read book #2 called "Terms & Condition."Another Dreamland Billionaire love story trope between grumpy man and a girl with a sunshine personality with some sass.
By the way, not to spoil this for anyone who didn't read this or to whoever did read this 2 book series and didn't pick up on this, the covers do match the story just like Colleen Hoover's work!
book reviews
About the author
Hello: If you're finding my page, you either like to read books or write. I do both + photography :)
Follow my socials here:
Main Insta: @kr1110
Book/Write Insta: @krissa1110
Photography Insta: @krissa_kreative_photos
TikTok: @lifeofkri_ssa
Reader insights
Be the first to share your insights about this piece.
Add your insights