Tyler Sadek Explains What to Know About Volunteering Abroad
Tyler Sadek of Indianapolis, Indiana is a passionate volunteer and cares deeply for community development. He shares a few tips and other information for what to expect when volunteering abroad.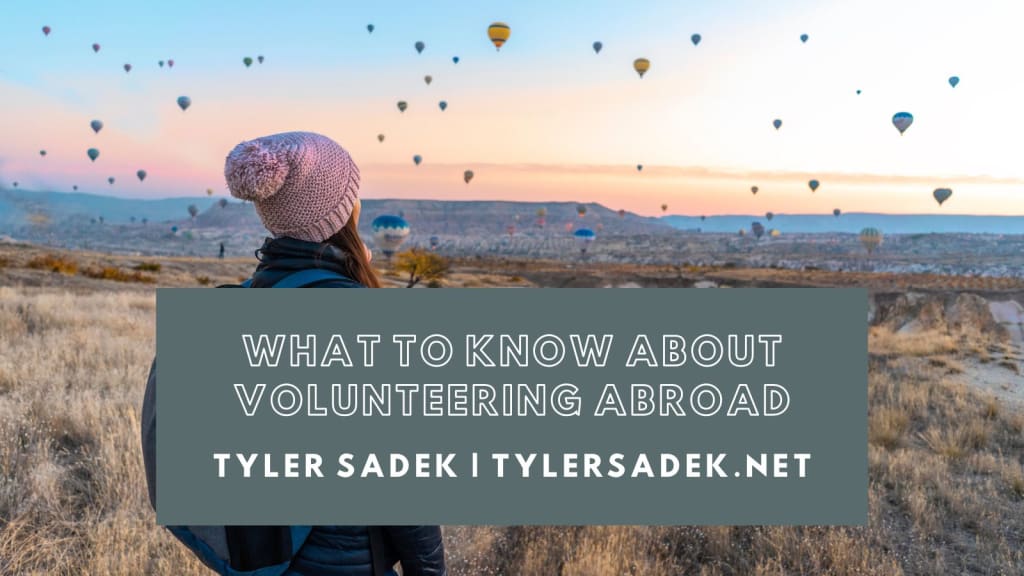 https://tylersadek.net/what-to-know-about-volunteering-abroad/
Volunteering abroad is an excellent opportunity to make a positive impact while exploring a new country and culture. However, knowing a few things is essential to ensure a successful and fulfilling experience before embarking on this adventure.
Choose a Reputable Organization
Many organizations offer volunteer opportunities abroad, but not all are created equal. Before committing to a program, research the organization thoroughly. Look for reviews and testimonials from past volunteers, check if the organization is registered and has a good reputation, and ensure they have a clear mission and goals.
Know Your Strengths and Interests
Volunteering abroad can encompass various activities, from teaching English to conservation work. Knowing your strengths and interests is essential to choose a program that aligns with them. For example, if you're passionate about animal welfare, you may want to look for opportunities to work with wildlife or marine conservation.
Be Prepared for Culture Shock
Volunteering abroad means immersing yourself in a new culture, which can be exciting and challenging. Be prepared for culture shock and take the time to learn about the local customs and traditions before you go. This will help you to understand and appreciate the culture and avoid misunderstandings.
Understand the Costs
Volunteering abroad often comes with a cost, including program fees, travel expenses, and living costs. Make sure you understand the costs involved and budget accordingly. Some organizations offer scholarships or fundraising resources to help offset the costs.
Consider the Length of the Program
Volunteer programs can range from a few weeks to several months. Consider how much time you have available and what kind of commitment you're willing to make. Remember that more extended programs may require more outstanding commitment but can also offer more in-depth experience.
Learn the Local Language
Learning the local language can be a great way to connect with the local community and enhance your overall experience. Even if you only remember a few key phrases, it can help you communicate with locals and better understand the culture.
Be Flexible
Volunteering abroad can be unpredictable, and things don't always go as planned. Be flexible and open to change, and remember that the experience is ultimately about the impact you make and the connections you form with the community.
Have Realistic Expectations
Volunteering abroad can be a life-changing experience, but it's essential to have realistic expectations. Remember that you're there to make a positive impact, but you're only one person and won't be able to solve all of the community's problems.
In conclusion, volunteering abroad can be an enriching experience, but it's essential to research, understands the costs, and be prepared for cultural differences. By following these tips, you'll be well on your way to making a positive impact and having a fulfilling experience abroad.
ABOUT TYLER SADEK
Based in Indianapolis, Tyler Sadek is known among his peers as a private investor with a passion for making the world a better place. He has earned the designation of Chartered Financial Analyst and is a member of the Young Presidents' Organization (YPO), a global network of over 30,000 leaders from 130 countries. He is also an active member of his community.
One position close to his heart is serving on the board of directors at The Oaks Academy, a diverse educational facility committed to providing a rich learning environment based on Christ and His teachings. Tyler's dedication to inclusiveness on all levels is shared by the school, which is open to all races and socioeconomic backgrounds.
Tyler Sadek understands that water is the most essential element for humans. As the world's population grows, effective water reuse and treatment management have become more critical than ever. Tyler sees the growing concern over the availability of clean and nutritious water supplies, and he's made it his goal to learn all he can about ways to solve the problem.
About the Creator
Tyler Sadek is a seasoned financial professional with extensive experience in the investment process. He has a proven track record of guiding and developing businesses.
Reader insights
Be the first to share your insights about this piece.
Add your insights