Through Fire
A Love Story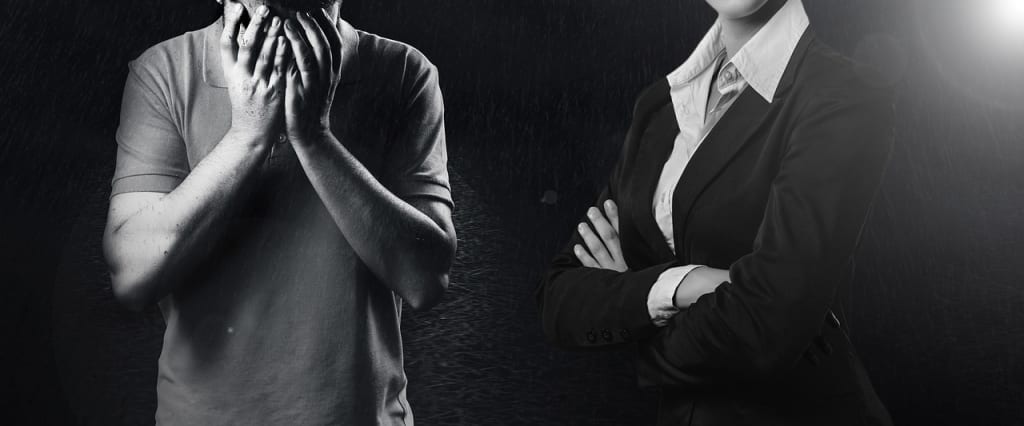 I'm beginning to think I am unlucky in love. Allow me to tell you why. I married at a young age... Well young to me. At the age of 21, while working at a coffee shop, I encountered two aged women who gave me some advice. I thought it was good advice at the time. Marry your best friend. Sounds good right? Well let me say that these two women were merely customers who did not know me personally. They were visiting my fair city of Detroit from California. Because of my dashing good looks and effortless customer service skills, they deemed me a good catch. They were appalled when I informed them that I was unhitched.
Hence the advice. Don't just marry anyone. Marry your best friend. Well, my best woman friend at the time was a sweet young woman from Miami Florida. We'd met through a popular Christian magazine that encouraged pen pals. So for three and one half years, we exchanged letters and became quite close. Since we shared the same faith, I thought I had hit the jackpot. She was a good friend, easy on the eyes and had the most amazing... er.. .curves I'd yet seen in life. Oh don't judge. No one wants a stick.
Now being a young man and well raised to be a gentleman by the matriarch known to me as Mom, I made certain I was gainfully employed and able to take on a wife well before I popped the big question. In the interim, I courted my Miami love with abandon, making her feel like the only woman on earth. I even wrote songs about her:
"Miami Morning Gorgeous and goodIlluminates the one I hold dearI want to be with you in your Miami Morning..."
Okay, so I was a novice songwriter at the time and though she was impressed with my effort, she suggested Miami Morning worked better as a Country song than an R and B song. So I changed the name to Tennessee Morning, which as you can see negated the original intent. But I digress. I would go on to write other songs about her because well... I was smitten.
I do Love youYou are my BrideClose to you
And many others. I thought she was amazed at my growing skills and singular affection for her. But she had other intents and my talents were lost on her. Music, in her estimation, should never be more than just a hobby for anyone. So that red flag was there but I ignored it. I was working two jobs, but my dream was to be a music star. She thought that was impractical and I should push it to the back burner forever.
Now since I was blinded by her significant posterior, I thought the best thing to do would be to bide by her wishes. So I did. At least until we got married. For the first two years with her, everything went great. We did everything together. We enjoyed the same movies, music, and much more. Her only real flaw seemed to be that she thought Star Trek was better than Star Wars. But hey, nobody's perfect right?
Anyway, at the close of year two, I noticed she began to grow more distant. I did not learn why until much later, but it became a huge problem and caused a disconnect in our emotional connection. She began to deny sex on a regular basis, with no explanation. I thought it was because she was tired from her job. We had no children at that point so there were really no extra tasks that would otherwise have worn her out. And her distance could not be blamed on a lack of romance. I open doors, pull out chairs, buy flowers, run bubble baths with wine, smooth jazz, and candles. I listened to her all year and knew everything she wanted. I would surprise her all year with gifts out of the blue. She always gushed that it was all just what she wanted. So I thought all was well.
But still her rejections grew until we were down to less than 12 times a year. Now I was brought up not to divorce, but to work problems out. So I tried and tried to fix us. We saw counselors, met with our Pastor, attended marriage seminars. Still no intimacy. And one day after about eight years of this, I just gave up trying.
I was asked to join local Band Enchantment and I did as a keyboardist. We toured mostly on weekends and when I was not at my "normal" job, I was likely on the road. My wife seemed elated that I was no longer asking for sex, which, though I was doing what I loved, still hurt. She did not have to work. Between my job and touring, I was rolling in money. This she had no issue with and shopped it all away on a weekly basis.
Eleven years into our marriage we had our first child and he was followed a few years later by our second. I know exactly when both were conceived because they were the only times we had sex in their respective years. When they were born, there was no joy on her part. She viewed them as more responsibility and I was often left to care for them. I lost a really good job when my oldest was born because I had to go home every day for a week. She had been threatening to throw him down the basement stairs if he did not stop crying. Eventually, my boss told me she could no longer hold my job.
So, I ended up with no job, and a few concert gigs per month. And predominant care of our children while she went to her amazing job every day. I became a house husband. And I hated it. Yet still I would show care to her. House was always cleaned by the time she got home. Kids were in bed, candles were lit. Inward, I was still hopeful for normalcy. But there would be none.
One day she announced she didn't want to be married anymore. She said, and I quote, "I'm blessed and highly favored. I don't need you. You can go."
Those words no longer sting or burn. But back then, they resounded in my head and made me feel along with her sexual rejection like less than human. I moved in with my sister and stayed in my room for a month, coming out only to eat. I am not the type of person to remain depressed for long because I bounce back from hardships quickly. But a month was a bit much for even me and my sister had grown very concerned. I kept assuring her I would be fine and I knew I would. I prayed a lot that month, allowing God to explain things to me, but I was never quite satisfied that He cared. His answers seemed distant and I decided He didn't care either.
So I closed off from Him too. A month after our separation, my wife dropped off the kids and divorce papers. Okay...
That was when I KNEW I needed to be okay. I came out of my room and took care of my children. Made sure they had everything they needed. I got another job, worked hard, and got promoted quickly. I went to court and because she saw fit not to show up to either custody hearing, full custody was awarded to me. And still I was good to her. When child support became too much for her to bear, I went back to court to ask the judge to reduce payments to their lowest level.
My ex wife's reason for her behavior? Here is what she told the judge. "I didn't know marriage was so much work. I wanted a wedding, but not the work part." That statement is sitting on a legal file somewhere downtown.
Now believe it or not, that type of thing happened to me twice. I married again to a woman who just wanted a partner to help with bills. Drove my car everywhere, spent my money and sex was a no no. Seems her belief that men only wanted her for her body extended to me as well. And the irony, is before me, she was quite promiscuous, by her own admission.
So what did I do? I created. In year two of the second marriage, I wrote seven books and recorded five CDs. Yes, I even wrote songs and poetry for wife number two.
You're beautiful you knowthe light beneath a shadowone perfect diamondamidst callous stonesother gems shine, it's truebut pale when comparedwere beauty ever paintedthe portrait is of you
Wife two thought I was too mushy and touchy feely and after five years of several counselors and Pastoral visits, she moved out. We divorced a year later. This time I quit my job, took all the money I had saved up and just enjoyed spending time with my children. We became very close, developed an open communication which their mother still despises. And we as a small family began to plan a future as a house full of Ellerbe dudes.
I am fine being single. I am open to the idea of love again. Marriage not so much right now. I make friends and hang out, get to know them. I don't date because today's dating scene seems to be nothing more than a meat market. See something you like and hit the like button.
So in the meantime, I have begun creating again. I have written a new CD. I hired a manager and am actively pursuing my music career again. My children are nearly grown and have made me a proud father by portraying the mature ideals I have poured into them on a daily basis.
The other day a woman I had pursued years ago between wives saw that I was doing well and sent me an email. In it she said that though she was still with her deadbeat boyfriend, she feels she may have to dump him and get with me. This made me laugh. I am always the same man my mother raised. Caring and responsible. But I like so many want to be wanted for myself, not for what I have. Someday when I am done building a legacy, I'll try again, but with new criteria and expectations. Have I been unlucky in love? Yes. But love is so much bigger than me, and to close down after two or three bad situations would rob me of what I know exists.
divorce