The Two Types Of "The Other Woman" - Which One Is She?
Sometimes it helps to know who you irrationally hate.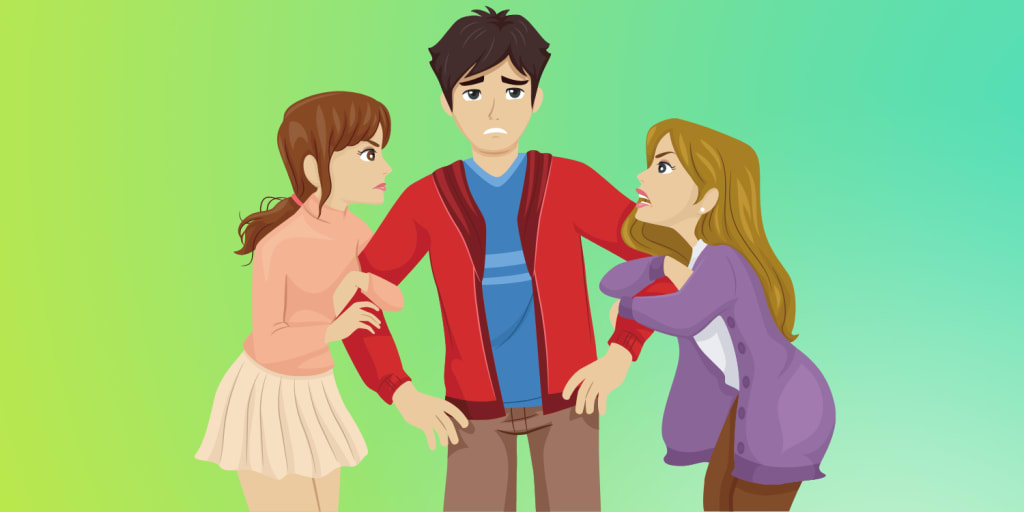 Affairs aren't that complicated. 
It's our distorted hormones and emotions that make something more than they are.
In reality, affairs are simply a transaction between two people. It's all business. It's the exchange of emotion, sex, physical connection, or something far deeper.
With my experience with my former lover, it's been a transaction between a man in a relationship and me.
Another aspect of an affair we overcomplicate is the other woman. I don't love admitting to being the other woman. Not only do I harbour embarrassment and regret over my involvement, but I also despise the stigma of being the other woman.
It's like a criminal conviction. You can't shake it.
Being the other woman comes with all the stigmas and assumptions, like those locked behind bars. Again, the world overcomplicating something that is quite simple.
The other woman isn't a convoluted person. Their plight isn't this big conspiracy theory with multi-level dimensions to their actions.
The other woman is either a passive or active participant.
Let me explain.
The Unaware Other Woman
I feel sorry for the unaware other women. I have been that woman several times in my life. It would seem I attract guys who like to cheat. But that's for another time.
The unaware other woman is the victim in this situation. They believe, with their entire heart and conviction, that they are dating, romancing, or having a fling with a single man. 
They also believe they are in a certain stage of a relationship with the man. It could be the start of a long-term relationship. It could be they're beginning to feel this is someone they want to be with.
Affair isn't in their vocabulary because admitting to having an affair would imply they know they are the other woman.
The unaware woman is just that, unaware. They don't know the man they are with is in another relationship.
How they find themselves in the affair
The unaware woman literally finds themselves in the middle of the affair. It's the ultimate wrong time, wrong place scenario.
You usually find out you are the other woman by chance, by someone else telling you or by discovering the other person's life. Or, as it's happened for many, through social media and Catfish-like behaviour.
For me, it was when a friend of mine pulled me aside at a party and told me about my then man's girlfriend. 
"I'm friends with her," this friend said. "What are you doing with him?" I remember the heat swelling on my face. I felt this intense and unwavering embarrassment like I was caught in public without pants.
I had no idea. I was the dupe.
The key to the unaware woman is how her involvement in the affair isn't active or planned. Or even known about. 
For most unaware women, if they knew the man was unavailable, they would have walked away from the outset.
How they feel about the affair
The unaware woman feels horrified by their involvement in the affair. When they find out about who they are in this situation, they normally exit the situation. 
They break it off with the guy, they distance themselves from having ever known them and retreat elsewhere.
What defines the unaware other women is her sense of duty. 
A lot of them feel the need to tell someone about what happened to them or rectify the situation. They often seek the unaware girlfriend/partner/wife and let them know their partner is cheating on them.
I didn't do this, I must admit. I wrestled with it a lot, though. Mutual friends talked me out of it. 
I try not to live my life with regret, so I've accepted this decision. I'm only human though, so of course, I wonder what would have been if I said something.
Is the unaware woman an idiot?
When I was an unaware woman, I felt like an idiot when I found out. How did I not know he wasn't single and that he was cheating on his girlfriend with me?
But when someone tells you they're single, you believe them. You don't immediately jump to questioning if they're really available to date.
Surely, though, you knew they were unavailable, right? 
The unaware woman is the dupe, as much as the girlfriend/partner/wife is too. They've had the same lies fed to them, had the same wool pulled over their eyes, and they've been the victim of manipulation.
I can see how any victim in this situation could look like an idiot. You certainly feel like one. 
When people are good at manipulation, everyone is an idiot. Yet, it doesn't mean they're dumb, unintelligent or anything like that.
The Conscious Other Woman
Both parties often premeditate the transactional affair. Both of them know the situation, know one or both sides have partners, and still agree to cheat. The woman in this scenario is the conscious other woman.
She consciously knows everything about what getting into an affair means. She knows:
The man has another partner at home
The man is more than likely going to hide her from most of his life and all public situations
The man won't be available in the same way a faithful partner is
The disaster if anyone finds out about the affair - the stakes of the situation
The reality of a long term with this partner - or lack thereof, in most cases
She is complicit in the affair. She agrees to keep the secret. She knows she is part of a cheating scandal.
How they find themselves in the affair
Some conscious other women come across the affair opportunity by chance. They aren't always looking for a taken man to make their own. 
Often, they find someone they like but it turns out they are in a relationship. With some negotiation of sorts, both parties agree to carry out the infidelity.
I'm as equally embarrassed to admit I've been the conscious other women. I knew the guy I was hooking up with had a girlfriend. It didn't seem to matter to me because I had a boyfriend. We both had everything to lose. It was kind of perfect.
But our union started as a cold, business-like transaction. We admitted to finding each other attractive, and that we wanted a physical relationship.
Cold, unfeeling, planned sex outside of our relationships. 
That's how it sounds, as I replay it in my mind. This affair lasted years and ended with a flurry of emotions on both sides. Yet, it all began with a simple transaction.
How they feel about the affair
To be the conscious other woman, you aren't void of feelings. You aren't the ice maiden, or this calculated witch set to destroy the world. 
But unlike the unaware woman, the idea of having an affair didn't horrify you. You're a willing participant in it, for goodness' sake. You can't feel that horrified.
What the conscious other woman knows is that she isn't to blame for this situation. She isn't holding a gun to the man's head. She isn't forcing anyone to do something they don't want to.
She also knows she isn't solely responsible for the demise of any relationship. Is she encouraging it? Sure. She's making the situation easier. 
But it's not her relationship to destroy.
The "Pursuing Woman"
Like every rule, there is an exception. There is always the woman who defies the logic we know about the "other woman". Every so often we meet the other woman who hunts the married man, who craves the unobtainable. And they do everything in their power to take what's yours.
This woman is the one who gives the unsuspecting other woman a bad name. She ruins our faith in humanity and the female empowerment movement.
I can't justify this type of woman, reason with her, or even sympathise with her. I can't even get inside her head.
If you come across the other woman with these motives, run. Understand your relationship is completely screwed because of her inability to comprehend the concept 'no'.
Even if your partner's willpower is stronger than a concrete wall, she's like a thorn in your side. She sucks your energy, patience, faith and trust.
And she can break a relationship without ever physically interfering with your other half.
Get far away from her.
Do you hate the other woman?
If you're the scorned wondering which type of other woman is having it off with your man, you know by now. 
She's either completely innocent, unaware or being played like you are. Or she's agreed to your man's arrangement and seemingly doesn't give two hoots about you. Sounds about right?
Here is the temptation most of us need to resist: labelling the unaware or the conscious woman as bad people, home wreckers, or the reason for your misery.
The reality in this situation is bleak. It doesn't actually matter how involved the woman is. She might have had a gun to your man's head. It still isn't her fault.
It's the man's fault. He cheated on you. He broke your trust. He betrayed your relationship vows.
Who he did it with is largely irrelevant. Once you get past this idea, you're better equipped with dealing with what happened and channelling your anger and hurt to where it's most deserved.
The other woman is who she is. You're not in a relationship with her.
About the Creator
Writes about romanceships (romance + relationships) | Loves to talk about behind the scenes of being a solopreneur on The Frolics | Writes 1 Lovelock Drive | Discover everything I do and share here: www.ellenjellymcrae.com
Reader insights
Outstanding
Excellent work. Looking forward to reading more!
Top insights
Compelling and original writing

Creative use of language & vocab

Easy to read and follow

Well-structured & engaging content

Expert insights and opinions

Arguments were carefully researched and presented
Eye opening

Niche topic & fresh perspectives

Heartfelt and relatable

The story invoked strong personal emotions

Masterful proofreading

Zero grammar & spelling mistakes

On-point and relevant

Writing reflected the title & theme
Add your insights