The silver lining outside my window
A view that inspires me with possibility.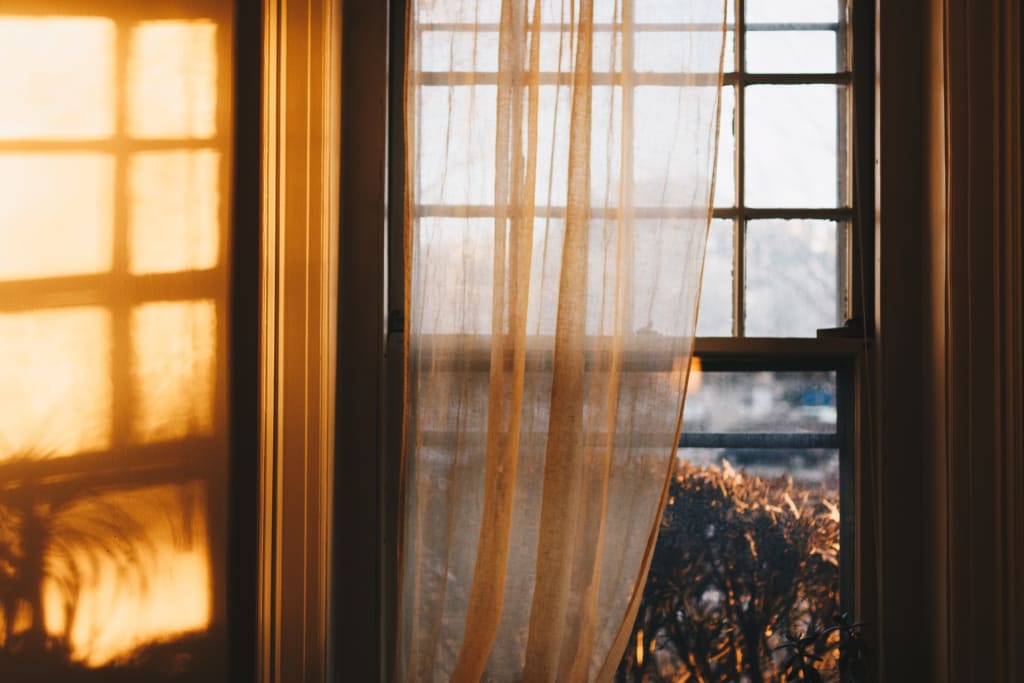 Photo by Kelly Sikkema on Unsplash
It's 12:37am at night, I haven't been to bed yet and as I lay here for the millionth time since we moved to Edmonton 8 months ago, I suddenly notice the faintest lavender scent from the multi surface antibacterial cleaning solution of the steam mop I went crazy with earlier, while giving the whole apartment a deep and thorough scrub down (I've been known to get a bit clean-freaky from time to time), and as I look around me, surrounded by the satisfying and weirdly comforting scent of cleanliness, I can't help but admire, with a bit of pride I confess, the masterpiece that I consider our apartment's decoration to be.
I'm obviously not a professional, but I do believe I have created a really special and uniquely personal space that, at least to me, feels as an outward expression of something deeper and more personal than just mere decoration. I did it myself with complete creative freedom and the blessing of an incredibly receptive and patient (albeit sometimes full of playfully snarky comments about my peculiar choices) Mau, who so gracefully bequeathed me with the task I so eagerly wanted to take on anyways.
My favorite thing about it by far, is that it is filled with what again, to me, are unique and maybe even one of a kind pieces that I've found by patiently scouring any handmade, vintage, antique and thrift store I could find, both online and in brick-and-mortar retail. Always looking for those uniquely captivating items that catch my eye and either make my heart skip a beat for whatever the reason, or remind me of something, someone or someplace near and dear to my heart.
Take my pastel coloured, brass detailed, tabletop, vintage globe for example: it stands in the corner of the living room, atop our 4-tiered, glass-doored cabinet (used as part bookcase, part bar, part Lego collection display), proudly displayed sitting on top of National Geographic's hard cover copy of the book "World's Best Travel Experiences", nestled in between a lamp, a large picture frame (with a picture of our little family on a bridge back in Saskatoon, SK) and Mau's blue VW Bug Lego on one side; and another picture of us on a boat (taken during a trip to Playa del Carmen, Qroo.), an Eiffel Tower Lego and our brass-wire 7-bottle wine rack on the other.
But more than just being an "interesting" decoration piece, to me, it symbolizes my love for travel, my curiosity for the world, my desire to discover and experience as many places and cultures as possible, it brings back the memories of past travels (both alone and with family or friends). It also serves as a bit of a hopeful reminder of all the adventures and trips yet to come, and a hundred other little things. And it's the same with almost every single thing around me, even if the place is not 100% done yet (sorry Mau).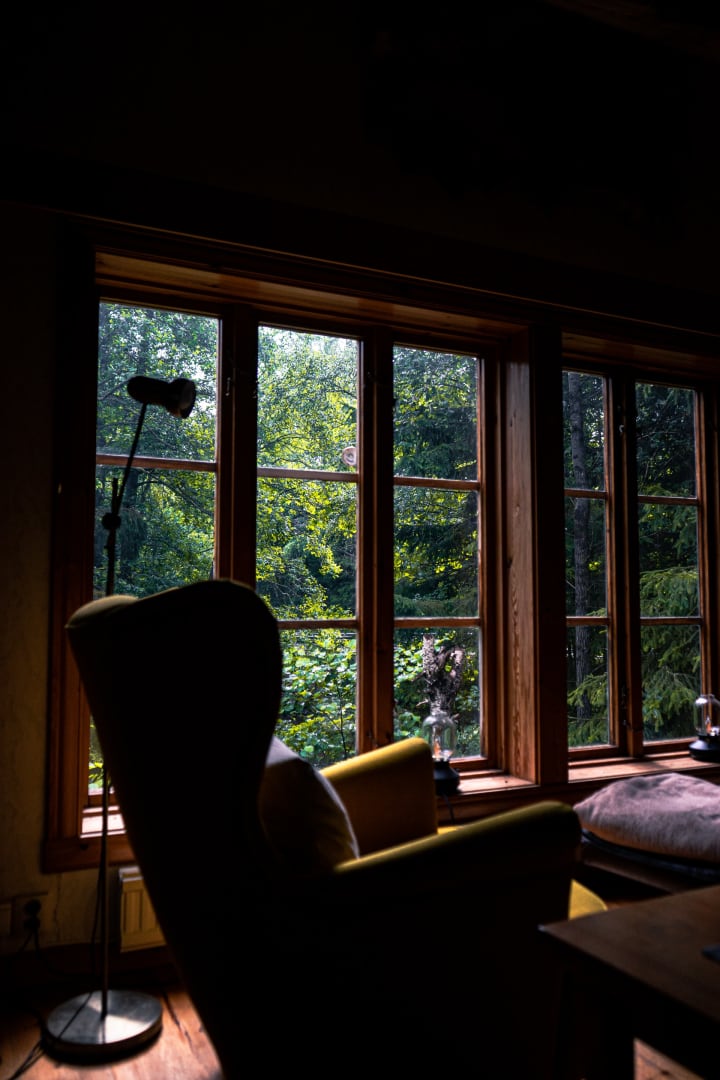 Point is, I absolutely love the way it feels to just lay here across our gray couch with Molly peacefully sleeping and lightly snoring by my feet; the off-white privacy accordion blinds completely open and the eggshell coloured curtains each pushed to the side of the most perfectly large, east-facing window that sits right in the middle of our living room looking out first, towards a couple of beautifully tall and almost fully-bloomed trees and then towards the parking lot of our U-shaped three building complex, with ours' sitting in the middle of the other two on either side.
If you look a little further down, past the parked cars sitting in their individually-numbered parking stalls in front of their respective and almost identical buildings with their freshly-landscaped grass and shrubbery on opposite sides of the central street that connects all three buildings, you can see the edge of the greenery surrounding a manmade pond (we live in Canada so it's technically a storm water management facility but whatever, pond sounds way better) enclosed by houses with an encircling pathway filled with trees, grass, bushes, what looks like a family of ducks (we've seen a couple of big ones and a couple of baby ducklings, so I assume), a bunch of squirrels, wild birds, geese and even a few beavers we've seen happily swimming about, and a little bit of sky.
But in the darkness of the night, all I can see at the moment is the same eggshell coloured curtains pushed to the side of the same east-facing window, with the off-white privacy accordion blinds slightly open, letting both the sharply bright light of the entrance skylight of the building on the right, and the warm and golden one of a number of neighbor's windows and string-lights hung on balconies, peek through and distract me for a bit. Fellow night owls- I think to myself- while the door to the balcony, wide open for the first time in I-don't-know-how-many days (it finally feels like summertime), lets the night breeze lightly flow inside, slowly filling the place with fresh air; not too cold, not too warm, just the perfect temperature.
And in this moment inside the four walls that I now call "Home", looking through my favorite window, precisely 4385 kilometers (or 2724.71 miles) away from the place, back in Mexico, that I called home for all of 29 years, listening to the leaves of the trees outside gently swing with the wind, and somehow feeling what feels like the calmest, happiest, and most at peace I've felt in I don't know how long, I can't help but lose myself in thought, reminiscing about the unexpected string of fortunate events that led me to be here today; loving the life we're slowly building for ourselves and loving the simple, yet enticing, view that sits outside our living room window and that so effortlessly reminds me of and helps me appreciate (that much more) all the little intangible things that make this place, my very own personal paradise.
It is now 6:43 pm and the view from the window is completely different yet equally, if not more, enticing. It is now full of warm and inviting sunlight that inevitably makes all the brightly coloured things outside (the sky, the grass, the trees, the flowers, the summer- themed and patterned outfits and outdoor-activity gear people are wearing, the bikes, skates and skateboards they are riding, the reusable shopping bags they are carrying, etc.), pop out like a deconstructed and multimedia rainbow of colors and sounds that sometimes reminds me of those vintage poster commercials that depicted snapshots of "perfect" suburban life from way back.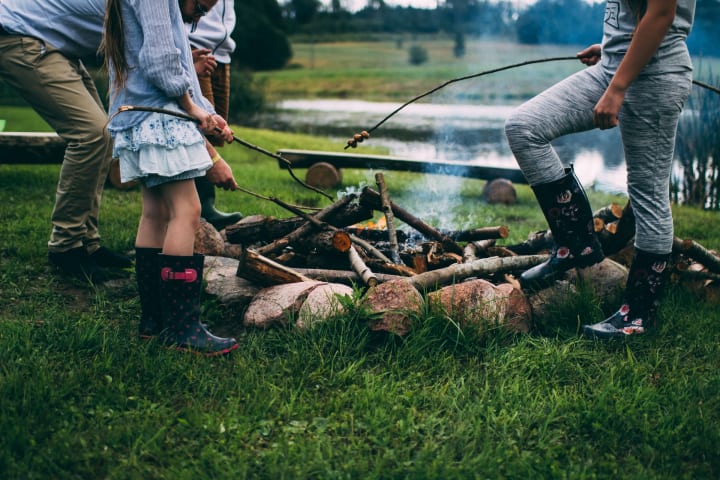 Of course it is not only what I can see that reminds me of those posters, it is also what I can now (after a long Canadian winter) hear around me whenever I take Molly outside for her regular potty breaks throughout the day. Once outside, it feels weirdly surreal, like stepping into that picture-perfect image of "perfect" suburban life I'd been admiring from afar. Suddenly finding myself surrounded by fresh air gently floating both my hair and Molly's light blond and long-haired ears; listening to the various hidden wild birds happily chirping from their tree branches as we walk down the sidewalk, past the pond and towards a nearby pathway sitting between opposite rows of houses where I proceed to remove Molly's leash (it's ok, there's no one else around and she's surprisingly very well-behaved) so as to let her roam safely free without the worry of traffic or passerby.
We walk down the path silently enjoying the warm weather and the soft caress of the fresh air on our skin when, out of nowhere I suddenly realize there are a wide variety of unexpected and new sounds and voices coming from all around us (I love walking her without earphones); and as I begin to focus my hearing (ok, eavesdropping a little), I start being able to make them out: someone barbecuing on their backyard (I can even hear the sizzling and smell the smoke coming from the grill), kids running around playing, giggling and screaming, people laughing and chatting carelessly, music playing in the background, dogs barking, balls bouncing, and a million other little sounds surrounding us with life, that again bring my mind to the vintage poster commercials.
And why is that? -I wonder- Maybe because I, like so many other Mexicans like me, grew up hearing from parents, grandparents and elders in general, all about those "simpler times" way back when and I've romanticized them into a somehow "better" time when people had the actual time, money and interest to live and simply work for a living, as opposed to now where people seem to live to work; a time when family was at the center of everyone's life; a time when children were free to play safely on the streets with their neighbors, when they played, learned, and learned playing outside all day long as opposed to being permanently attached to a bright screen; a time where human interaction and real communication was at the core of everyday life. Basically, a utopia, I know.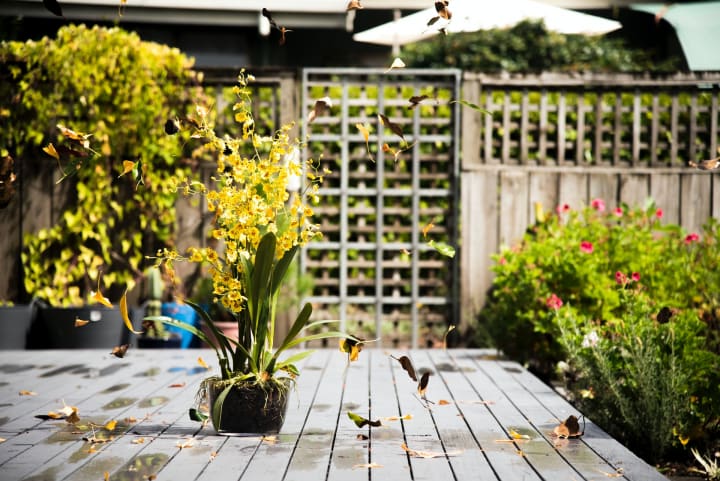 But as I now sit here, in the same grey couch enjoying my afternoon break and sipping my freshly brewed cup of (decaf cuz', adult) coffee, admiring the view while the branches of the trees swing back and forth with the wind, watching the occasional neighbor coming and going in and out of their respective buildings and people walking their dog or simply out taking a stroll, while a mixture of soft blues music and the loud crunching sounds of Molly enjoying her carrot (she loves them since she was a puppy), plays in the background I realize that is exactly the unexpected opportunity this whole situation has inadvertently given us: the opportunity of creating our very own way of life, with what we're given and able to do and have, that both works and is enjoyable to us.
If we're completely honest and we really think about it, we all have things we are grateful for that came with or resulted from this unexpected and somewhat nerve-wrecking set of circumstances. I know because a friend of mine recently made a poll on her Instastories asking exactly that and people answered with all kinds of positive things they were grateful for and appreciating during these uncertain times.
Moms grateful for being able to spend precious time alone and pressure-free with their newborn babies and children in general; people generally grateful for being able to spend more time with their families all together and not separated by their various differing schedules; people grateful for having the time to build new businesses, pursue creative projects and dreams, try new workout routines, learn or even teach new skills, read otherwise forgotten books, and to simply rest. People apparently thriving and tapping into what was once their unknown creative side and pursuing artistic projects and businesses; people innovating.
But more importantly, people being appreciative of our previously taken-for-granted freedom and for having the time for introspection and empathy in a society so enamoured with selfishness, outward appearances and their fake meaning; people realizing the banality of what they previously considered to be "important" issues, problems or worries, realizing there is so much more going wrong around the world. People simply realigning their priorities. And all that positivity and growth came from the earth-shattering, nerve wrecking, confusing, dark and uncertain times we are living in today.
And in the end, I know that in life, just like with the view from my window, even in the darkest moments where all I can see is what is missing, I have to remember to look for the silver lining that is always, always, always there. In this case, knowing what that almost entirely black landscape only lightly speckled with the moon, the occasional star in the night sky and the dimmed glow from variously sized lightbulbs shining from a variety of places, actually looks like and even feels like in all of its brightly colorful glory during the day. That, is my silver lining.
So that is exactly what I plan on doing from now on, no matter what, for as long as it takes, until we are living a life we're happy and at peace with, feeling fulfilled in and simply enjoying, I'm looking for that silver lining. Because no matter how long we're forced to stay inside, or how much our old world and our previous way-of-life changes and how what was once considered "normal" will no longer be, I choose to believe that in the end, if we all do our part, it will be for the better. In the meantime, I will continue to look out my window, knowing I am safe at home, and imagining what will be.