The Problem With Having Too Many Friends
Here's what people think you're up to.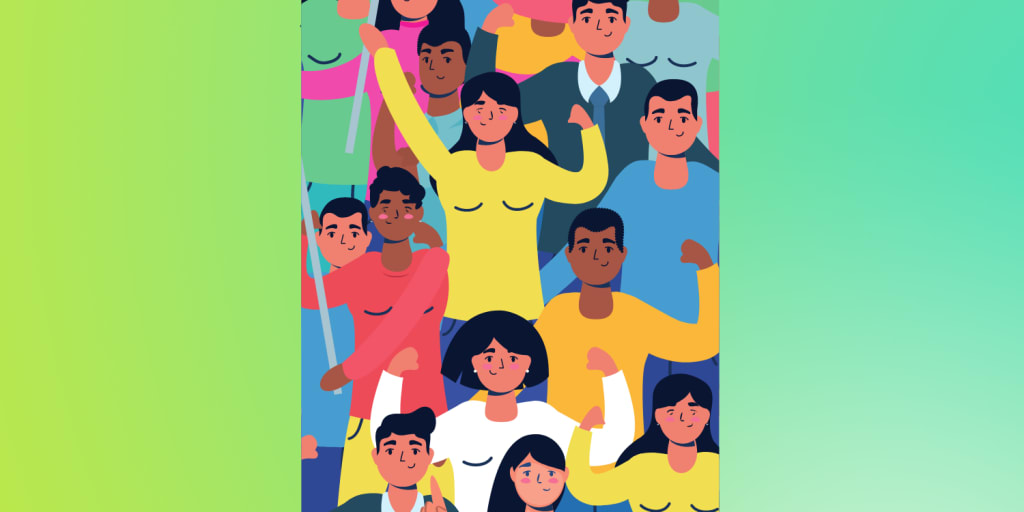 Friends and friends and friends | Image created on Canva
Back when you were in high school, having lots of friends meant you were cool. Now you're grown up, everyone wonders what's wrong with you.
I'm sorry for the brutal reality check. Here you were thinking it was a wonderful quality of your life. Surrounded by friends, how fantastic.
Here you were thinking that friendships are important to you and the idea of letting them go doesn't sit well with you.
But there are people in your life who are looking at your mass of friends and wondering about their relationship with you. Selfishly, yes, but that's how people analyse their relationships and evaluate who's in and who's out.
We're bred to think lots of friends is a good thing. The more you have on social media, the more popular are.
The more people who come to your birthday party, the more people like you. It's all about the volume of friendships when we're young and dumb.
Yet, when you grow up, when you surpass the age of "young and dumb", your ever-growing friendship circle doesn't always mean you're winning at life.
And for some of the people in your life, they're wondering the worst about having too many friends.
Here's what those people are thinking.
You don't have enough time for everyone
One of my closest friends has hundreds of friends. Almost every day on Facebook, they're posting a collage tribute to a friend's birthday. When I go to this person's house, there is always someone dropping in, seizing their time away from me.
And when I try to organise a catch-up, it takes months to nail down a time.
People in your life are wondering how you logically fit into their life. They want their time with you. But they're constantly competing with everyone.
It doesn't mean people shouldn't have lots of friends to appease one person's time demands. That's not what this is about.
It's about you having so much time in a day/week/month/year and how impossible it is to accommodate everyone.
You keep friends for the numbers
This is an assumption people in your life are making, and are quite possibly getting very wrong. You're only keeping friends in your life because quantity reigns supreme to you.
This might be the case, it might not be. Only you can truly answer whether you hoard your friendships and are unable to let people go.
But it's important to understand that keeping people in your life based on the numbers can imply you don't actually care about people.
It implies you're more interested in collecting people like trophies, something you stack on your shelf rather than care for.
We often accompany this assumption with other problems, too. If a friend is feeling neglected, or like they're competing for your attention, they assume they are just another number to you.
You're not capable of meaningful relationships
Some people in your life are going to assume your hoarding friendships is an avoidance tactic. You keep many friends around so you don't really have to be close to anyone.
Though it might seem counterintuitive, we're known for making parts of our life deliberately harder for ourselves to avoid doing what's difficult.
There is no shame if you find meaningful relationships hard to build or maintain. I've been there, like so many people. But avoiding it by adding more people into the mix isn't the solution either.
You may think you have meaningful relationships with all your friends, by the way. Meaningful relationships are a matter of opinion.
But if your friends are thinking this about you, my guess is that they don't believe what you have now is very meaningful. To them, it feels superficial.
You won't be there when someone needs you
Here's the question I've often found myself asking about the friend I told you about earlier. When I need them, are they going to be there?
I'm not talking about being there when you need a second set of hands to lift heavy furniture. I'm talking about all those occasions in which you take more time from your relationships than what you're able to give back. It's when, for example:
You get sick, are in hospital, need physical or mental care
You're struck by grief from the death of a loved one
When you are going through a break-up
When you are having legal issues with work, family, or both
When you have employment issues such as redundancy or you're faced with stressful decisions
This is only a shortlist. There are many more situations in which people need their friends when the quantity of relationship time is the main demand.
If you can't fit people into your life now, your friends will wonder what will happen if something like this happens to them. Will you be there? How can you be there if you're so busy?
I'm sure you're thinking; of course, I will be there. I'm a good friend.
But some people won't even tell you they're going through such a crisis because they know it's impossible to nail you down during a normal day.
You're holding onto friends for a financial rainy day
This is a contentious one and definitely doesn't apply to everyone with lots of friends. Yet, I put it in here because we're all culprits of doing a little bit of taking without giving. Let me explain.
I've been the scorned friend who thought someone was close to me, or thought they wanted to be friends with me, but was using me. 
They wanted something from me.
Three times in my life I've had an old friend beg me to get in touch, reconnect in person, and rekindle what we had at the peak of our friendship.
Every single time, the friend catching up with me wanted something. Two wanted my input on their business, the third wanted me to help evaluate an idea they had.
They had kept me as friends on social media for years. They kept me hanging on, thinking we were something that we weren't.
It hurts to think people keep you in their life to use you like that. Yet my story is a common one many people I know have experienced.
What we all share in common is the fact the friend duping us had lots of friends. They keep using. 
They keep hoarding.
How to address this issue when it's real for you
As you can tell, there is a lot of assuming going on. People are making assumptions, wrong and right, about your life. These assumptions aren't helping anyone.
There is no wrong or right in this situation. You're not wrong because you have lots of friends. But your friends aren't wrong for taking issue with your behaviour, either.
Nor are they wrong for feeling worried about how close you really are with them. It's a fair assumption.
Now you've realised that your excessive number of friends is sending the wrong message, you can live with people assuming these things about you. You can also live in blissful ignorance and assume the people in your life don't think this.
But I warn you; just because they aren't saying it doesn't mean the thought hasn't crossed their mind.
Do something about your hoarding - If you are someone who lives by this belief of more is more, it might be time to re-evaluate your hoarding before it goes too far. Some friends might not stick with you if they feel like you're only with them for the numbers. And if you care about them, you might lose them.
Avoid combining friends for convenience - It's tempting when you're spread thin to kill two birds with one stone. In this instance, it's catching up with mass groups of friends at once. This only reinforces that you don't have time for everyone individually. Confirmation bias at its best.
Evaluate quantity and quality time - A friendship isn't strong because of much time you spend with each other. But if you have no quantity, it's impossible to give any quality to each other.
Inject time into important friendships - It's ok to put relationships in priority order. You're only human to have some more important than others. All relationships aren't equal, and this is when you need to live by this. The people you love need to know it before you lose them.
Get rid of friends that aren't important to you anymore - Declutter the friendships that don't matter.
Ask your friends if they feel neglected - This is what all this boils down to. Your friends feel worried they are going to be second in your life to the hundreds of other friends you have. Let them know you care. Let them know you're here and want to do better.
friendship
About the author
Writes about romanceships (romance + relationships) | Loves to talk about behind the scenes of being a solopreneur on The Frolics | Writes 1 Lovelock Drive | Discover everything I do and share here: www.ellenjellymcrae.com
Reader insights
Outstanding
Excellent work. Looking forward to reading more!
Top insight
Expert insights and opinions

Arguments were carefully researched and presented
Add your insights