The One that Got Away
The void you left is still draining all my emotions.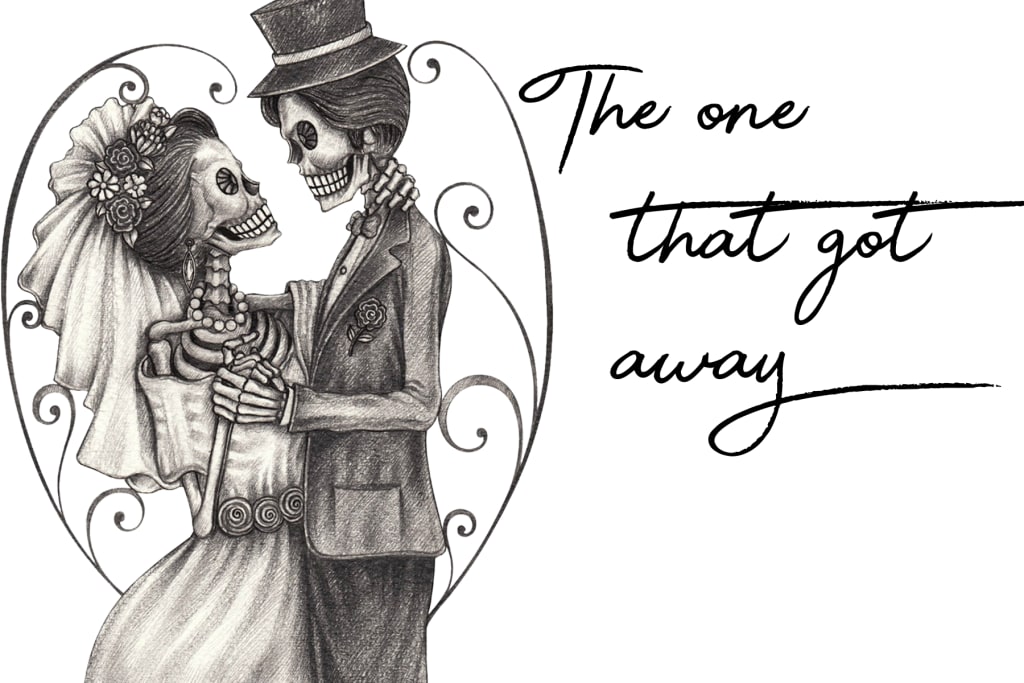 Sometimes dealing with a breakup is not easy at all.
Dealing with that big hole inside our heart is just too difficult, especially if we know from the beginning that our story is not going to last.
Sometimes time won't fix anything and I'm pretty sure that almost everyone who is reading this is still dealing with a heartbreaking relationship.
Just know that you're not alone and that it is completely normal to feel this way about someone you truly loved.
If you like it, please support me with a small tip or share it with your friends.
Enjoy!
~~~
Time heals everything, according to what everybody says.
Time will heal your wounded soul, fixing every broken piece of your heart, slowly stitching a smile on your face.
But is that true?
Many years have passed, and the memories of you still burn like a thousand flames inside my body.
I still remember the way you used to smell, that sweet perfume you always put. Talcum powder and green apple. Unusual, someone may say, but to me, it was just perfect.
I still feel your hands caressing me every time I cry because I'm so overwhelmed with emotions; "look, a volcano exploding. Run away, fools," that's what you always said to make me laugh whenever I was sad or angry. And I can still hear your voice in the back of my mind, like a sweet lullaby, just as if you are still here with me.
A part of me knows you're not here anymore, the other part refuses to accept it. I keep living with this eternal conflict inside my head, two different people fighting each other to fill up the void you left.
You were always the best at driving me crazy. You disappeared for days without telling me anything. Then, all of a sudden, here you were, outside my door with a bouquet of lilies and an embarrassed smile; "Do you want to go out for a walk?"You didn't even apologize.
Of course, I was stupid enough and too hopelessly in love to answer with a firm no.
That's how you always won.
As I told you, you were the best.
I knew I was your second choice. I was your "illegal love," as you always called me.
We used to go out at night, when nobody could see us, when we could be ourselves and let our burning passion explode in our secret lair just a bit outside the city.
Where your girlfriend couldn't find us.
I still remember the day you went away to never come back.
You bought me my favourite chocolate bar and you drove me to our secret lair. I could feel that something was wrong, so I tried to enjoy every moment with you.
We made love as if it was the end of the world, I gave everything I could ever give to you and I know you did the same.
"We need to talk," you had a serious look on your face. We lit up a cigarette and soon the room was filled with smoke.
"There's no need," I replied while tears were filling up my eyes.
We were still naked, seated with our legs crossed in front of each other, on the unmade bed.
"I'm sorry," you said with a whisper of a voice.
I wanted to say a lot of things, but I preferred to shout my mouth that time; I was so angry at you, but deep inside of me I knew that it was just a matter of time before our lives took different paths.
I still don't know why you chose me. You had at least five other girls looking at you, craving your attention with their sexiest outfit, with their lascivious gazes and with their sensuous moves.
And yet, you decided to beguile me, the shy girl sitting in the corner of the office, minding her own business, not dressing like a "hot girl" and not begging you to notice her, at least on the outside. Because inside of me I was so desperately attracted by you that every time I had to talk to you or tell you something, my knees were shaking so much I could barely stand still.
If time heals everything, why the void you left more than a year ago is still draining all my emotions?
If time fixes everything, why are you not coming back?