The Miracle of Commonalities
How social media and documenting one's travels can unite the world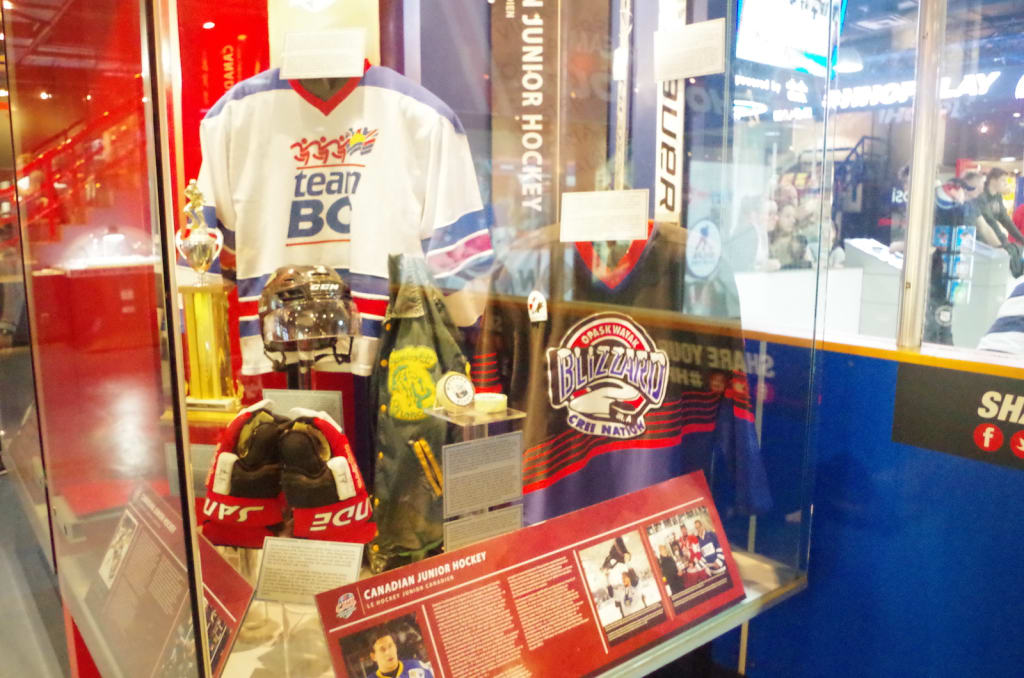 Looking at more than just the National Hockey League, there are smaller displays at the Hockey Hall of Fame in Toronto that highlight other leagues in Canada and around the world, helping create unity. Shown is a photograph of the CHL display.  Photo by Marjorie Roden
Though this trip to Toronto was unexpected, it has proven to be a source of inspiration for me, many times over. For instance, writing about the bright lights and showing how places like the Hockey Hall of Fame in Toronto are an immense source of world unity is something which is empowering. This article is not meant as a "travel promotional advertorial" by any stretch, as I am receiving no official sponsorship for this story (I certainly invite my readers to leave tip$ once they have finished reading it, as that would be the extent of any kind of "sponsorship"!). Seeing as many of the displays as possible and really trying to take in whatever knowledge I could from them is why it has proven to be an invaluable experience for me. Writing about what I saw— along with showing a few photos and/or videos—in a series of articles is to be the best course of literary reaction to take. Some of the other displays showed a few strokes towards an understanding of equality, a decent step towards reconciliation on North American soils.
Whilst in Toronto, I have started posting a few shots I have taken on my camera on my Instagram account (@coachmousie is my Insta handle) and as a result, I wound up getting into a conversation with one of my cousins in Australia, after posting photos, which included a shot of a Team Australia hockey jersey. As it turned out, one of her friends had played with the Opaskwayak Cree Nation Blizzard, a junior "A" hockey team based near The Pas, Manitoba, as well as playing in Australia for a while.
The query came up about what jerseys I had seen, with the query about whether or not I had seen his jersey, which had been taken in by the Hockey Hall of Fame. As I remembered taking a shot of a jersey from the Opaskwayak Cree Nation Blizzard, I looked through the files I had on my laptop. Sure enough, it was present in my desktop folder marked "HHOF," and I posted it on Instagram, much to his delight.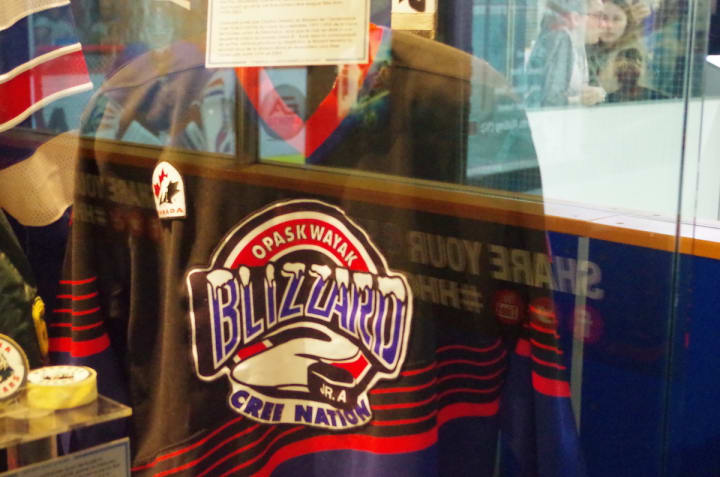 Of course, with everything being encased in glass, it sometimes proves to be a challenge to get an accurate photograph or image of anything within the Hockey Hall of Fame. There are many more displays, which shall be spoken of in my articles in the coming weeks.
However, I felt speaking about the simple yet quick exchange I had with my cousin Teresa, whom I haven't actually seen face to face since we were children, was something worth writing about. For instance, when another relative tried putting down my Mum's devilled eggs by saying "Those are devils you're eating, Teresa!" Teresa, in typical Roden style quite loudly proclaimed "I LIKE THEM DEVILS!!" is one of the fondest memories I have from the last time we saw each other, as well as one my mother also loves. Also, remembering she and I madly playing with my My Little Pony collection is among those memories. Certainly, that connection from our childhood has naturally led to she and I maintaining our long-distance correspondence over the years.
The value of being able to make those connections—which are literally worldwide—is something which may actually help bring about understanding to differences in society, on several continents. Perhaps it may even help create common ground between people in different multi-ethnic nations, such as in Canada and the United States. That being said, the experience of spending several hours during each day I've been able to afford it whilst in Toronto has been something which I hope to repeat the next time I am able to make the trip—on my own terms—sometime in the future.
social media
About the author
I make dramatic and documentary films, and have been known from time to time act and create visual art. And I also love hockey, hence why I write about it a lot! I also work professionally as a freelance writer and photographer in Canada!
Reader insights
Be the first to share your insights about this piece.
Add your insights