The Loving Humans Of Reddit
At A Time When The World Needed Love The Most They Opened Their Heart And Bank Accounts To Each Other.
Like most Americans today I am anxiously awaiting my promised stimulus check. At a time where the world is upside down, along with our finances, many of America's people needed the financial boost that the stimulus would provide. As with everything they do, the IRS was very vague as to who would receive the stimulus checks via direct deposit first or the algorithm of which they use to send to the banks. Due to the lack of information A lot of people have taken to social media, blogs, and whatever online thread they can find to compare notes.
For a little background, the IRS sent the first wave of stimulus checks out on the night of, Tuesday December 29. Since then people across the nation are sounding the alarm that their direct deposits are going through, pending, or no where to be found.
There's constant conversation trying to figure out which banks will release the funds and which will hold them. Which people are receiving theirs first via direct deposit and how many waves will there be? Is it based off of age or date of birth? Does income decide whose first or last? The questions are endless and the answers are no where to be found.
The long holiday weekend did not help the collective anxiety to receive the needed financial help. Add to the fact that paper checks were already being received as of January 2, the confusion and fear escalated.
I will give the IRS credit this is the fastest response that I have ever seen from them in regards to getting funds into the peoples accounts and into their hands. With Trumps week delay of signing they still held their end and released it at the same time they promised had he signed on time. They are working hard over the holiday weekend to get the funds where they need to go and that's great.
The lack of transparency and lack of communication is what made me worry. We all know that one little thing can cause a delay when it comes to the IRS. So, with that knowledge, not seeing a pending deposit was just as scary as the dreaded we need more information letters that the IRS tends to send when you least expect it.
After not receiving the scheduled deposit myself I decided to turn to my fellow people of reddit to see which banks had released the funds and which were still stuck in the waiting game like I was. I was scrolling through threads with hundreds of comments trying to compare their timetable to mine. I was looking for the people who were in my state or who shared my bank to see if we were in the same boat. What I saw there completely blew me away and brought me to tears.
Within the Reddit community there are stories among stories of people telling their reasons of why this check was so important to their households. People who were having to choose to either pay rent or buy groceries for their kids. People unable to buy medication or put gas in their cars to get to their third job that's needed to make ends meet. It was absolutely heartbreaking to see so many cries for help across our nation. People who dont know what tomorrow will bring while still wondering how they got through yesterday.
I got on the site thinking only of myself and what I needed but was quickly reminded that we are all suffering. We are all trying to make it work where it seems like it'll never get better. My worry, fears, and scarcity is not mine alone and there is someone else out there that understands or who is going through the same financial crises'.
As I read story after story and continued to scroll something amazing started to happen. The people who were voicing their needs were met by people who were also in the struggle but willing to help.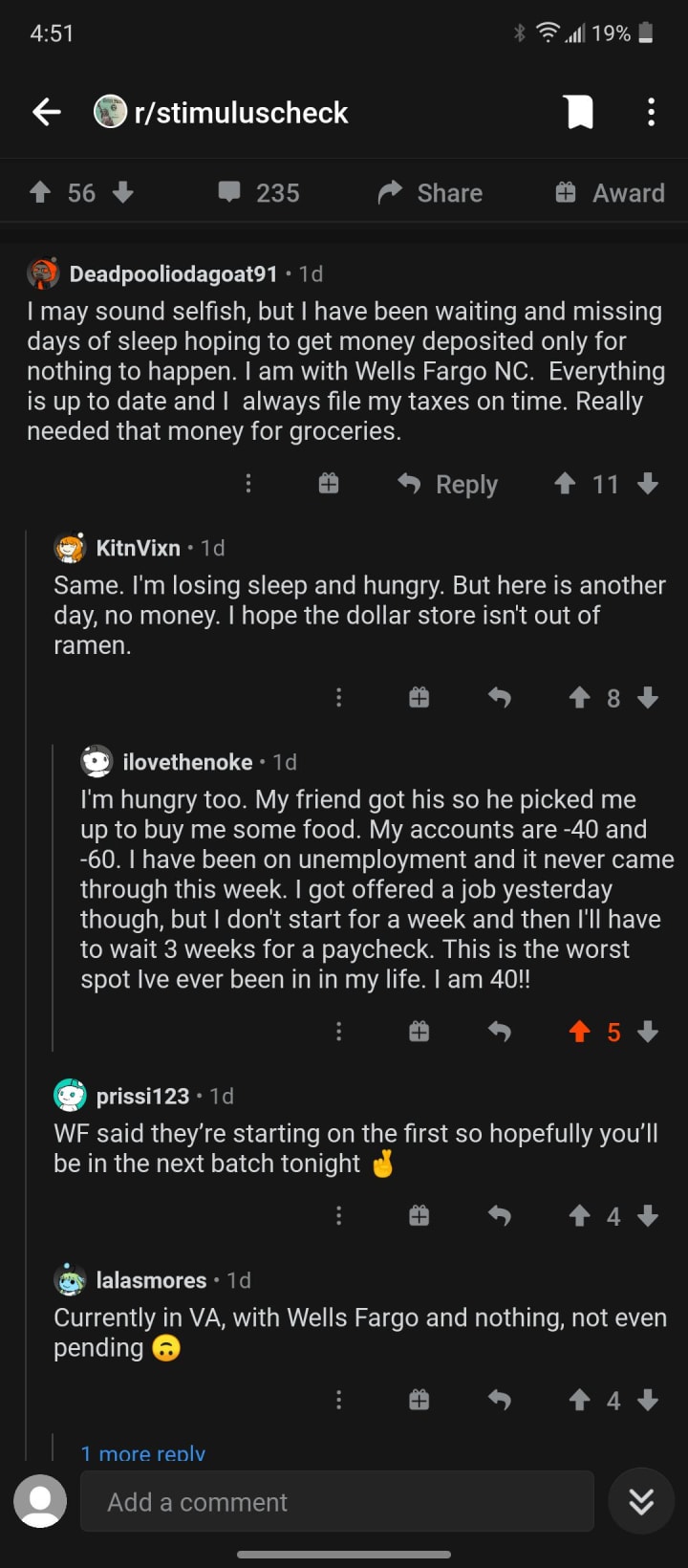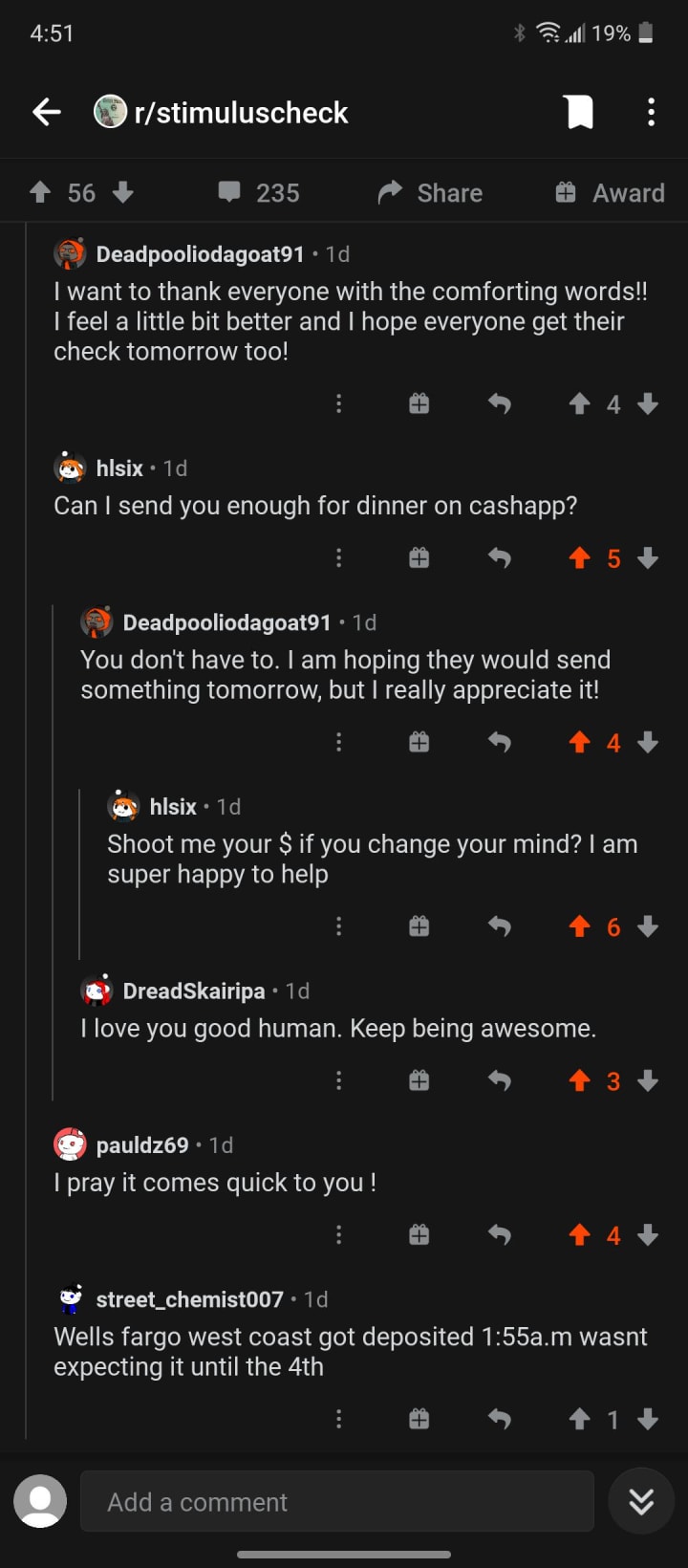 There was a mutual understanding that some people had it worse off and everyone was coming together to cash app, send groceries, or paypal whatever they could to the people who were in need. It reminded me that yes, I am struggling to get by but there are people out they're going through worse. It also reminded me that good people really do still exist. People who were saying that they were down to their last 50 dollars and needed the stimulus to pay rent were still willing to give their last to the lady stating she had no groceries to feed her kids. There was no laughter, no rude jokes, no proof needed. There was understanding, words of wisdom, and information given for food banks, shelters, and outreach programs for those in need. At a time when it started to feel like the world was falling apart, people were coming together to keep us all standing until we got through. No questions asked and nothing expected in return.
I know these days we are always hearing in the news about large tips being left at restaurants, people paying for the vehicle behind them in the drive thru, and all the other great deeds. However, this one really hit me in the feels because these people had no face to connect to these usernames. They had no extra money to give themselves. yet, even after mutual agreement that they were down to their last, still, they wanted to help.
When we take a step back from our own problems and acknowledge that there are others out there suffering as well, I think it opens our hearts and our hands to help. I think as a whole we start to realize that our problems are not as big as we think that they are and that together we can get through it. To see a stranger tell and show love to another stranger made me realize the true affect and meaning of loving our neighbor like we love ourselves. 2020 built the foundation of kindness and giving and 2021 is putting that stronghold in to action.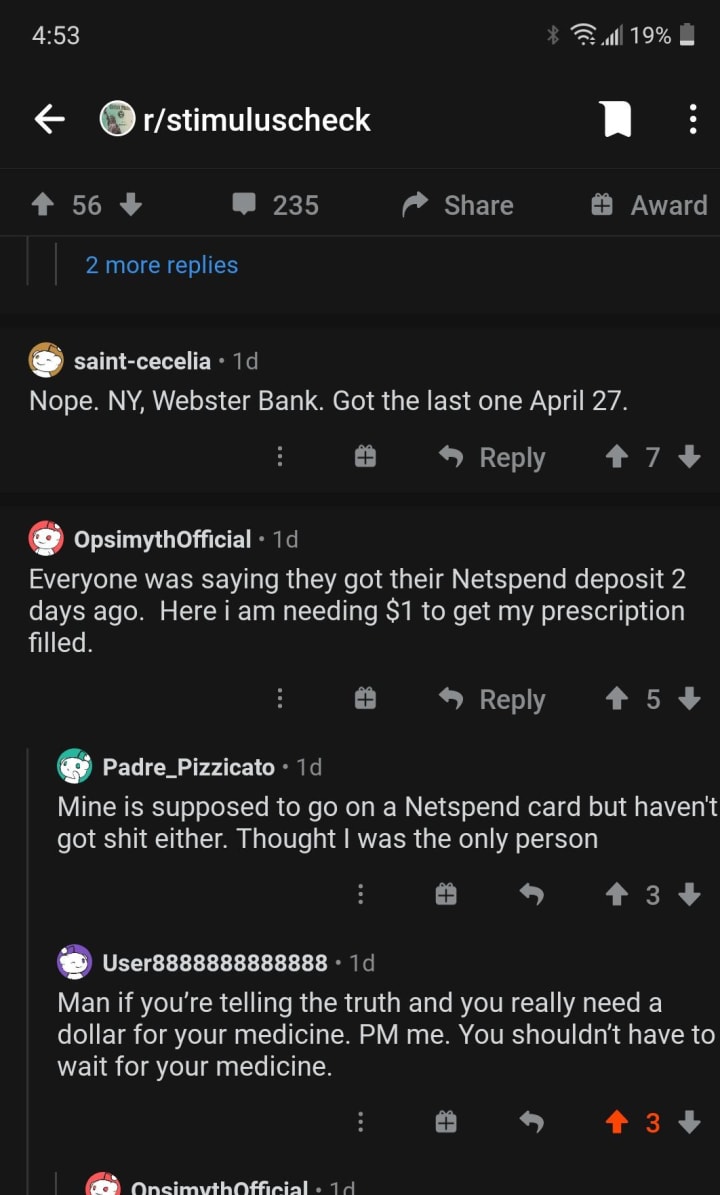 social media
About the author
A little bit of everything from Psyche, to fiction, to poems. Come take a look around, we're all friends here!
Instagram: @thatgirlbluedymond
Facebook: Blue Dymond
Reader insights
Be the first to share your insights about this piece.
Add your insights