The Long & Winding Road: My Cozy, Little Corner of the World
Second Place in Cozy Corner Challenge
A home away from every home I'll ever know.
If there's one thing I crave more than anything else, it's my solitude. When the country first instated the initial few days & weeks of stay-at-home orders as part of Covid-19 safety protocols, I thought well how much different is that than what you're used to? You can do this. While I identify predominantly as an extrovert, my occasional introversion is domineering & cannot be ignored when I require a decent amount of social-battery recharge. I identify with seas of people but have always found it difficult to really belong. So I tried my best to attempt to gaze at this opportunity through rose-colored glasses rather than through shades designed entirely to block out the sun.
This is a time to reconnect with yourself. Fall back in love with those passions and hobbies you've been neglecting. Make your space your own. Relax in your bed and really enjoy it. For once you get to decline plans and not feel guilty at all. It's what you're supposed to do right now.
However, as time wore on, I grew tired of being confined to the same spaces. I had run out of new and interesting ideas on how to stay occupied.
Wake up in your bedroom. Venture to the kitchen for breakfast. Idle chit-chat at the dining room table with the people you live with. Back to the bedroom. Hours go by as you work on your laptop. Take a "walk" to the living room. Shoot, someone else is already watching tv there. Back to the bedroom. Paint for awhile. Maybe go for a run. Head to the kitchen to make dinner. Take a shower. Back to your bedroom, and now it's time to sleep...only now you can't fall asleep because you've spent almost the entire day here, and your brain is confused about whether you're meant to work, play, or rest in this space. Do it all again tomorrow.
It's the same old, silly routine. So where else do I turn? It's at this point I seek the one place that truly offers me an escape I know I can for sure call my own, a space I've made my own happy place: my Kia Optima, my cozy, little corner on the open road.
People always laugh when they ask me my favorite hobbies and "driving around listening to music" appears on the list. Some people drive to simply get from point A to point B, driven (quite literally) by obligations in some capacity. Some avoid driving at all costs. I, however, seek refuge within those metal walls, able to feel like a part of the world while keeping my own safe distance, both physically and mentally. I've always loved driving around, solo and with friends. Little did I know just how important that space and activity would become in the throes of a global pandemic. To me, that car is, and will forevermore be, a home away from home. (& Hey, I didn't make all of those Spotify playlists to not spend half my life driving around & screaming along to them at the top of my lungs.)
While the timings of my daily drives vary with my mood and responsibilities on any given day, I make it a point to carve out time in my schedule every single day to take a joy ride. Let's call it glorified self care. As I climb into my humble engine-that-could, my mood immediately improves. (Serotonin, lemme hear you scream!) My tears? Seem to vanish if only for a moment. My smile? Already even bigger. Whatever trajectory my emotional journey takes from here usually depends on whatever playlist I choose to set the stage. As far as my geographical journey is concerned, the starting destination remains the same. Every time I get behind the wheel, it always seems to lead me straight to the Dunkin' Donuts drive-thru. It's really the strangest thing! (The science behind this phenomenon is currently under investigation.)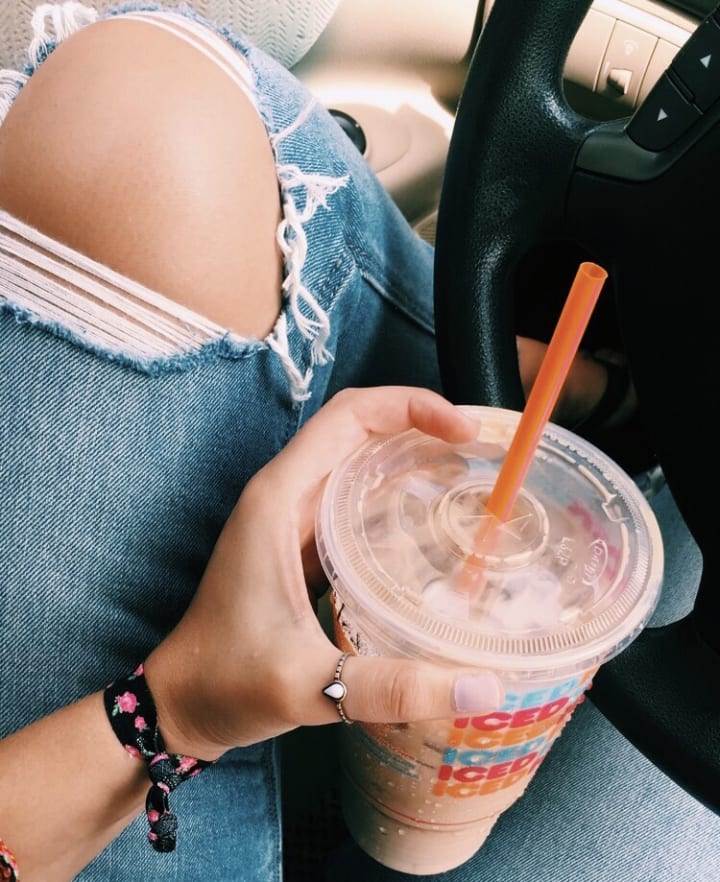 While I'm alone at the wheel, I'm not lonely. I've adorned my sun visors and glove box with pictures of those I love most (some pictured below), the memories I've acquired with them in that very car over the years seated in my passenger seat. My dog's first collar dangles from the rear-view mirror, a small piece of her accompanying me on my travels when we're apart because car rides are her favorite. My keys, donning the adorable Funko Pop! Dustin from Stranger Things (also pictured below). The voices of my favorite artists boom and echo around me as if they're on this ride with me, rattling the foundation of the light tan walls around me. To round out the bunch, of course, my many thoughts join along for the fun.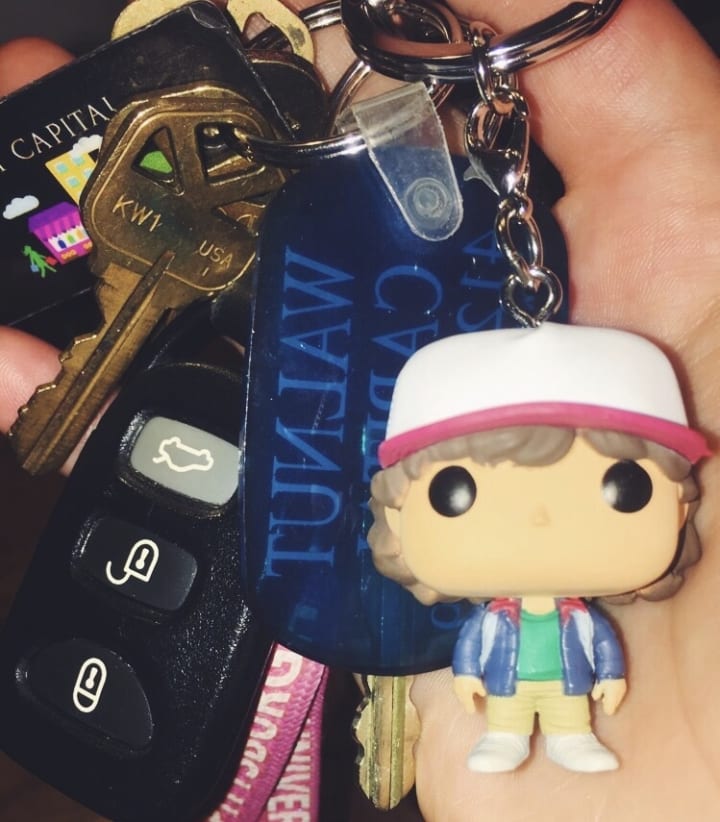 With the many "passengers" along for the ride in a seemingly solo venture, the possibilities to be afforded with this escape are endless. However, I am in full control the entire time. There truly is no bond quite like the one between a girl and the open road. So what's honestly so beautiful about my motorized escape can be found in the ever-changing scenery around me. Physically I remain in the same spot, but behind the wheel of my charming, little vehicle, I have the ability to transport myself to any of my favorite local spots, views, or mindsets at any given time. My little corner exists as whatever I choose to make it. The drive is different in the spring, summer, fall, and winter. Rainy days, beautiful days where there's not a cloud in the sky, days where the snow falls both heavy and light in clusters like cotton candy— no drive is ever the same.
Sometimes the confines of my darling car encase a free therapy session, shouting and processing seemingless "nothings" into the abyss, to be checked at the door and forgotten forever. Other times it's the set of The Tonight Show Starring Jimmy Fallon where Jimmy himself interviews me, and I answer questions in front of a "live studio audience." (Am I the only one who does that? Probably. File it under "clinical insanity.") On a good number of occasions, it's my prayer corner to have unfiltered conversations with God, and my oh my am I thankful for those talks. Now and again, I engage in the necessary conversation I wish I could have with friends, family, strangers, and lovers based on fake scenarios I've made up in my head. We all have an imagination, yeah? A lot of times it's Carpool Karaoke with James Corden. Most days, though, it's my own personal concert venue or theatre stage. (My apologies to those who have witnessed my in-car performances of Broadway hit-musical Dear Evan Hansen at stoplights near and far. Actually, no. You are very welcome for that. I regret nothing.) When I drive silently through the streets though, scratching my head every few minutes or so, that's how you know I'm not ok (that or the days I play "All Too Well" by Taylor Swift on a continuous loop).
Regardless of the space I deem it on any particular day, it is mine. Here I am free to be myself. Here I am safe. Here I exist in a world that is absolutely real but as fabricated as I choose it to be. Here there is no judgment and no one to interrupt. Every once in a while I make eye contact with the car parked next to me. Are they running errands? Are they on a spiritual and emotional escape just as I am? The world will never know, but time seems to stand still if only for a moment as you connect in solidarity. You smile and nod and both go your separate ways. It's beautiful and magical to embrace the unknowns of the human condition. We are all just trying to survive and make the most of every moment that is so wonderfully granted to us.
This car has heard conversations only God & I will ever know existed. This car is where I have viewed the most remarkable sunrises and sunsets. This car has been my refuge from the cruel slings and flings of this modern world. This car has been my escape, to express my deepest sorrows and birhgtest joys. This car has seen me at my best, my worst, and every other version of me in between (and trust me, there have been many). The beauty of it all is that it is a space that exists solely for me, and I dictate whose energy I choose to let experience this sacred part of myself.
As with all good things, the time with my Kia will eventually come to an end. One day I will part with my charming vehicular safe haven, passing it on to my little brother who can mold it into the safe haven of his choosing. When I purchase a house of my own, I'm sure I'll even swap out the idea of a quaint motorized oasis for a snug reading nook littered with my favorite literary worlds to escape to. Or perhaps a bright, comforting sun room filled with succulents and plants I will struggle and fail to keep alive. Until then, though, I'll always have a welcoming home in my cheer, little Kia on the long and winding road that is my life, my cozy, little corner of the world.